Local News Accidentally Airs Explicit Clip Of Woman Exploring Her Body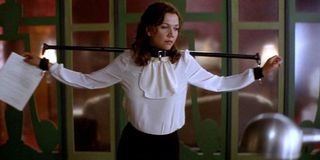 A Canadian news station made a big mistake during a recent telecast. On Monday, residents in Lake Echo, Canada and the surrounding area were watching the local CTV Atlantic News when the broadcast was interrupted. It wasn't for a breaking story. It wasn't for an emergency broadcast. Instead, it was for explicit content.
The programming in question was a sexually explicit movie that one viewer says was about "camp girls." CTV Atlantic viewer Barb Kaiser told Herald News that the opening scene showed a woman "exploring her body." CTV Atlantic says some wires were crossed and an "incorrect channel source" was actually aired over the morning news feed. The incorrect source in question happened to be erotic footage airing on HBO Canada.
The good news? People were briefly shown a sexual nudity warning before the graphic material aired. That should have at least allowed parents to duck their children out of the room before they got any boob shots. However, it's still a big snafu, considering the HBO footage aired around 6:30 in the morning when schoolchildren could conceivably be up and catch it. Additionally, the graphic segment aired for a whopping 48 seconds before being replaced by the correct feed. That's a lot of exploring and more than enough time to shock or at least surprise anyone who randomly caught the broadcast.
CTV Atlantic later apologized for the airing, calling the whole airing a big mistake.
Honestly, flubs like this do happen quite frequently. Sometimes flubs occur because people are not competent at their jobs. Sometimes flubs occur inadvertently. Sometimes flubs happen because people speak too quickly. And sometimes flubs are not really flubs. Regardless, to paraphrase Chevy Chase talking about his time on Saturday Night Live, TV is just more entertaining when someone screws up.
There are reasons why content should be kept separately. Television is all about expectations. Viewers tune in for different shows expecting completely different things. As such, it's important to keep the news as clean as possible and friendly enough for all ages. That being said, sometimes mistakes are made, and that's all they are, mistakes. When they happen once and don't really harm anyone, workers should be given the benefit of the doubt. There's no reason for anyone to lose their job over this mess, provided no one aired the content maliciously. The embarrassment following the incident should be more than enough to make a point.
Reality TV fan with a pinch of Disney fairy dust thrown in. Theme park junkie. If you've created a rom-com I've probably watched it.
Your Daily Blend of Entertainment News
Thank you for signing up to CinemaBlend. You will receive a verification email shortly.
There was a problem. Please refresh the page and try again.