Where To Watch Doctor Who's Classic Seasons Streaming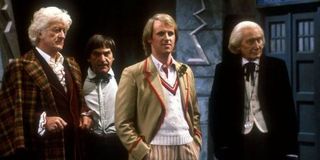 Doctor Who is an institution of British television, having run off and on for more than half a century. As it happens, however, a great deal of the episodes from the past 50 years are pretty hard to come by. Sure, the nine seasons of the 2005 revival series are pretty easy to find streaming, but there just hasn't been one place for Who fans based in the U.S. to find the Classic episodes from 1963-1989. Now, that is all changed thanks to new streaming service BritBox.
BritBox has officially released the largest digital catalogue of old school Doctor Who episodes ever to be available to American consumers. For fans who love the Doctor Who revival and have been dying to see some of the earlier adventures, BritBox could be worth the subscription. Just think of all the revival callbacks that we could actually understand if we have access to Classic Who!
The catalogue will be carefully organized as well as expansive. Episodes will be listed chronologically by Doctor and in playlists, such as "Monsters" and "Companions," that will allow viewers to target what they most want to watch out of the Classic Doctor Who library without picking through everything single episode description.
On top of all the old episodes that will be available for watching, BritBox is set to introduce audio of Classic Doctor Who episodes that have been lost to time. Many episodes from the series between 1967 and 1978 were purged from the BBC archive in order to make room for newer content, and the video for many of them has never been fully recovered. The audio for many of them has remained intact, however, and so Who fans will have the option to at least listen to some of past Doctors' adventures. Who knows? Maybe someday animation can be used to bring the adventures to life on the small screen. It's been done before.
Of course, BritBox isn't free. If you want access to the vast library of Classic Doctor Who episodes, you'll have to shell out $6.99 per month. BritBox is a streaming service launched by BBC Worldwide and ITV to bring British programs like Doctor Who as well as somewhat lesser-known series like Emmerdale and EastEnders across the pond to Americans. BritBox doesn't have quite as many series as Netflix or Amazon, but it gives access to shows that are otherwise hard to come by in the U.S. For American fans of British TV, BritBox could definitely be worth the $6.99 per month.
If you're more a fan of the Doctor Who revival than the Classic era, you're in luck. The show is returning to the airwaves for Season 10 - sadly, the last with Peter Capaldi as Twelve - on Saturday, April 15 at 9 p.m. ET on BBC America. Check out our midseason TV premiere guide and our summer TV premiere schedule for a look at all your other viewing options, and don't forget to drop by our rundown of 2017 TV renewals and cancellations.
Resident of One Chicago, Bachelor Nation, and Cleveland. Has opinions about crossovers, Star Wars, and superheroes. Will not time travel.
Your Daily Blend of Entertainment News
Thank you for signing up to CinemaBlend. You will receive a verification email shortly.
There was a problem. Please refresh the page and try again.