Watch Cobie Smulders Drop F-Bombs For Netflix In Hilarious Friends From College Trailer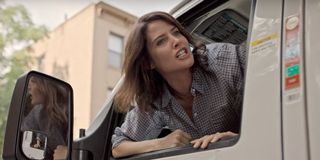 Like it or not, we all will eventually get older. We age, we grow, we evolve, all while weaving in and out of social circles. Friendships forged in the fires of college can last for years, but that doesn't mean that they will look or feel the same as everyone hits their 40s. This is the subject matter that Nick Stoller and Francesca Delbanco's Friends from College takes aim at, and a brand new trailer for the upcoming Netflix series is equal parts vulgar, hilarious, and Cobie Smulder-ful. Check it out below to see the gut-busting insanity for yourself.
Friends from College doesn't necessarily feel like it breaks the mold when it comes to the comedy premise of old friends reuniting, but that doesn't make it any less promising. The upcoming Netflix series levels its sights on a group of former Harvard classmates who have gone on to experience varying degrees of personal and professional success in the years since their college glory days. Along the way, they're forced to confront the realities that have come with the years that have passed them by, namely the fact that some of them have changed since college, while some haven't changed at all.
Again, none of that is particularly groundbreaking, but the sheer skill of execution on display in this trailer alone lends the sense that Friends from College could quickly become one of the shows to look out for this summer. Beyond How I Met Your Mother vet Cobie Smulders, Friends from College has also enlisted the acting chops of Keegan-Michael Key, Annie Parisse, Nat Faxon, Fred Savage, and Jae Suh Park. As far as cast lists go, it's a "who's who," and they're taking on razor-sharp writing with an emotional throughline that makes the bizarre antics of these characters understandable -- and possibly even relatable.
Within this particular trailer, the standout performance definitely comes from Cobie Smulders, who makes a glorious return to comedy after spending several years cutting her teeth in the action genre with projects like Jack Reacher: Never Go Back and the Marvel Cinematic Universe films. You have to give her credit; she delivers F-bombs with delightful intensity, which we never would have seen on a network sitcom.
One of the interesting things to note about Friends from College is that it seems to represent another strong addition in a recent line of auteur-esque Netflix comedies. Building off of a foundation laid by Tina Fey's newly renewed Unbreakable Kimmy Schmidt, David Wain's Wet Hot American Summer: First Day of Camp, and Aziz Ansari's Master of None, Friends from College is the brainchild of Neighbors' Nick Stoller and liberally applies the director's trademark comedic sensibilities. Netflix is known for taking a relatively hands-off approach with its creators, and it has paid off in the creation of this new project.
Friends from College will debut on Netflix later this summer on Friday, July 14. However, there are plenty more excellent shows set to debut within the next few months, so make sure to take a gander at our comprehensive summer premiere guide and get your TV-viewing schedules filled out accordingly!
Your Daily Blend of Entertainment News
Originally from Connecticut, Conner grew up in San Diego and graduated from Chapman University in 2014. He now lives in Los Angeles working in and around the entertainment industry and can mostly be found binging horror movies and chugging coffee.