Midnight, Texas Review: True Blood Author's Latest Adaptation Is Heavy On The Supernatural, Light On Excitement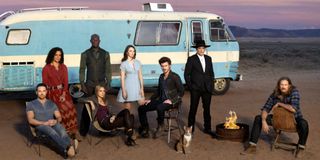 I have no doubt that fans of author Charlaine Harris and her Sookie Stackhouse books have been waiting since the end of HBO's True Blood to see another of the writer's paranormal series come to the small screen. Well, NBC is trying to fulfill their wishes with Midnight, Texas, but if you're looking for something as manic and entertaining as True Blood was, you'll be sorely disappointed.
Midnight, Texas follows the mysterious inhabitants of the small, namesake town which also happens to fall on a veil between our world and that of many assorted things that go bump in the night. As such, the town is filled to bursting with a wide variety of misfits who would only fit in in a creepy little town like this where they can hide from the world at large. Manfred (François Arnaud), a powerful psychic who can see and communicate with the dead, comes to town looking to escape the clutches of the very alive bad guy who's chasing him, and quickly ends up embroiled in the personal lives of the "Midnighters" who soon become his allies of the human and supernatural type.
In town he finds Bobo (Dylan Bruce), the owner of the local pawn shop who's got some serious secrets, Reverend Emilio Sheehan (Yul Vazquez), who has some curious reasons for running the pet cemetery, Olivia (Arielle Kebbel), a regular old human who happens to make her living as a very dangerous assassin, Fiji (Parisa Fitz-Henley), the local witch, Lemuel (Peter Mensah), a vampire who can feed on a bit more than blood, Joe (Jason Lewis), an angel who knows all the town's secrets, and Creek (Sarah Ramos), an aspiring writer whose family is more than it appears to be.
Word of weird goings on in Midnight have traveled to the surrounding towns for decades, but when a woman turns up dead on the riverbank during the local picnic, the Midnighters' ability to stay under the radar is threatened and everyone has to band together to try to keep prying eyes (and law enforcement) away. And, seeing as how the town just got a new resident with the gift of speaking to the dead, they also find themselves needing Manfred to help them out.
My biggest problem with Midnight, TX, which was developed for television by Monica Owusu-Breen and Mark Hentemann, is the pacing. There were moments during the pilot (especially at the beginning) that it moved so fast I was barely able to keep up with it. But, at other times, the action seemed to move so slow that I was bored to the point of almost falling asleep. Things evened out a bit during the second episode, but I still found the pace moving a bit slower than it felt like it should have for the type of show they're trying to do.
In general, I like the basic idea of the show. Anyone who watches shows (or reads books) with supernatural characters at the forefront will know that the various different types of mythical creatures featured usually don't get along. So, to have a town where vampires, witches and others not only live around each other peacefully but actually like one another and have their neighbors backs is a pretty novel premise. The variety of creatures is also nice; the town is home to a were-animal that is not a wolf and the addition of an angel is something we don't see often (Supernatural and Lucifer notwithstanding).
As far as the characterizations of the Midnighters goes, even though they all have some interesting things going on, I didn't find myself really being invested in any of them, even Manfred, who's our way into the world. I didn't completely hate the way any of the leads were written or portrayed, but they also didn't quite feel like real people to me, and the characters who did either aren't a large part of the show, or they didn't make it out alive by the end of the second episode.
All in all, while some solid attempts are made at doing something different with Midnight, Texas, I doubt this show will inspire the same sort of rabid fanbase that True Blood (or other paranormal centered shows) did.
Midnight, TX starts its 10-episode run on NBC on Monday, July 24 at 10 p.m. EST.
Bachelor Nation, Gilmore Girl; will Vulcan nerve pinch pretty much anyone if prompted with cheese...Yes, even Jamie Fraser.
Your Daily Blend of Entertainment News
Thank you for signing up to CinemaBlend. You will receive a verification email shortly.
There was a problem. Please refresh the page and try again.