Kristen Stewart In A Twilight Reboot? Here's What She Thinks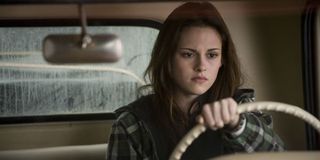 Kristen Stewart has done a pretty good job of moving away from the Twilight series that helped to turn her into a global phenomenon. So when she was asked if she'd ever consider returning as Bella Swan for a potential reboot of the franchise, she didn't even have to think twice before she instantly dismissed the idea.
Stewart, who is currently hard at work promoting her turn in Woody Allen's Cafe Society, was asked about the chances of her playing any role from the Twilight series if Hollywood decided to resurrect Stephanie Meyer's series of books during her chat with Yahoo Movies. The 26-year-old actress couldn't help but laugh off the suggestion. She said:
That's an understandable viewpoint to have, not just for Kristen Stewart but for any rebooted film, too. Stewart is currently on a quest to eclipse the work that she did as Bella Swann, which will clearly be difficult, as over the course of five films, the Twilight saga went on to gross $3.345 billion and became a firm part of the zeitgeist. Something that was helped because of Kristen Stewart's relationship with her co-star Robert Pattinson. _Twilight _revolved around the relationship between Kristen Stewart's Swan and Robert Pattinson's Edward Cullen, which was complicated by the fact that she was a human and he's a vampire. A group of hostile vampires looked to sabotage their relationship, while over the course of the films, the emergence of the werewolf Jacob Black (Taylor Lautner) added further conflict in their romance.
Clearly there is an audience for the Twilight franchise. While it might be tempting to try and merge the old with the new by including Kristen Stewart once again, if the franchise was indeed being rebooted, then it would only confuse viewers. Plus, it wouldn't be fair on the new films, which would, with the inclusion of Kristen Stewart, constantly provoke comparisons to its predecessors.
Meanwhile, since the release of Breaking Dawn -- Part 2 back in November, 2011, which was the final installment to the Twilight franchise, Stewart's career has become more and more eclectic as she's embraced a variety of roles. Even while she starred in the Twilight series she appeared in a number of impressive films including Adventureland and _The Runaways. S_ince then, she has popped up in Snow White And The Huntsman (the less said of which the better, especially its production), as well as On The Road and Still Alice, and she even became the first American actress to win a Cesar Award, as she picked up the Best Supporting Actress for her part in Clouds Of Sils Maria.
Café Society marks Kristen Stewart's first collaboration with Woody Allen, while it's her third pairing with Jesse Eisenberg, having previously starred opposite the Oscar-nominated actor in both 2009's Adventureland and 2015's American Ultra. You'll get a chance to see Kristen Stewart's performance in Café Society when the film is released on Friday.
Your Daily Blend of Entertainment News
Thank you for signing up to CinemaBlend. You will receive a verification email shortly.
There was a problem. Please refresh the page and try again.