Why NCIS: Los Angeles Could Be Totally Different In Season 9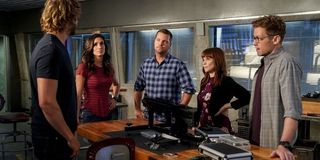 Warning: spoilers ahead for the Season 9 premiere of NCIS: Los Angeles.
NCIS: Los Angeles returned to the airwaves for Season 9 on October 1, and we got to see how to team had moved forward in the wake of Michelle's death. Sam was still taking time away from work, much to Callen's dismay. Kensi and Deeks, on the other hand, were pretty happy in their engagement. Hetty, as is her wont every now and then, is MIA from NCIS and her team. Most of the pieces were back in place by the end of the episode, but one variable remains in play that will almost certainly make the rest of Season 9 totally different from the seasons that came before: executive assistant director Shay Mosely.
We've known for a while that NCIS: Los Angeles would be bringing in Nia Long to play a new thorn in the side of the core four agents as a replacement for Owen Granger, and the Season 9 premiere was the first time we got to see the impact she'd have on the L.A. office. She wasn't too happy that Detective Deeks was working alongside the official agents, and she wasn't quite as tolerant of shenanigans as other bosses have been, but she also raised a point that's pretty valid: the NCIS: LA agents kill a lot of people.
That's not to say that suspects don't die on the NCIS mothership or NCIS: New Orleans, but Los Angeles kills off bad guys like they're extras in an action movie, and the agents are pretty trigger-happy. According Mosely in the Season 9 premiere, the Los Angeles branch of NCIS has a reputation for using lethal force "far above and well beyond" any other unit in the agency. Callen attempted to brush aside her point by claiming that the West Coast criminals are nastier than the criminals faced by the other NCIS units. Still, Mosely was firm that the time has come for the L.A. agents to start taking responsibility for their lethal force. The days of shooting first and asking questions later have passed, if Shay Mosely has anything to say about it.
Season 9 of NCIS: Los Angeles may see far fewer deaths than the first eight seasons. At the very least, we might see the core four trying to arrest or shoot suspects in the extremities rather than heads and hearts right off the bat. If they don't get to just kill off all their bad guys in time to head out for drinks at the end of a mission, the whole tone of the series could change. Given the fact that Nia Long appeared in the opening credits a number of times and is on board as a series regular, Shay Mosely isn't going anywhere any time soon, even if Hetty does return in the not-too-distant future. NCIS: Los Angeles may have found a way to reinvent itself after nearly a full decade on the air, and not many shows can pull that off.
New episodes of NCIS: Los Angeles air on Sundays at 9 p.m. ET on CBS. For your other viewing options now that we're in premiere season, take a gander at our fall TV guide.
Resident of One Chicago, Bachelor Nation, and Cleveland. Has opinions about crossovers, Star Wars, and superheroes. Will not time travel.
Your Daily Blend of Entertainment News
Thank you for signing up to CinemaBlend. You will receive a verification email shortly.
There was a problem. Please refresh the page and try again.