One NCIS: Los Angeles Character Will Go Through A Surprising Change In Season 9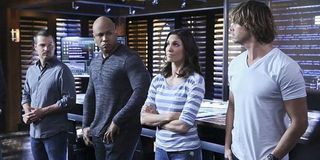 NCIS: Los Angeles Season 8 came to a shocking conclusion back in May. The last couple of episodes featured the death of Michelle, the departure of Sam to deal with his wife's passing, and the two NCIS lovebirds finally getting engaged. Yes, Deeks and Kensi had a happy ending to Season 8, but they'll run into a rough patch in Season 9 when Deeks faces some unexpected challenges from within the unit. A former Secret Service agent by the name of Shay Mosely takes over the team, and she's not too happy to have Deeks around. NCIS: LA showrunner R. Scott Gemmill revealed what's in store, saying this:
Well, for any NCIS: Los Angeles fans who have been waiting for the other shoe to drop about partners Kensi and Deeks romantically involved, Season 9 will apparently see the shoe dropping hard. It hasn't been difficult to understand how they've managed their relationship so far; Hetty has always given her agents leeway as long they get the job done, and Deeks is technically a cop, so the romance technically hasn't been between two NCIS agents. Judging by R. Scott Gemmill's comments, Shay Mosely won't be quite so understanding, and she'll even try to ship Deeks back to LAPD.
While this isn't the first time that NCIS: Los Angeles has toyed with separating Deeks from NCIS and sending him back to his job as a cop, the stakes are higher now. For one thing, he and Kensi are planning on getting married, and that could have led to problems even in NCIS. For another thing, he's in a pretty sticky situation with LAPD Detective Whiting, who was last seen blackmailing Deeks to get him to help her root out dirty coops. He can't exactly go against her as long as she holds his confession of killing his first (and very dirty) partner over his head, and she might be all too eager to take him from Shay Mosely.
There's also the point that Shay Mosely will be around a lot. Nia Long was cast as a series regular for the role, so even if she is unsuccessful in sending Deeks back to LAPD in the premiere, she may be a thorn in his (and Kensi's) side throughout Season 9. A lot may depend on when Hetty returns. R. Scott Gemmill also revealed to TV Guide that Hetty will be out of the picture in the Season 9 premiere, having officially retired from NCIS. She's actually gone rogue in the wake of the loss of Granger (due to the tragic passing of actor Miguel Ferrer), so we can bet that she'll be back. For Deeks' sake, we can only hope that she won't be gone for too long. Perhaps more questions will be answered sooner rather than later.
You can catch the Season 9 premiere of NCIS: Los Angeles on Sunday, October 1 at 9:30 p.m. ET on CBS. For everything else returning/debuting on the small screen in the coming weeks, take a look at our fall TV premiere schedule.
Resident of One Chicago, Bachelor Nation, and Cleveland. Has opinions about crossovers, Star Wars, and superheroes. Will not time travel.