Alias Grace Review: Netflix's Adaptation Of Margaret Atwood's Iconic Novel Is Hauntingly Well-Executed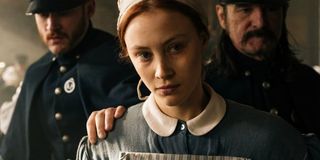 Margaret Atwood has always been a celebrated author, but the last year has been particularly significant in terms of her notoriety and reach. Starting with the release of The Handmaid's Tale on Hulu, many fans have experienced a resurgence of enthusiasm for her work. Of course, quantity does not always equal quality, so it's wise to be wary of another Atwood adaptation attempting to generate the same level of enthusiasm in the same year. Luckily, Sarah Polley's mysterious and beautifully written Alias Grace earns no such wariness, and the Mary Harron-directed Netflix miniseries is a methodically assembled true(ish) story that looks great while conveying some pretty modern themes about the true nature of femininity.
Opening in Canada in the late 1850s, Alias Grace introduces us to Grace Marks (Sarah Gadon) as she sits down with Dr. Simon Jordan (Edward Holcroft), a doctor of the mind looking to exonerate Grace for the murder of her employer Thomas Kinnear (Paul Gross) and Nancy Montgomery (X-Men star Anna Paquin). As they discuss her past, Jordan (and by extension, the audience) gradually develops an obsession with Grace, and he becomes fixated on the question of how a seemingly proper woman could potentially be responsible for such an improper and gruesome crime.
The presence of American Psycho's Mary Harron can clearly be felt behind the camera in how the director plays with a sense of narrative ambiguity. From the very first episode, we get the necessary, bare-bones version of events: a murder has been committed, and Grace was present to some degree. But the degree of her guilt eludes us for much of the story, and while that dubiety is not quite as on-the-nose as the exploits of Patrick Bateman in Harron's 2000 darkly comedic thriller, Alias Grace effectively leaves us with enough unease to wonder if someone like Grace Marks could indeed be capable of the crimes she is accused of.
Speaking of Grace, not enough can be said about how well Sarah Gadon performs as the titular protagonist, Irish brogue and all. The crime that she's accused of is only one aspect of her overarching character, and the show allows us to watch her evolution as she makes the journey to Canada from Ireland and experiences all of the gender and class-based discrimination of the time. She leans into the contradictions of Grace's personality, resulting in the creation of a female character who's neither wholly a victim nor fully a perpetrator -- just like a real human being. The miniseries doesn't want to retroactively exonerate this young woman who spent years behind bars; it merely wants to understand her.
Comparisons between Alias Grace and The Handmaid's Tale are going to be inevitable once people have had the opportunity to watch both Margaret Atwood-adapted series. Thematically speaking, it makes quite a bit of sense. Both properties center on the inner lives of persecuted women forced into servitude, and both tell decidedly dark stories about how these women find small, but powerful, ways to rebel and assert their independence. In that regard, it is clear to see the shared DNA between both of these well-executed series.
That said, Alias Grace is notably different from The Handmaid's Tale in the way that it's paced. Creator Sarah Polley is far more deliberate, and considerably more systematic with the storytelling here, and Alias Grace feels more like a novel in the way that its story plays out -- which is something that becomes more and more apparent as you progress through the series. This is not a large-scale story about the decline of a modern civilization into a Victorian-esque dystopia; it is a legitimate recreation of the Victorian Era tightly wound around a much more intimate story of one young woman who may actually be culpable in the murder that she's accused of. Or is she?
Of course, with that methodical sort of storytelling, there come a few risks. Specifically, Alias Grace will likely not be the type of show that every single Netflix subscriber can palette. This is a dark, brutal, and often overbearingly atmospheric series that pulls no punches in its depiction of 19th-century life for a young immigrant woman. Moreover, the slow burn makes a show like Alias Grace far less bingeable than the average Netflix series.
These are not necessarily criticisms in the grand scheme of things, but they are important to establish the fact that Alias Grace is not an "easy" watch. The dense material, however, will generally reward captive and active viewers who are willing to engage with it and not consume it passively. This is not a cut and dry crime drama, but when the final credits roll, one thing is for certain: you will know exactly who Grace Marks is.
Alias Grace debuts on Netflix on Friday, November 3 at 12:01 a.m. PT. Looking beyond this Margaret Atwood adaptation, make sure to check out CinemaBlend's comprehensive fall TV premiere guide to see what else is on the horizon for the small screen! To hear what we have to say about everything in the world of streaming content this month, be sure to listen to The Cord Cutter Podcast.
Your Daily Blend of Entertainment News
Originally from Connecticut, Conner grew up in San Diego and graduated from Chapman University in 2014. He now lives in Los Angeles working in and around the entertainment industry and can mostly be found binging horror movies and chugging coffee.