How This Is Us Replaced A Kevin Spacey Reference In The Latest Episode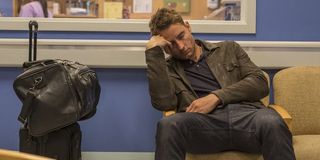 Spoilers ahead for the latest episode of This Is Us, called "The 20s."
Actor Kevin Spacey has been making headlines for some very unpleasant reasons in the last couple of days, and NBC's This Is Us had a response. The latest episode of This Is Us was originally written and filmed to include a reference to Spacey in flashbacks to Kevin's time in his 20s, but the show chose to remove the reference from the episode in light of recent allegations and replace it with something else. Here's what happened.
In the original cut of the episode, Kevin's roommate came home and excitedly revealed that he had landed a role in a big movie starring Kevin Spacey. In the altered version, the roommate came home and announced that he booked a role in an upcoming Christian Bale movie. The Christian Bale version of the scene simply had the roommate off-screen as he revealed the headliner of the project.
We can't say if the shot was always edited to have Kevin on camera during the name drop of the movie star, but the scene worked just fine without seeing the roommate say "Christian Bale." Honestly, if not for the announcement that a Kevin Spacey reference was being changed, viewers probably would never have noticed that there had been an alteration. The edit was seamless, and the point of the scene wasn't even on the specific movie star. The point was that Kevin's roommate had landed a role that Kevin himself would have wanted, and he had a difficult time wanting to ride his roommate's coattails, even if it meant getting in a room with a big Hollywood director.
Kevin Spacey started making his negative headlines after Rent and Star Trek: Discovery actor Star Anthony Rapp came out with an allegation that Spacey had made sexual advances on him when he was a 14-year-old boy in 1986. Kevin Spacey was 26 at the time. Spacey's response to the allegation was that he was "horrified to hear his story" and did not "remember the encounter," and he then stated that he chooses "now to live as a gay man."
The allegations have resulted in some professional trouble for Kevin Spacey, as production on the sixth and final season of House of Cards has been indefinitely suspended while Netflix and production company Media Rights Capital review the "current situation" and address any concerns from cast and crew. The situation is obviously sensitive, and This Is Us likely just wanted to avoid mentioning Spacey altogether when he wasn't a key part of the scene.
You can catch new episodes of This Is Us on Tuesdays at 9 p.m. ET on NBC. There are still lots of questions about Jack's life and death that will be answered, and it should be worth tuning in. For your other viewing options now and in the coming weeks, take a look at our fall TV guide and 2017 Netflix schedule.
Resident of One Chicago, Bachelor Nation, and Cleveland. Has opinions about crossovers, Star Wars, and superheroes. Will not time travel.
Your Daily Blend of Entertainment News
Thank you for signing up to CinemaBlend. You will receive a verification email shortly.
There was a problem. Please refresh the page and try again.