1960s Series The Fugitive Is Hitting DVD In October In A Full Series Set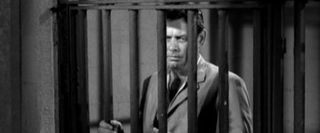 The Fugitive is coming to DVD. In case you were a little confused and ready to point out that Harrison Ford has already evaded Tommy Lee Jones in the DVD format, I'm talking about the TV series, which aired for four seasons in the 1960s and follows the same general plotline as the 1993 film. The set will hit homes on October 23.
If you were a fan of The Fugitive, the upcoming set is geared for those with fond memories of the series. CBS Home Entertainment and Paramount Home Media Distribution's set will span a whopping 32 discs and will feature all four seasons of the hit television show. To create the DVD set, the film negatives and audio all had to be transferred to DVD to create what the studio is calling an "archival version" of the hit series. The DVD will even feature extras as broad as a different ending epilogue, a spotlight on actor Barry Morse, and an extended first episode with commentary from Walter Grauman.
The Fugitive Bonus Features
An Extended Version Of The Pilot Episode "Fear In A Desert City," With
Commentary By Walter Grauman, Produced By Chris Soldo
David Janssen On The Mike Douglas Show (10/28/1976)
Promo With David Janssen
Fugitive Around The World
Series Promo
Finale Episode Epilogue
Joey Bishop Interview With David Janssen (8/29/1967)
"Memories Of A Maestro: Composer Dominic Frontiere"
"The Sound Of The Chase" featurette about the music of THE FUGITIVE
Dinah Shore Show Skit With David Janssen And George Gobel (10/17/1964)
Spotlight On Barry Morse
"Merely Players" Featuring Barry Morse
The Fugitive ran from 1963 to 1967, and for such an old set, it is jam-packed with extras. Most of the time when re-releases for materials from long ago are put together, they are mostly new segments looking back at the past. Often, sets like The Fugitive will even come out sans features. CBS and Paramount have done a good job with the upcoming release and have found source material from back in the day to supplement the set, which is certainly what fans of the Emmy winning show deserve.
Your Daily Blend of Entertainment News