Is The Walking Dead Killing Off Another Major Character In Season 8?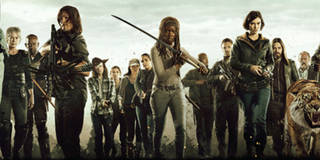 The first half of The Walking Dead Season 8 was an intense batch of episodes that ended with the reveal that none other than Carl Grimes will be kicking the bucket due to zombie bite. The show will devote a full episode to sending Carl off before going in a militaristic direction as Rick and Co. fight to avenge Carl. Now we have to wonder if a certain character won't survive to the end of the quest for vengeance. Lauren Cohan is a hot commodity for networks seeking to cast new projects, and that may not bode well for Maggie.
Networks have begun offering jobs to actors for 2018 broadcast pilots, and Lauren Cohan has been offered nearly a half-dozen parts. If she's in the market for new jobs on the small screen, it could be a clue that Maggie is not going to make it to Season 9 of The Walking Dead. After all, TV actors -- including Cohan's Walking Dead costar Danai Gurira -- are able to film movies in between seasons without quitting their shows, but few actors can conceivably pull off two shows at once.
Of course, Lauren Cohan receiving offers for pilots doesn't automatically mean that she's looking for a new show, but there are reasons to suspect that she might be moving on from the zombie apocalypse sooner rather than later. Her contract with The Walking Dead is up at the end of Season 8, and salary negotiations reportedly did not yield the terms that Cohan was looking for.
Rumor had it that she was seeking pay parity with Andrew Lincoln and Norman Reedus, who are the biggest names attached to the show. Deadline indicates that Cohan wasn't holding out for parity, however, and AMC offered a "modest salary increase" in exchange for a new contract extending into the long term. Cohan rejected this offer, although that may have simply been part of the negotiation process.
AMC reportedly did not come forward with an adjusted offer for Lauren Cohan and negotiations have not resumed, leading Cohan to take pilot meetings with other outlets for other projects. If Cohan and AMC can't come to terms on a new contract, we may well see Maggie lose her life in her efforts to protect Hilltop from the Saviors. While the character is still alive in the Walking Dead comics, the show has been diverging from the comics more and more as the seasons pass. Maggie's death would be one of the most tragic of the show to date given that she's currently pregnant with the dearly-departed Glenn's child. If The Walking Dead can kill off Carl, is anybody really safe?
All of this said, we shouldn't start panicking just yet. Lauren Cohan evidently hasn't stated that she's not coming back for Season 9, and Maggie doesn't appear to be in any inordinate amount of danger in the new Walking Dead trailer (which you can view here). It's still entirely possible that Maggie will live to fight at least into one more season. If so, it should be fun to see if the new showrunner goes in a new direction with her character.
The Walking Dead returns to AMC for the second half of Season 8 on Sunday, February 25 at 9 p.m. ET. If you're still looking for new shows to watch in 2018, be sure to take a gander at our midseason TV premiere guide.
Resident of One Chicago, Bachelor Nation, and Cleveland. Has opinions about crossovers, Star Wars, and superheroes. Will not time travel.
Your Daily Blend of Entertainment News
Thank you for signing up to CinemaBlend. You will receive a verification email shortly.
There was a problem. Please refresh the page and try again.