Siren Review: Freeform's Murderous Mermaid Series Shows Promise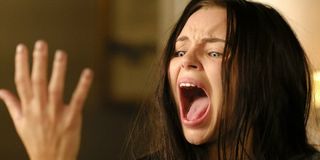 There are plenty of options today for viewers who enjoy fantastical elements in their TV shows. From shows like American Gods to the many (many, many, many) dramas that populate the world of superhero television and shows that deal in demons and monsters like Supernatural, if you want to see something that's more than a bit out of the norm when you sit down for an evening of TV watching, you're pretty much covered. But, if your fantasy-loving heart was really missing being able to watch a show about killer mermaids, then you've largely been left out in the cold. Luckily, Freeform's new series, Siren, might be the show for you. The show has successfully turned those beautiful mythical creatures into something far more dangerous than what we typically see, and it seems to be going in all the right directions because of it.
Siren focuses on the mermaid obsessed town of Bristol Cove, Washington, where legend has it that one of the town founders actually fell in love with a mermaid several centuries ago and that the area was home to a large population of the ocean-dwellers. Despite the lore, however, the modern day hasn't produced any evidence of mermaids that would convince most townspeople that they're real, but, as you might imagine, that's about to change. And, when a local crew of fishermen catch something much bigger and more dangerous than usual, things start to get really weird in Bristol Cove.
Ben (Alex Roe), a scion of one of the town's leading families, is working as a marine biologist with his girlfriend, Maddie (Fola Evans-Akingbola), to help rehabilitate injured sea life. After Xander (Ian Verdun) tells him about the dangerous catch that brought the military to their doorstep, Ben is skeptical, but when he comes upon an odd, naked young woman named Ryn (Eline Powell) walking down the road one night, his efforts to aid her lead to the unexpected truth. As Ben and his friends try to get to the bottom of government secrets and find Ryn's missing sister, Donna (Sibongile Mlambo), they get some much needed help from shop owner Helen (Rena Owen) and realize that their town also harbors many secrets.
While Siren, which comes from executive producers Eric Wald and Emily Whitesell, borrows some ideas from the thousands of years of mermaid folklore to give us the creatures of the show, the fact that it takes a look at them from a scientific point of view when possible helps this version of mermaids stand out. Because Ben and Maddie are biologists, not only do they take a very methodical approach to finding out more about Ryn and her people, but they're also interested in trying to get Ryn and Donna back home instead of simply using them for research. Something you can bet the government is not willing to do.
I also liked that the mermaids in Siren aren't completely benevolent or completely evil. As with most creatures, Ryn is concerned with her survival, and will do what it takes to make sure she finds Donna so they can get back to the ocean. If her claws (or shark-like teeth) come out, it probably means you've crossed a line you really shouldn't have. Unless, of course, you find yourself in the water with her, in which case all of her animal instincts take over, she's a predator, you're prey and you should get away from her as soon as possible.
Siren also does something far cooler than the standard mermaids-hit-the-ocean-and-their-legs-become-tails transformation that we typically see, which takes things to an almost monster movie level of drama whenever Ryn goes into or comes out of the water.
In the three episodes I was able to preview, Siren does a good job of setting up the conflicts present in Bristol Cove, and not just the ones between those who want to use the mermaids and those that want to help them. There are also class conflicts, tension between Ben and his family that has the potential to go somewhere really intriguing, and some family mystery with Maddie, as well.
When you have a fish out of water (ha ha) story like Siren, it's important for the audience to believe that the outsider in question is truly out of their element. Lucky for us, Powell is a standout as Ryn. She manages, with little or no dialogue, to be vulnerable, creepy, weird, curious and just plain scary whenever the action needs her to be. You'll have no problem seeing her as a creature from the deep who should not be trifled with.
Two of my hopes for Siren as the show continues is that it'll able to keep Ryn and Donna interesting and creepy even as they stick around on land and learn how things work, and that the mysteries that have been set up can deepen without getting to a point where viewers feel as though there's no overarching plan for how everything will shake out in the end. If Siren can keep those things tight, it will certainly be a show to keep watching.
Siren airs Thursdays at 8 p.m. EST on Freeform and premieres with a special double episode. For more on what you can catch on the small screen in the coming weeks bookmark our midseason premiere guide, Netflix premiere guide, summer premiere guide and Amazon premiere guide.
Bachelor Nation, Gilmore Girl; will Vulcan nerve pinch pretty much anyone if prompted with cheese...Yes, even Jamie Fraser.
Your Daily Blend of Entertainment News
Thank you for signing up to CinemaBlend. You will receive a verification email shortly.
There was a problem. Please refresh the page and try again.