24: Live Another Day Review: Jack Is Back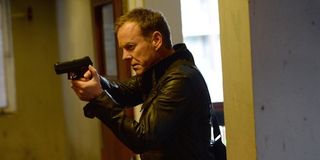 24 fans have waited years to know what happened to Jack Bauer after he limped off into the proverbial sunset, a grief-stricken and wanted man. Less a cliffhanger and more an unhappy ending, the series left off uncomfortably open-ended. 24: Live Another Day appears to be giving Jack Bauer the comeback he's due and fans the thrilling followup we've been eager to see since the eighth and final season of the Fox series wrapped up four years ago. While the return of Jack Bauer should be more than enough reason for fans to tune in for the premiere, 24: Live Another Day gets off to an exciting start, introducing new characters, new threats and a few great twists in its first couple of hours.
Created by Joel Surnow and Robert Cochran, 24: Live Another Day adopts the same real-time format of the original series, with each hour-long episode taking place over the course of an hour in a specific day. The story focuses on various characters, from politicians to law enforcers to terrorists and of course, the man who often finds himself at the center of it all. When we last saw the former "Counter Terrorist Unit" agent Jack Bauer (Kiefer Sutherland), he was a wanted man, forced to go into hiding from both the Russians and the U.S. government. Being the guy who gets the job done has a price to pay, and for Jack Bauer, it was his freedom. 24: Live Another Day picks up four years later, with the CIA hot on Jack Bauer's trail. While CIA head Steve Navarro (Benjamin Bratt) sees the capture of Jack Bauer to be a major victory, agent Kate Morgan (Yvonne Strahovski) is determined to take a closer look at the situation, not trusting the the situation at face value. Unfortunately for Kate, her credibility isn't in the best shape due to circumstances that are explained in the first episode.
Meanwhile, President James Heller (William Devane) is planning an international trip and also keeping a secret that only his daughter Audrey (Kim Raver) is aware of. At their side is Heller's Chief of Staff, Mark Boudreau, who also happens to be Audrey's husband. Being the President allows Heller to fit right into this new "Day" along with Audrey, who's also a returning character from the original series. But anyone familiar enough with 24 knows the POTUS position tends to be a high risk job, and Heller's seat is no exception. We learn early on that there maybe an attempt on Heller's life at some point during the day, because of course. Drone technology plays a crucial role in the story as well.
The moment Kiefer Sutherland's voice announces that "The following takes place between 11:00 a.m. and 12:00 p.m.," we know it's on. Day 9 has been a long time coming for fans, but it's a new day, which means newcomers to the series should be able to board this new event series without much background information. It's helpful to know that Jack Bauer has a long history with the brainy computer expert Chloe O'Brian (Mary Lynn Rajskub), who makes a crucial appearance early on. And those who are aware of the history Jack has with President Heller and his daughter Audrey should appreciate their involvement. But the story seems set up to stand alone, as has been the case, more or less, for each season of the series, where a new featured day brings new threats, new drama, new allies and new enemies. In the case of 24: Live Another Day, that includes Margo Al-Harazi, played by the excellent Game of Thrones star Michelle Fairley, who arrives by the second hour and may prove to be very problematic, to put it mildly.
To say that Jack Bauer is back in action would be an understatement. Jack Bauer may have been down and out when last we saw him, but he hasn't lost his edge since then. Sutherland slides back into the role, playing the hardened but determined hero as though he never left. But things have changed. There's no CTU providing back-up and Jack has more people targeting him than he has helping him. It's hard to comment much on the direction of the season, as 24 has always been a series to takes its turns sharply, which means you never really know what's around the next corner. The first couple of hours do a fine job of introducing characters and story arcs, interlaced with plenty of action to keep things moving and enough exposition to bring us back into the story fairly smoothly.
When 24 was at its best, it was weaving together various plots, connecting characters and racing toward deadlines, whether they be a ticking bomb, or something seemingly less threatening but no less crucial, like an order to be handed down that could make or break the next move of Jack Bauer or the terrorist he's trying to thwart. We've seen this series take some bizarre turns in the past, some likely meant to stretch the day out to suit the 24-episode format. 24: Live Another Day is operating with twelve episodes, which will hopefully cut out any and all time for unnecessary tangents (or cougars.) As an optimist and a fan of the original series, the suspenseful and action-packed first two hours of 24: Live Another Day give me hope that we're not only seeing Jack Bauer's big comeback, but 24's as well.
The clock is ticking and we're ready.
24: Live Another Day premieres Monday, May 5 with a two-hour premiere, beginning at 8:00 p.m. ET on Fox.
Your Daily Blend of Entertainment News
Assistant Managing Editor
Kelly joined CinemaBlend as a freelance TV news writer in 2006 and went on to serve as the site's TV Editor before moving over to other roles on the site. At present, she's an Assistant Managing Editor who spends much of her time brainstorming and editing feature content on the site.