The Suspenseful Way NCIS Just Set Up Pauley Perrette's Departure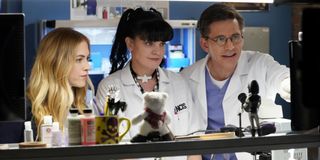 Warning: Spoilers ahead for the most recent episode of NCIS. Feel free to step away until you've caught up!
Tonight marked the penultimate episode for Pauley Perrette's tenure on NCIS, and the show picked a very suspenseful way to set up the end of her run on the popular procedural, which airs next week. Unfortunately for Abby Sciuto fans, the kind-hearted forensic specialist came face to face with a mugger's gun at the end of the episode, and things did not go well. Let's get into what happened.
The case of the week focused on Sara Carter, a veteran who gets arrested outside of the NCIS building when she becomes belligerent with the guards while trying to get in to have someone investigate the murder of her mother, Mae, who was also a veteran. Gibbs decided to take the case, even though Mae was killed off base at her home in Virginia, partly because of how Sara was treated when she tried to get into the building to talk to an agent. When Gibbs talks to her, though, Sara is still very angry and he's having a hard time talking to her. Sara goes so far as to say that Gibbs can throw her out if he wants, but she'll just sit outside the building or camp out on his front lawn if she has to in order to get someone to look into her mom's murder.
In the meantime, Abby finds out she's been randomly selected to have a dinner for two at the hottest new restaurant in town, The Cooler, which is actually (and quite ironically) located inside an igloo. Everyone in the office wants Abby to choose them as her plus one for the dinner, so they keep gifting her with leg warmers, crystal skull ear muffs and other cold-weather clothing items to try to sway her.
Once the team starts to investigate Mae's case, using the files brought over from the Virginia State Police, they see that she was turned over after her death. When Abby looks into it, she realizes that Mae was probably moved so that the killer could get something out of her pocket. The intense heat they were having at the time of her murder led the ink on the paper in her pocket to transfer partially to the inside of her pants pocket, and Abby was able to determine that she had a list of shipping tracking codes for an online pharmacy in her pocket at the time she was murdered. It turns out that Mae, who had been a military investigator herself at one point, had accidentally gotten wind of a ring of prescription drug thefts and got too close to the truth and was killed for it.
After Sara gets attacked outside of her car, the team realizes that they must be close to finding the man who killed her mom and that he was still looking for something. They manage to find a photo Mae had taken when she was investigating and see that one of their suspects, who died after getting hit by a truck when he ran away from Torres and Reeves, was actually in cahoots with the man who runs the shipping facility where several of the missing prescriptions on Mae's list were sent through. It turns out that after Mae went there to talk to him, he had the suspect who died earlier kill her.
With the case in the bag and Sara and her young son finally settled, Abby decides to take Reeves to The Cooler for her free dinner for two. After they leave the restaurant, having had a wonderful meal and a great time, they come to a deserted street and get stopped by a mugger, who holds them at gunpoint. Abby and Reeves hand over their personal items, but when Abby tries to talk to the man, it only makes him angry since he thinks she feels she's better than him. When Reeves tries to get him to just take their things and leave, the mugger loses it and shoots just as Reeves pushes Abby out of the way.
Trailers for the next episode, which will be Abby's last on the show, indicate that Reeves was unsuccessful in getting her out of harm's way, as she'll be in the hospital and will, at the very least, have a hard time pulling through. You can see how Pauley Perrette's last episode of NCIS (opens in new tab) turns out next week when the show airs Tuesday at 8 p.m. EST on CBS.
Head on over to the next page to get a look at the promo for Abby's last episode for yourself.
For more on what you can watch in the coming weeks, check out our midseason premiere guide and summer premiere guide. To see when finales for all your favorites will air, bookmark our 2017-2018 season finale guide.
Your Daily Blend of Entertainment News
Yennefer's apprentice, Gilmore Girl; will Vulcan nerve pinch pretty much anyone if prompted with cheese...Yes, even Jamie Fraser.