HBO Says Westworld Season 2 Backlash Wasn't A Big Deal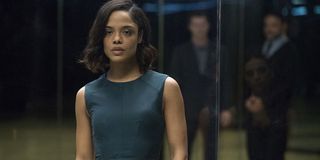 It's been a few weeks since Westworld aired its riveting Season 2 finale, a finale that opened as many floodgates to new storylines as it answered actual questions. The convoluted timeline and crazy story pathways in Season 2 were both talking points when the episodes were initially airing, at least from some of the show's viewers, and recently HBO President Casey Bloys was asked about the "backlash" related to Season 2 of Westworld. As it turns out, he's OK with strong opinions related to the series, although he wants us to know a lot of fans did love Season 2. He said:
So, from what Casey Bloys told EW, the goal for Westworld in general is to elicit a response from the audience. Whether that's an "aww hell yeah," or an "aww hell no," HBO is just happy to hear from people about their feelings regarding Season 2 of the show. Bloys also explained that the show is certainly not written for the average TV watcher. Much like Game of Thrones before it, you really have to pay attention to really understand the nuances of what is going on, especially during Westworld episodes that hop around in the timeline quite a bit. He also noted,
So, if you are someone who watches Westworld and gets confused, you can either revel in the confusion or bail on the series. And there's nothing wrong with the latter. So -- and SPOILERS -- if you didn't understand where the heck Bernard was in the timeline throughout most of the episodes or if you didn't get that a slew of the hosts left their physical bodies and jumped into the virtual world at the end of Season 2, that's alright. If you still don't understand how Delores became Charlotte Hale and then Delores once more, or how some characters seem dead and then pop up in other scenes thanks to the timeline, perhaps Westworld is not a show you should spend time watching moving forward.
Westworld had a gigantic first season, but there were 18 months between the start of the first season and the start of the second. In that time, Westworld did shed a minor number of viewers. While the ratings actually picked up toward the end of Season 1, Season 2 didn't really pick up to a degree at the end of the season, which means some people did say "forget it" in Season 2. While the majority of people watch Westworld via streaming platforms, the total number of viewers was down from a 13.2 million average in Season 1 to around 10 million total viewers across platforms in Season 2. Still, even if the numbers were down a bit, it was certainly enough for HBO to sign on for Westworld Season 3.
Whether or not the backlash was real, Westworld will probably not be returning to the schedule until 2020. So, we'll have another long wait ahead of us. Maybe in that time those viewers who may have been weirded out by the new season will find enough to appreciate to come back for Season 3. If not, it's A-OK.
Amazing Race & Top Chef superfan with a pinch of Disney fairy dust thrown in. If you've created a rom-com I've probably watched it.
Your Daily Blend of Entertainment News
Thank you for signing up to CinemaBlend. You will receive a verification email shortly.
There was a problem. Please refresh the page and try again.