New Amsterdam Review: Ryan Eggold's New NBC Medical Drama Is Poignant And Emotional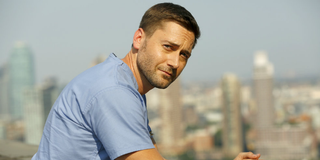 (Image credit: Will Hart/NBC)
New Amsterdam is a medical drama that is firing on all cylinders. You name it, NBC's new series checks off all the boxes. Created by David Schulner, the show encompasses everything viewers have come to expect from the genre. It also manages to avoid cliché, embracing itself for what it is as an emotional drama without sacrificing the gritty and searing truth it is portraying.
"How can I help?" is one of the persevering mantras spoken by Dr. Max Goodwin (Ryan Eggold). On his first day as the medical director of the series' titular hospital, Dr. Goodwin wastes no time tearing up the red tape keeping patients from the best care possible. Set in a hospital inspired by America's oldest public facility, Max is faced with one real problem after another, only to respond with a magical "done." It is a splendid fantasy the series leans into without feeling false.
In an arresting sequence, Max addresses a room of the hospital's staff by declaring his intentions to shake up the status quo. In this scene, the series zeros in on some terse dialogue that gives life to an atmosphere that is awkward and authentic. It is an early lesson in what makes the series tick, and it is brutally frank without losing any heart.
Viewers are introduced to the hospital's main doctors throughout the episode. There is the captivating Dr. Helen Sharpe (Freema Agyeman), whose frequent television appearances are helping her stay out of the hospital. There is the driven Dr. Floyd Reynolds (Jocko Sims) and cheery Dr. Lauren Bloom (Janet Montgomery), whose romantic future takes various turns. The keen Dr. Vijay Kapoor (Anupam Kher) and enthusiastic Dr. Iggy Frome (Tyler Labine) help flesh out the staff.
All of them are well-drawn with more in-depth characterizations than you sometimes see in the genre. New Amsterdam makes sure that its leads are never lost in the chaos. They are all richly textured, and in the span of two episodes, it is easy to feel you have an indelible sense of who they are.
The mystery New Amsterdam offers to viewers is peeling back the layers of what has forged them into the people we are now meeting. While the series wades into heavy emotional terrain throughout its first two episodes, it never feels like it is forcing viewers to feel. Those emotions unfold in an organic way that is earnestly heartfelt.
Tears are easy to come by without leaving you overwrought. That's because New Amsterdam teems with an unvarnished sentimentality, which naturally makes it impossible to avoid becoming teary-eyed. Backed by a score that complements rather than induces what unfolds on-screen, the series makes smart choices.
There is wonderful interaction between the characters, and as the story weaves in and out of its various narratives, they all feel interconnected. It is a synchronicity that usually takes an entire season to develop.
Ryan Eggold shoulders the series with a terrific display of his wide range as the confident Max. Be it exuding pathos or offering an upbeat grin, Eggold displays the same charisma he did on The Blacklist. He was a standout on the crime drama, and here he works equally well with New Amsterdam seizing on his skills fantastically.
The cast that accompanies him is remarkably robust. In a marvel of casting, New Amsterdam has assembled an ensemble with no weak spots. There is Freema Agyeman's electrifying performance as Dr. Helen Sharpe. Jocko Simms' contemplative turn as Dr. Floyd Reynolds, Janet Montgomery's buoyant take on Dr. Lauren Bloom, Anupam Kher's weighty performance as Dr. Vijay Kapoor, and Tyler Labine's tender turn as Dr. Iggy Frome.
Fast-moving, sensitive, and provocative, New Amsterdam addresses the medical system and its broken state. There is still more to explore as the series has yet to discuss the exorbitant cost of certain medications, among other issues facing patients. Still, this is a television show that, while having Max ushering in all this change, acknowledges he may not be able to keep it going. So, there is honesty here.
It will be interesting to watch and see how and if that plot is probed further as the season progresses. There is a feel-good fantasy element to the show, and given that it embraces that aspect, it makes sense to remain a bit idealistic at first. The future of New Amsterdam is highly intriguing to contemplate. The pilot ends on a shocking note it builds to throughout the hour, which opens an unexpected door. How it will step through it is anyone's guess.
New Amsterdam premieres Tuesday, September 25 at 10 p.m. ET on NBC, following the Season 3 premiere of This Is Us. Both are among a slew of series making their returns and premieres this fall on NBC and other networks.
Your Daily Blend of Entertainment News
Like a contented Hallmark movie character, Britt happily lives in the same city she grew up in. Along with movies and television, she is passionate about competitive figure skating. She has been writing about entertainment for 5 years, and as you may suspect, still finds it as entertaining to do as when she began.