The Top 3 America's Got Talent Acts Most Likely To Win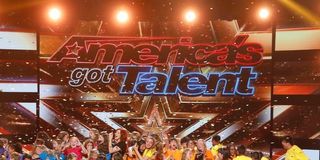 Season 13 of America's Got Talent has been a wild ride from start to finish. Viewers have seen everything from the ridiculous (like Caterpillar Man and the Human Fountains, who made it surprisingly far in the competition) to the absolutely mind-blowing. The show finally narrowed the crop of talent down to 10 finalists, and the latest episode allowed them all to turn in one last performance to win viewers over and score enough votes to take home the $1 million prize and perform in a Las Vegas show. Although it's still very much anybody's game, here are the top 3 acts (plus one wild card) most likely to win Season 13!
3. Duo Transcend
Who They Are: The married trapeze pair Duo Transcend has been defying belief, expectation, and gravity from their very first appearance on America's Got Talent, when they revealed that Tyce Nielsen suffers from an eye condition serious enough that doctors advised him and wife Mary not to continue their dangerous acts. Their acts have escalated in danger over the weeks of AGT, and Tyce actually dropped Mary during the Judge Cuts round. She was uninjured, and they continued to advance. Their final act was their most dramatic yet, with Tyce blindfolded the entire time, Mary going for some truly daring drops, and concluding with Mary holding Tyce up rather than the other way around.
Why They Might Win: Duo Transcend is comprised of two people who were born to perform, and their status as a married couple with a baby and one of them suffering from an eye condition means that theirs is a fantastic human interest story. You want Duo Transcend to succeed as you watch, and not just because they're risking their lives. Their act is also practically meant for a Vegas stage.
Why They Might Not: Death-defying acts aren't everybody's favorite, and the competition in Season 13 is so fierce that the judges declared more than once that this finale was the best they'd ever seen. Duo Transcend is eye-catching and breathtaking, but they might not stand out enough to beat two other acts in particular.
2. Shin Lim
Who They Are: Shin Lim is one of many magic acts to give America's Got Talent a shot in Season 13, and card tricks aren't exactly something that has never been done before on this show. That said, he comes from a unique background as a former pianist who suffered from carpal tunnel syndrome and went on to take a risk and chase his dream with card tricks. Although his first couple of acts were somewhat short on the showmanship -- as Simon noted -- he picked up the glitz and glamor, and his final performance was positively dazzling as he pulled off yet another trick.
Why They Might Win: Unlike the rest of the contestants who made it to the finals, Shin Lim's act is something that viewers, the audience, and the judges can't figure out. The singers, dancers, comedians, and even Duo Transcend are all acts that we can understand. There's so much mystery in how Shin Lim does what he does that it's difficult to look away, and it takes a special kind of charisma for card tricks and the guy pulling them off to be so intriguing. Shin Lim is also the only card trickster who made it far into the finals, so viewers (and voters) won't be overloaded by acts like his.
Why They Might Not: Shin Lim may deliver magic and charisma, but his act isn't a spectacular with dancing around the stage or flipping through the air or even much in the way of talking. Only one magician has won in the past, and singers usually come out on top.
1. Courtney Hadwin
Who They Are: 13-year-old Courtney Hadwin is a powerhouse singer with a voice you wouldn't expect from looking at her. An energetic dancer with a set of pipes unlike any other in Season 13 of America's Got Talent (and arguably, America's Got Talent history), she won standing ovations with every single one of her performances, and Howie Mandel wasted no time in advancing her immediately via Golden Buzzer. The live audience has responded wildly to each and every one of her performances, and Mandel has been predicting from her very first performance that she would be the winner at the end of the season.
Why They Might Win: America's Got Talent loves to award the top prize to singers, and young performers are often favorites with voters. Three teenage or pre-teen girls have won America's Got Talent in previous years, and Courtney Hadwin truly commands the stage. The overwhelming support of the judges has bolstered her appeal from her very first appearance, and her story as somebody who was targeted by bullies back home in the U.K. makes her sympathetic as well as a fantastic singer.
Why They Might Not: If Courtney Hadwin loses, it may be because viewers were tired of singer after singer or because so many people assumed she'd get all the votes that they didn't bother to vote for her. Seriously, the odds are pretty good for Hadwin to win.
Now, head on over to the next page for the wild card pick!
Wild Card: Michael Ketterer
Who They Are: Michael Ketterer is a singer whose touching renditions reached the hearts of viewers everywhere, and even nerves don't prevent him from turning in a killer performance. He's also a pediatric nurse and father of six children, five of whom he adopted from foster care to give them a better life. He's had people laughing and crying with his performances, and it's hard not to root for him. He even got a Golden Buzzer from Simon Cowell, who is one of the many who teared up at his story.
Why They Might Win: He's a talented singer, and his story has clearly resonated with a whole lot of people. He could be a wild card winner based on his combination of talent and personal life, which is filled with love and joy to the point that he's just a delight to watch, even if you might be crying.
Why They Might Not: Michael Ketterer is a fantastic singer, but he's not the most mind-blowing singer ever to hit the stage of America's Got Talent. If he wins, it will probably be because of how his story enhanced his performance rather than just because of his voice.
To vote for these performers or any of the other six who hit the stage, head over to NBC's official America's Got Talent voting page. Alternately, you can vote via the official app. Tune in to NBC on September 19 at 8 p.m. ET for the final results show that reveal who will take the top prize.
Your Daily Blend of Entertainment News
Laura turned a lifelong love of television into a valid reason to write and think about TV on a daily basis. She's not a doctor, lawyer, or detective, but watches a lot of them in primetime. Resident of One Chicago, the galaxy far, far away, and Northeast Ohio. Will not time travel, but will sneak references to The X-Files into daily conversation.