Why NCIS' Leon Vance Isn't Quite Safe Yet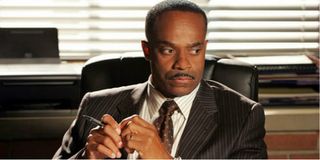 Warning: Spoilers ahead for the most recent episode of NCIS. Step away and read one of our other wonderful articles if you haven't caught up yet!
Every NCIS fan breathed a sigh of relief when Leon Vance was rescued from his captors in the Season 16 premiere, but now it's pretty clear that he's not totally safe yet. Apparently, he's being followed by some pretty creepy and committed individuals, but we have no idea why. Here's what went down in the latest episode.
Tonight's episode of NCIS started off with a literal bang, as a young couple who was following a delivery truck around and stealing packages off of people's porches got their hands on the worst box ever and ended up opening a bomb that was meant for newly minted Navy man, Todd Nicholas. It turned out that not only was Todd's wife, Sheba, part of a reality show that focused on the wives of military personnel, but that Todd thought she might have sent the bomb herself to try to kill him.
While the team looks into why Sheba would have wanted Todd spread all over their property, we see that Leon is supposed to be due back at the NCIS offices that day. But, much to his daughter Kayla's dismay, he seems to have no intention of going in, seeing as it's already 8:30, he hasn't showered and is still in his robe and looking to settle in with the morning paper and some coffee. So, even though Leon made it home relatively unscathed, he's clearly having some issues with getting back to work.
Of course, that makes a lot of sense. Leon was tricked and kidnapped by a terrorist named Nigel Hakim (the man who held captive and tortured Jack and her team in Afghanistan years ago, killing everyone but her) in the Season 15 finale. Hakim had blamed Leon for breaking up that operation all those years ago, and when Jack found him, totally by accident, all this time later, he took the opportunity to get back at Leon by kidnapping him. Obviously, ending up in this position has been a blow to Leon's mental state, especially since he came back with an injury that requires physical therapy.
While at his physical therapy appointment this time around, Leon helps out another patient who's on crutches and can't quite get through the door to the office. He's clearly immediately smitten with the woman, and they banter a bit about their ailments and how they got them, with Leon leaving out literally all the scary details of how he hurt his leg. By the time the woman gets taken back for her appointment, though, it's pretty clear that she's into Leon, as well.
When he's done with his therapy, the woman is in the waiting room again, and just as Leon is about to speak to her, the physical therapist congratulates him on graduating. He's now officially done with his sessions, but, since he now wants to spend more time getting this new patient to warm up to him, he takes the therapist aside and tells her he doesn't feel he's ready to leave his training there behind just yet. She's reluctant, but says that if he feels he needs to do more work they can arrange it, leaving Leon happy and pretending to his new friend that he was ready to be done, but they're making him have more sessions.
Meanwhile, Kayla is tired of her dad having trouble getting his mojo back, so she calls in Gibbs, but, with the bombing case escalating to another attack, Gibbs sends Jack to talk to Leon. He's happy to see her, until she tells him he's hiding out because he feels stupid for getting tricked into being kidnapped by an old foe. Leon claims that he's just doing what needs to be done so that he can get back to 100% physically, but later it's obvious he took her words to heart when he shows up at work.
Turns out it was just in time, too. Gibbs was watching as Torres and Bishop tried to interrogate another suspect who wasn't giving them much to go on, so Gibbs sent Leon in to talk to the man, and he quickly realized that he had sent another bomb that was due to be delivered soon. Leon is able to get the details out of him, and with this win in his back pocket, he feels confident enough to go back to his physical therapist, cancel the bogus appointments and actually ask his new lady friend out on a date.
Unfortunately, after Leon leaves, the woman sits down next to a mysterious looking man, dressed in all black, who was listening to their conversation in the waiting room with a newspaper covering his face. The two begin to talk about how she thinks she would assess Leon, with her saying she's not sure yet and handing the man a packet filled with photos of Leon that were clearly taken without his knowledge as he went about his daily business. We also find out that this isn't the end of this mission for these two, with him telling her to enjoy her date with Leon.
So, not only do we know that she's going to be inserting herself into Leon's life for at least a while, but these two are up to something that's probably not good news for Leon. What we don't know is who they are, how long they've been following him, what exactly they're up to and whether or not they're working for someone else or who that possible boss might be. But, it looks like Leon and danger are not quite done with each other yet, and he likely won't see this bit of it coming at all. If his new lady love turns out to be someone really horrible, it's going to be another big blow to his confidence.
You can keep up with Leon and all the NCIS drama when the show airs Tuesdays on CBS at 8 EST. For more on what else you can watch this season, check out our 2018 fall premiere guide.
Your Daily Blend of Entertainment News
Yennefer's apprentice, Gilmore Girl; will Vulcan nerve pinch pretty much anyone if prompted with cheese...Yes, even Jamie Fraser.