6 Actors Who Should Play Spike In Netflix's Cowboy Bebop Series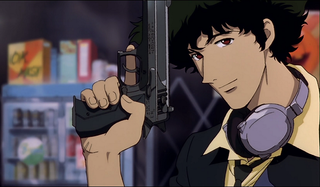 Netflix is making a Cowboy Bebop live-action series, and now that the ball is rolling it's time to discuss potential actors to play the anime's lead character Spike Spiegel. There was once a time when Keanu Reeves, Joseph Gordon Levitt, and others were considered ideal for the role, but we're years past that failed film. Without further ado, here's a fresh set of faces we'd love to see take a shot at portraying the anime icon.
Andrew Garfield
The key to casting Spike Spiegel, I believe, is finding someone athletic while at the same time not someone anyone would deem an "action hero." Andrew Garfield is definitely not an action hero, but he was Peter Parker in the Amazing Spider-Man films and a soldier in Hacksaw Ridge. Plus, he's got the long hair that can be manipulated in that style that really only looks good when anime characters do it.
On top of all that, Andrew Garfield seems like an actor who can walk that line between being a sarcastic asshole and still caring. He also seems to be in a creative role phase, so perhaps a live-action Netflix anime adaptation is just the thing he'd need to showcase a side of himself audiences don't see a lot of. It would take a bit getting used to his voice over Steve Blum's but that would be true with most people.
Joe Keery
Most of what sold me on Joe Keery as Spike Spiegel is that most of Spike Spiegel's traits exist in Steve Harrington. He's wiry, scrappy, witty, and can sometimes be a douche. Granted, Steve's hand-to-hand combat skills are well below that of Spike, but he can take a brutal beating which is another indicator he might be Spike's great-grandfather from several generations prior.
As much as we'd all like it to, Stranger Things won't last forever. Netflix could lock him down on Cowboy Bebop, and warm a few diehard fans from his other show up to this live-action series that there's no stopping. After all, winning the fans is half the battle, and Keery's the type of casting that folks could root for, even if they're still unsure about the whole rebooting of a classic anime.
Lakeith Stanfield
No, Lakeith Stanfield doesn't resemble Spike Spiegel, not even a bit. Live-action adaptations are known to switch things up a bit, and if there ever was an actor that audiences could rally behind regardless of his resemblance to the character, he's it. Those who disagree need to look no further than his performance as L in Netflix's critically panned live-action film Death Note.
Stanfield looked to be the only person who watched the Death Note anime in that film, or at least the only one who used it to influence his performance. He looked absolutely nothing like the animated character, yet Lakeith Stanfield had the mannerisms and speech pattern down pat. It was genuinely impressive to me as someone who loved the source material, and I have no doubt he'd put just as much work into mastering Spike if not more if given that chance.
Aaron Taylor-Johnson
A lot of the entries on this list come with some sort of caveat as to why bringing them on would be difficult or not ideal, minus Aaron Taylor-Johnson. He's built similar to Spike, he's well-versed in geek culture, and he's around the right age for someone to play the character. Like seriously, it's hard to build a valid argument as to why anyone but Taylor-Johnson should have this role.
On top of all that, he recently appeared in Outlaw King, which is a Netflix exclusive. Netflix only has the rights to the film, however, so perhaps that doesn't mean much towards the phenomena in which actors of Netflix originals always tend to bleed into the streaming giant's other projects. Whatever the case may be, Aaron Taylor-Johnson may be about the perfect mix of star power and look this casting could get, so hopefully, he's on Netflix's radar.
Ross Butler
Ross Butler is another star on the rise, and beyond his Season 1 stint on Riverdale, Netflix is to thank. The 13 Reasons Why actor could jump on a leading role in Cowboy Bebop, which could serve as a big boost in his star power if done right. Plus, his Asian heritage but American roots would feel true to the dubbed version of Spike Spiegel.
That said, Ross Butler is a little buffer than Spike, which would be a problem. Spike Spiegel is a muscular dude, but he was drawn to have a thin frame. Finding that body type is going to be hard in general, so some compromises would have to be made in finding someone that suits him. For Netflix, the question would have to be if they're set on finding an actor who best portrays the character physically, or emotionally.
Shia LaBeouf
While this may sound like an out-there casting at first, once one sifts through all their crazy memories of Shia LaBeouf, they'll remember he's a damn good actor. Labeouf also naturally has that cocky attitude in his roles that embody the character of Spike Spiegel. I'm fairly confident Spike is a role LaBeouf could knock out of the park if he wanted to, but that's a big if.
Even if he's gone to some weird places in the film sphere, it has been a long time since Shia LaBeouf has done television. He had a Saturday Night Live hosting back in 2007, and before that was his role on Even Stevens. Television doesn't seem like a medium he wants to commit to for an extended period of time, so getting him in the door with Netflix for a meeting on Cowboy Bebop may be half the battle.
Is the perfect actor to play Spike left off this list? If so, leave that actor's name in the comments below. The Cowboy Bebop live-action series is currently in development at Netflix. It could be a while before audiences see any footage or hear any casting news about the project, so be sure to check out what's happening in television in the meantime via our fall and midseason premiere guides.
Mick likes good television, but also reality television. He grew up on Star Wars, DC, Marvel, and pro wrestling and loves to discuss and dissect most of it. He's been writing online for over a decade and never dreamed he'd be in the position he is today.