Did The Good Doctor Midseason Finale Reveal A Major Character Is Going To Die?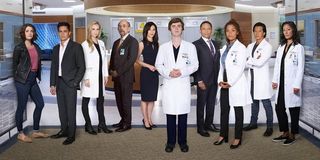 Spoilers ahead for the Season 2 fall finale of The Good Doctor on ABC.
The Good Doctor proved in Season 1 that it's not afraid to end important episodes on major cliffhangers, and the Season 2 midseason finale ended on multiple doozies that could point toward at least one major death in the second half of Season 2. Here's what happened.
An airborne virus entered the St. Bonaventure ER courtesy of two passengers from a flight from Malaysia, and characters began dropping at an alarming rate. This was no episode that spared the guest stars who formed connections with the doctors and imparted life lessons. No, for the characters, if you began to show symptoms of the illness, you were probably going to die.
Naturally, the ER went into quarantine and safety procedures were put into place, but they weren't adequate to prevent Lim from exposure, and the episode ended with her collapsing just as she was talking Morgan through a surgery. Now, although Lim's is the life most obviously and immediately in danger following the fall finale, she's not actually the character I'm worried about after this episode. That character is Dr. Glassman.
The episode began with Melendez and Lim in bed together, and although Lim declared that it was a one-time thing, the arc really seems to be only beginning. Melendez seems to have feelings for Lim, if his reaction upon learning that she's infected is any indication! Besides, would The Good Doctor kill off a major character in the midseason premiere? I'm much more concerned about what Dr. Glassman learned about his prognosis in the episode.
Glassman was originally aiming to go to a doctor's appointment with Shaun by his side, but Shaun was stuck in the ER (and increasingly on the verge of a panic attack), so he called Lea to go with his beloved mentor. While there, Glassman managed to talk his way into getting his hands on the results of one of his own tests, despite the fact that patients aren't meant to see them.
It was obvious from the look on his face that he didn't get the results he was looking for, and he revealed to Lea that his cancer is indeed back. All the treatment and hardship from the surgery he went through earlier in the season did not definitively save his life, as he, Shaun, and many others hoped. Is Dr. Glassman back at square one, facing a cancer that seemingly cannot be beat, no matter how much Shaun wants to save him?
We probably won't know for sure until the last couple episodes of Season 2, but the show really could be setting Dr. Glassman up to be killed off. I'm hoping that he lives for years to come, as his dynamic with Shaun is one of my favorites on broadcast television. Nevertheless, we can't be certain of anything at this point and unlike the Lim cliffhanger, it undoubtedly won't be resolved by the end of the midseason premiere.
Find out what happens next when The Good Doctor returns to the airwaves for the second half of Season 2 on Monday, January 14. For additional important dates in the not-too-distant future, swing by our midseason TV premiere guide.
Resident of One Chicago, Bachelor Nation, and Cleveland. Has opinions about crossovers, Star Wars, and superheroes. Will not time travel.
Your Daily Blend of Entertainment News
Thank you for signing up to CinemaBlend. You will receive a verification email shortly.
There was a problem. Please refresh the page and try again.