Why Hasn't Today Officially Hired Jenna Bush Hager Yet?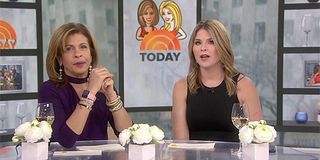 The fourth hour of Today has looked very different during the month of January. Although Kathie Lee Gifford will not be leaving the show until April, she took off in January of 2019 and NBC's Jenna Bush Hager has stepped in for the hour with Hoda Kotb. The fill-in has been a natural fit for the daytime show and she's a favorite to take over, which leads me to wonder: Why hasn't Jenna Bush Hager been hired yet?
To be clear, Hoda Kotb and Jenna Bush Hager work well together onscreen. It helps that both of them are going through the rigors of momhood right now—Hoda has a 1-year-old and Jenna's kids are 5 and 3.
Still, there's more to their banter than anecdotal mom stories, and there's enough there to keep viewers of all ages interested, particularly women.
Kathie Lee Gifford is a Today legend, but the banter that Hoda Kotb and Jenna Bush Hager churn out together feels very timely and of-the-moment. Whether they are joking about the new "sugarless" version of Hoda or Jenna Bush Hager is admitting her "gross" habit of eating her kid's leftover food, the dialogue flows. The two hosts talk about relationships and food and dating apps. Jenna Bush Hager has also had some notable moments when she has been open about being a part of the Bush family and has shared memories, particularly when she came on Today to talk about her grandfather's funeral back in December.
In fact, Jenna Bush Hager has been a Today Contributing Correspondant for years; however, giving her a full headlining spot during an hour would be a big promotion and a big vote of confidence from NBC. Hager has also been a fixture during the hour Megyn Kelly previously occupied before leaving NBC.
She is still new to this job, however. During the fourth hour this morning, Jenna Bush Hager was talking about Emily Blunt and the SAG Awards. While she had an interesting comment about the Screen Actors Guild and wondered aloud whether or not those in SAG ever had trouble voting for best performance and not just their friends, she also spent a considerable amount of time talking about Emily Blunt's Mary Poppins Returns performance.
That may not seem like a big deal, as Emily Blunt has gotten awards notice for playing Mary Poppins, but her SAG Award was actually for A Quiet Place. These types of moments do tend to come up on daytime TV, but it's still a sign that perhaps Jenna Bush Hager is learning on the go.
Regardless, Jenna Bush Hager has been a fixture on Today for years. She has the pedigree to make the gig happen, and this stint over the past several episodes seems to be an indication NBC is really trying her out, as opposed to trying myriad people out.
That may change when Kathie Lee Gifford officially leaves in April. Previous programs, including what was briefly Live with Kelly! tried out a slew of hosts when a headlining spot opens up. It's unclear right now what NBC has planned.
Of course, the TCA winter session comes up this week, so it's possible that NBC will make an announcement then or wait to make an announcement on the show when Kathie Lee Gifford will be around to usher in a new host.
In addition, it's hard to tell if Jenna Bush Hager's stint is an actual tryout or just Jenna Bush Hager being easy to deal with and willing to step in when asked. She's after all a very busy person between being an NBC News correspondent, an Editor-At-Large at Southern Living and other endeavors. Plus, she has the whole mom thing going right now too.
But she was supportive and present when Kathie Lee Gifford made her original announcement:
More importantly, Jenna Bush Hager did say she'd be interested in turning her guest stint into a full-time gig, noting in a recent interview that she would be happy if NBC asked.
Her comments to ET were all positive about the possibility of taking over, but if she knows something about NBC's plans for the future, she's certainly not spilling the beans right now.
So, we'll wait and see what direction the Peacock Network ultimately opts to go in for its fourth hour. But if I got a vote (which I sadly don't), I'd go for Jenna Bush Hager. Daytime TV rarely gets the opportunity to transition so seamlessly with a new host. In fact, it almost feels as if the old guard has already stepped aside to make room for the new, which is hard to pull off without hurt feelings or without at least some pushback from the viewers.
Just look at what happened when Michael Strahan bailed on Kelly Ripa. That drama went on for some time with tons of names bandied about as potential replacements from Anderson Cooper to Fred Savage. Eventually, Ryan Seacrest took over. With this Today gig, a slew of names have not really been bandied about and Kathie Lee Gifford even seemingly hinted that the gig would go to someone in house.
If Kathie Lee Gifford retired tomorrow, there would not need to be major tweaks to Today's fourth hour with Hoda and Jenna. That is the very definition of a master stroke.
Kathie Lee Gifford's has hosted the final hour of Today since 2008. At the time, the gig was only supposed to be for a year, but she just fit into the Today role and the Today family. Her reign will officially be ending during the eleventh year of her run and her last day will be April 7th. By then, presumably NBC will have a game plan in place and we'll keep you posted every step of the way. For now catch Hoda Kotb and Jenna Bush Hager on weekdays during Today's fourth hour or check out what's coming up on TV with our midseason schedule.
Your Daily Blend of Entertainment News
Reality TV fan with a pinch of Disney fairy dust thrown in. Theme park junkie. If you've created a rom-com I've probably watched it.