Who's Winning The Late Night Ratings In 2019 So Far?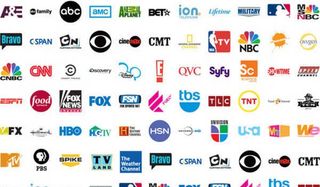 Late night television is a competitive game, and everything ranging from the politics of host monologues to musical numbers to shenanigans can impact which show garners a big audience among the big broadcast networks. Fox has stayed out of late night aside from a few short-lived attempts over the years, and Nick Cannon has a late night show in the works there, but the three big networks to consider in 2019 are ABC, CBS, and NBC.
Now that we're over a month into 2019, the time is right to check in with the numbers and see who is winning the late night game this year so far, in the numbers available from December 31 - February 1. (Note: all numbers are in the 18-49 age demographic in Live+3 day calculations.)
NBC
Yes, the Peacock Network is currently on top when it comes to late night ratings. NBC is actually the only one of the three major networks to have three shows comprising its late night slate, with Last Call with Carson Daly hitting the airwaves at 1:35 a.m. ET. The ratings for Carson Daly's show are unsurprisingly much lower than the rest of late night broadcast offerings due to its late/early hour, and it has only aired repeats in 2019 so far. So, we're going to leave Last Call out of this analysis.
Why does NBC win the ratings game, then, if not due to the boost from a third hour of programming? The victory is down to two Saturday Night Live alums and their shows.
The Tonight Show Starring Jimmy Fallon
Jimmy Fallon's late night show is easily on top in the ratings for 2019 so far. Airing at 11:35 p.m. ET on NBC, The Tonight Show currently averages (via TV By The Numbers) a 0.49 rating in the key 18-49 age demographic, which puts it a full 0.09 above its closest competitor. (More on that later.) If we were talking primetime numbers, a win of 0.09 wouldn't be too big of a deal, but the rules are different for late night.
In fact, The Tonight Show has yet to lose a week in the ratings so far in 2019, which wasn't the case back in the fall of 2018. Although Jimmy Fallon has gotten a bit more political in his monologues despite his previous stance, The Tonight Show is still the place to be for fun shenanigans and games. The ratings that suffered after the 2016 presidential election and Fallon's infamous interview with Donald Trump are back on top.
The downside for The Tonight Show? Jimmy Fallon's show has yet to beat its time slot competition in viewership. It is the highest-rated in the time slot of the season, though. So there's that!
Late Night with Seth Meyers
Seth Meyers is king of the late night ratings in the second late night time slot of the night: 12:35 a.m. ET. The ratings for the second late night slot are always significantly lower than those for the previous hour, but Meyers has won himself a decent audience for the slot. The Late Night ratings for 2019 average 0.27 in the 18-49 demographic.
In the last couple of years, Seth Meyers has attracted viewers with his "A Closer Look" segments that break down a certain topic of current events, although Andy Samberg is of the hilarious opinion that people just check out "A Closer Look" online rather than watch Meyers' show live, as he revealed when he crashed a segment to promote the new season of Brooklyn Nine-Nine. The "A Closer Look" segments do regularly accumulate millions of viewers on YouTube, so Samberg may have a point!
Late Night only won one week of viewership in 2019 so far, although it does have the highest viewership of the current season in the 12:35 a.m. ET slot. Is a boost in store?
CBS
Coming in behind NBC is CBS, and it's difficult to say that CBS is technically "losing" to NBC. Sure, the Eye Network is behind NBC in the ratings in both key late night time slots, but it does dominate in another category: viewership.
The Late Show with Stephen Colbert
Stephen Colbert actually got off to a rough start after he made the jump from Comedy Central to CBS to take over The Late Show from David Letterman back in 2015, and the show went through some behind-the-scenes changes. The Late Show with Stephen Colbert got a big boost from the 2016 presidential election, and viewers have continued to respond to Colbert's brand of political comedy.
Now, Stephen Colbert has caused some trouble with some of his monologues, including one that resulted in calls for his firing. Nevertheless, he has remained on the air, and his average viewership in 2019 is 3.05 million people in the 18-49 demographic.
To contrast, NBC's average in only 2.28 million, and CBS has remained on top in viewers every week of 2019 so far in the slot, even the first when all three major late night shows aired repeats. Stephen Colbert may be losing the ratings game to Jimmy Fallon, but viewership belongs to him in the 11:35 p.m. ET slot.
The Late Late Show with James Corden
James Corden is a host who -- somewhat like Jimmy Fallon -- delivers a fair share of late night shenanigans, and The Late Late Show is the place to be for musical numbers. Thanks to Corden, such acts have hit the air as Carpool Karaoke, the Stranger Things kids going Motown, and the Backstreet Boys getting an honorary sixth member.
Is it worth staying up until 12:35 a.m. ET to watch? Well, some folks certainly think so. The Late Late Show is on top with viewership in its time slot, with 1.23 million people tuning in. That places it above Seth Meyers' show, which only averages 1.21 million in 2019 so far, as well as its ABC competition. (Keep reading to below for more on that.) James Corden's show comes in third in its time slots ratings, though, with 0.20 as its average rating. That's good news for the third big network!
ABC
Alas for the Alphabet Network! ABC comes in third of the big three networks in both ratings and viewership, and it's not even close in one of the time slots. Here's what ABC is looking at so far this year.
Jimmy Kimmel Live!
As the one live late night show, Jimmy Kimmel Live! is formatted and proceeds a bit differently from its NBC and CBS competition. Jimmy Kimmel hasn't only embraced comedy in the last few years either, as his heartfelt words during his baby son's health crisis were far from funny. That said, Kimmel's emotional honesty during those difficult weeks resonated with a lot of people. Unfortunately, not a whole lot people are watching his show, at least relatively and on a regular basis.
Jimmy Kimmel Live! currently averages a rating of 0.36, with only 1.92 million in the 18-49 demographic. That places it 0.4 and 0.13 behind Stephen Colbert and Jimmy Fallon, respectively, in the ratings. As for viewership, Jimmy Kimmel is more than a million viewers behind Colbert, with Kimmel counting an average of 1.92 million in 2019. At least the gap between Jimmy Kimmel Live and The Tonight Show is less drastic, with Jimmy Fallon's viewership of 2.28 million.
Are Jimmy Kimmel's opinionated monologues continuing to impact his numbers? Can the show recover and compete more actively with NBC and CBS in the 11:35 p.m. ET time slot?
Nightline
ABC is more successful with the series that immediately follows Jimmy Kimmel Live, although Nightline is certainly not a talk show like the rest of the late night offerings. The news show nevertheless keeps up with the competition more than Jimmy Kimmel Live does with The Late Show and The Tonight Show,
In 2019, Nightline averages a rating of 0.24 and a viewership of 1.22, which places it second in ratings behind Late Night with Seth Meyers on NBC and second in viewership behind The Late Late Show with James Corden. Nightline may not be coming in first in either category so far in 2019, but it's also not coming in last! That counts for something, right?
Only time will tell if CBS or ABC can overtake NBC in the late night game. 2019 is still young, and a lot can change in the coming months. If you're still in the market for some primetime TV options, check out our midseason TV premiere schedule.
Your Daily Blend of Entertainment News
Laura turned a lifelong love of television into a valid reason to write and think about TV on a daily basis. She's not a doctor, lawyer, or detective, but watches a lot of them in primetime. Resident of One Chicago, the galaxy far, far away, and Northeast Ohio. Will not time travel, but will sneak references to The X-Files into daily conversation.
Your Daily Blend of Entertainment News
Thank you for signing up to CinemaBlend. You will receive a verification email shortly.
There was a problem. Please refresh the page and try again.