The Brady Bunch: Behind The Scenes Facts That Explain A Lot About America's Most Popular TV Family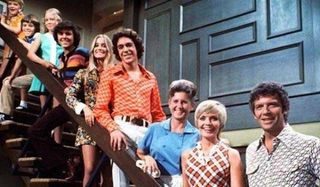 When it comes to popular TV families, the Brady clan is among the most beloved. ABC's The Brady Bunch premiered back in 1969, and thanks to lucrative syndication and streaming deals, the show has consistently found a following across multiple generations. Here are some behind-the-scenes details that help explain a lot about the beloved TV family.
Carol's Previous Marriage Remains A Mystery
As fans know, Mike was a widower. The fate of Carol's former spouse is more of a mystery. Here's the story. The Brady Bunch's creator wanted her to be a divorcee. The network did not, per Brady World. In the end, the whereabouts of Marcia, Jan, and Cindy's biological father never got explained on-screen. Whoever he was, his last name was Martin.
In A Very Brady Sequel (the satirical feature film follow-up), a man claiming to be Carol's first husband shows up to cause trouble. As for the TV show, though, there was no way for viewers to know from watching what happened to Carol's ex.
Robert Reed Had Issues With The Finale
Have you ever watched the last episode of The Brady Bunch and felt like something was missing? That would be because Robert Reed was missing as Mike Brady. That's right. The Brady Bunch actually ended its original run without one of TV's best dads appearing on-screen.
Robert Reed was reportedly unhappy with the storyline for the series' finale, in which Greg had to confront the struggle of having his hair turn orange after using a product he bought from Bobby. The episode marked a huge turning point for Greg, who was graduating from high school. Robert Reed's Mike was ultimately written out by The Brady Bunch's creator, per CBR. Reed remained on the set during filming though.
The Bradys Came Back
Thankfully, Robert Reed eventually reprised his role as Mike Brady. Not on the original series, but in ensuing Brady-related spinoffs and short-lived series. Who could forget the vigil that Carol led for Mike in The Brady Bunch Christmas movie? As the family awaits Mike's fate near the end, beloved Brady matriarch Carol sings "O, Come All Ye Faithful," which she had done before on the original series.
If you have recollections of seeing The Brady Bunch cast taking on darker and/or more musical stories, you are not delusional. Even though you rarely see them on TV these days (hello streaming!), they happened. There were five different Brady TV projects produced after the sitcom finished airing, as well as the 2002 made-for-TV movie The Brady Bunch in the White House.
The Creator's Daughter Inspired Some Stories
For some shows, certain stories feel like they had to be pulled from real life. In the case of The Brady Bunch, some stories were indeed inspired by creator Sherwood Schwartz's daughter, Hope Juber. She revealed to MeTV that her father used stories from her life to add into the show.
She admitted that she was not always happy about it, either. Who can blame her? In this particular interview, she did not reveal which storylines he drew from for the show, but one can assume none of them were about Alice and Sam.
Carol And Mike Could Have Had Twins
By the end of The Brady Bunch's fifth and ultimately final season, a lot of changes were afoot. With Greg off to college at the end of Season 5, he and his siblings were growing up in unavoidable ways, which is something that threatened to alter the sitcom's central formula. Add to that the tensions rising behind the scenes with star Robert Reed.
The Brady Bunch's creator Sherwood Schwartz had wild plans to deal with both issues in Season 6, as revealed in his book Brady, Brady, Brady. Schwartz revealed he wanted to recast Mike Brady with another actor, and then wanted to introduce a story to make the family even bigger. The potential plot line had Carol pregnant with fraternal twins, one boy and one girl. It would have made for an interesting pair of Brady additions, to say the least.
There Was A Love Connection
If you saw the 2000 made-for-TV movie Growing Up Brady, based on Barry Williams' autobiography, you might know something interesting about two of the on-screen step-sibs. The actors who played Marcia and Greg, Maureen McCormick and Barry Williams, were more than platonic pals while filming the series. You have to give the cast a lot of credit, as no matter what was happening off-screen between these two, it never really seeped into the show.
Everything between Marcia and Greg on the show was strictly sibling-related, naturally. Side note: even if Marcia and Greg Brady had dated, it certainly would not have been the same as Jon Snow and Daenerys dating on Game of Thrones, biologically speaking. There was no blood relationship between the two Brady Bunch characters, but it's no surprise the producers didn't delve into penning a love story between Marcia and Greg.
Alice's Boyfriend Wasn't Around Much
Fans will recall Alice's beloved boyfriend, Sam. He was a memorable, good-natured guy, who owned the local butcher shop. For many viewers, it felt like Sam made regular appearances throughout The Brady Bunch's run. Well, that's not actually the case.
Sam only appeared in eight episodes, total. Yes, 8! To put that number of episodes in perspective, there were 117 of the series overall. How Alice and Sam managed to craft an adorable romance with just eight episodes of on-screen time is impressive. When love stories work, they work.
Cousin Oliver Caused Tension
One of television's most controversial characters in history, Carol's nephew (and her children's cousin) Oliver was introduced in Season 5. The story was that the Bradys had to take care of him while his parents were living out of the country.
The idea was to bring in a younger kid amid the ever-growing cast of Brady siblings. As tensely received as he was by fans, things were not much better behind the scenes. On Barry Williams' blog The Greg Brady Project, he responded to a fan question about how the cast received actor Robbie Rist, who played Oliver. Here is what Williams had to say in response:
It sounds like it was tough for everyone involved. In spite of fans' negative reactions, though, cousin Oliver would have stuck around if The Brady Bunch had returned for Season 6. Instead, the world came away with another TV trope.
There Was No Glass Door
When it comes to The Brady Bunch, there are a myriad of iconic scenes in its repertoire. None are arguably more iconic than the scene where Marcia is struck on the nose by a flying football due to an unfortunately open glass door while her stepbrothers played. It turns out that Marcia did not need to step out of the doorway to have gotten hit.
The door that the Bradys infamously slid to their backyard did not have actual glass in it, per MeTV. It was something that undoubtedly aided filming, and plenty of fans undoubtedly never noticed. A little television magic never hurt anybody, right?
Robert Reed And The Creator Clashed
The actor and the show's creator were not on great terms, hence Sherwood Schwartz's goal to recast Mike Brady. What was the problem? Robert Reed took exception to many of the show's plotlines, leading to many clashes between the actor and the creator.
One of their conflicts involved the infamous episode where Mike installed a pay phone in the house for the kids to use. Knowing that Robert Reed would question the legalities of the plot, Sherwood Schwartz had it researched beforehand, per The Free Library. After learning that it was legal to do so in Santa Monica, Schwartz told Reed that's where the family lived.
"Marcia" And "Jan" Had Issues Off-Screen
There are few fictional sibling rivalries more famous than Marcia and Jan's, even if Marcia seemed largely disaffected by how she made her younger sister feel. In real life, however, issues also came up between their portrayers.
Susan Olsen, who played Marcia and Jan's younger sister Cindy, confirmed the behind-the-scenes fallout in 2015. Olsen told New.com.au that her on-screen siblings did not get along, though there is positive news on that front. For the first time in 15 years, the cast that portrayed the younger Bradys recently reunited, and on good terms.
Eve Plumb and Maureen McCormick joined their co-stars for the beginning of HGTV's A Very Brady Renovation, per ET. Thanks to the reno-show, the entire surviving cast came back together. Mike, Carol, and Alice would be thrilled.
The Brady Bunch is one of those beloved shows that features an equally beloved family at its source. All of these behind-the-scenes facts certainly illuminate some things. Who else wants to have a Brady Bunch marathon now?
Episodes of the series are currently available to stream on Hulu and CBS All Access.
Your Daily Blend of Entertainment News
Like a contented Hallmark movie character, Britt happily lives in the same city she grew up in. Along with movies and television, she is passionate about competitive figure skating. She has been writing about entertainment for 5 years, and as you may suspect, still finds it as entertaining to do as when she began.