Netflix Denies Changing Love, Death And Robot's Episode Order Based On Sexual Identity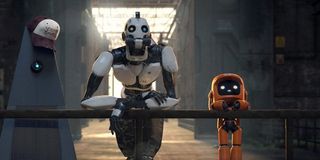 (Image credit: Photo courtesy of Netflix)
Netflix's new series Love, Death & Robots has already turned heads for its intriguing setup and visual flair, but elsewhere on the Internet, not everyone has been happy with the animated series. Namely, there are people online who have noticed the episodes are appearing in a different order, and some Twitter users made a correlation that the episode order seems to be based on sexual identity, perhaps based on other picks those users have watched on the streaming service before.
Not so fast, Netflix says.
In fact, the subscription streaming service has come out to explain the episode order was meant to just be a new idea for the company and not based on user data at all, noting,
Responding to a Twitter user's comment about the perceived changes based on sexual preference, Netflix says that although the order for Love, Death & Robots is confirmed to be changing for different users, the subscription streaming company is not changing the episode order based on specific data. Or at least not changing the order based on "gender, ethnicity, or sexual identity."
So, that's one mystery solved. The same Twitter user, Lukas Thomas spoke to a friend he says works at Netflix and confirmed the subscription streaming service wasn't trying to bamboozle us with its comment that the four episodes of Love, Death & Robots are sent out to users at random. Instead, an A/B test has allegedly been choosing episodes for subscribers.
Still, we know that Netflix is really data driven, which is how it recommends a slew of projects to its subscribers at any given time. We also know that Netflix is really experimenting with the way its programming is delivered. This is why episodes of Love, Death & Robots are not all in the same order. It's also why Netflix is working on some more interactive content.
For example Black Mirror's "Bandersnatch" had a format where subscribers chose their own narrative path. The same will be true of the upcoming Bear Grylls project You vs. Wild, which will allow you to choose the ending.
Could data-driven Netflix episode orders come next? Only time will tell, although it's probably worth pointing out that changing episode order only really works with episodes of shows that are standalones and don't have any through storylines. Regardless, it looks as if Netflix is definitely experimenting with new sorts of ways for viewers to watch TV. I'd be interested to learn with Love, Death & Robots, for example, if subscribers were more likely to stick with the series if they caught a specific episode first.
If you'd like to see which episode of Love, Death & Robots comes up first for you, you need only fire up Netflix right now. Or take a look at what other shows Netflix will be experimenting with on your viewing feed moving forward with our full schedule.
Reality TV fan with a pinch of Disney fairy dust thrown in. Theme park junkie. If you've created a rom-com I've probably watched it.
Your Daily Blend of Entertainment News
Thank you for signing up to CinemaBlend. You will receive a verification email shortly.
There was a problem. Please refresh the page and try again.