Agents Of S.H.I.E.L.D. Season 6: What We Know So Far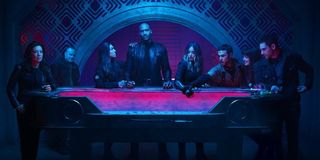 Marvel had a mighty presence on television not so long ago, but the cancellation of all the Marvel shows on Netflix means that there are far fewer Marvel superheroes mixing it up on the small screen until Disney+ launches later this year. The good news is that the MCU's original TV show is still going, against all odds and despite ratings that weren't exactly setting the good kind of records. Agents of S.H.I.E.L.D. will soon return to ABC for its sixth season after a long hiatus.
The Season 5 finale was actually crafted in such a way that it could serve as a series finale in the event that ABC gave the show the axe, which seemed entirely possible last spring. The ratings weren't the best, although they were never likely to skyrocket after S.H.I.E.L.D. moved to Friday. Still, rumor had it that ABC wanted to cancel S.H.I.E.L.D. after Season 4, and it was only the intervention of Disney that brought it back. A sixth season felt like a long shot for a while.
So, in preparation for S.H.I.E.L.D. finally coming back and revealing what's in store following the Season 5 finale, read on for our breakdown of what we know so far about Season 6!
The Trailer
Given how the Season 5 finale really could have served as a decent series finale, if ABC decided to cancel the show when it was too late to shoot a new ending, fans haven't had a lot to go on to speculate about what's to come. The death of Fitz would propel Simmons on the next leg of her journey, Mack had a new role to play, and Coulson's journey was coming to an end. But what about everything else?
Well, in true Marvel fashion, the trailer for S.H.I.E.L.D. doesn't give away a ton in the way of solid details, but it does deliver some great teases. Take a look:
The trailer confirms that S.H.I.E.L.D. followed through on what seemed to be Coulson's certain death as well as the fact that Clark Gregg will still be in the mix. Not as original recipe Coulson, except, apparently, via recordings, but in the mix. Deke is back despite his ambiguous fate following his grandfather's death, Daisy is in the thick of the action, and there's just a lot going on. What exactly is going to happen? Difficult to say. Still, it should be a wild ride!
When Will Agents Of S.H.I.E.L.D. Season 6 Premiere?
The renewal for Season 6 was great news for fans who had been fretting about the ratings, but there was bad news: rather than premiering in the fall as usual, S.H.I.E.L.D. wouldn't be back for the next season until the summer. ABC didn't reveal a premiere date for quite a while, and comments from one star seemed to indicate it would be back in July. It always seemed likely that it wouldn't be back before Avengers: Endgame hit theaters, at the very least.
Well, S.H.I.E.L.D. did not return before Endgame hit theaters, but fans won't have to wait until July or even the official beginning of summer. Agents of S.H.I.E.L.D. Season 6 will debut on Friday, May 10 at 8 p.m. ET on ABC. This represents a move to a new time slot. Although S.H.I.E.L.D. made the move to Fridays ahead of Season 5, it held the 9 p.m. ET time slot, with Once Upon a Time as its lead-in.
The cancellation of Once Upon a Time actually had some fans concerned that S.H.I.E.L.D. would be the next victim of the Friday night death slot, but S.H.I.E.L.D. isn't going anywhere just yet. Hey, what better way to ring in the weekend than with a good old-fashioned dose of the MCU? The May 10 premiere date also puts S.H.I.E.L.D.'s return at just eight days shy of the anniversary of its Season 5 finale, which aired on May 18, 2018.
How Many Episodes In Season 6?
The move from a fall premiere date to a summer premiere date wasn't the only big change for S.H.I.E.L.D. Season 6. The first five seasons of the series ran for 22 episodes. The first couple of seasons generally ran one big arc for the full span of episodes, although of course also with smaller stories going on concurrently. Starting with Season 3, seasons began to break up into mini arcs, or "pods." S.H.I.E.L.D. would generally get three out of a 22-episode season.
Well, Season 6 of S.H.I.E.L.D. won't have the time for three pods of episodes. The sixth season scored an order for only 13 episodes. While this was a bummer for fans who were hoping for another order of 20+ episodes, it might not be a bad thing. S.H.I.E.L.D. arguably improved when it began to focus on smaller arcs with limited filler, and fans responded well to the Netflix shows with episode counts of, or around, 13 episodes. Perhaps S.H.I.E.L.D. will thrive with a shortened season.
How Much S.H.I.E.L.D. Is Left?
For fans who were surprised that S.H.I.E.L.D. was renewed for Season 6, the next big announcement for S.H.I.E.L.D. must have been downright shocking. Back in November, months before fans could even hope for Season 6 to debut, ABC ordered a seventh season of the show. And, it doesn't even appear that somebody had to sell their soul to Ghost Rider to make it happen!
Like Season 6, Season 7 will run for only 13 episodes, and Clark Gregg stated earlier that the "word I've heard" is that there would be just two more seasons. So, fans should probably resign themselves to S.H.I.E.L.D. ending after Season 7. That doesn't have to be a bad thing. If the folks at S.H.I.E.L.D. already know at this point that the Season 7 finale will be the very end, then they can craft an ending that (hopefully) delivers closure.
Who Will Be Back?
The stakes may not be as high for Agents of S.H.I.E.L.D. Season 6 as for Avengers: Endgame, but Marvel was still keeping a pretty tight lid on spoilers for what's to come. Thanks to the trailer and a very Last Supper-esque promotional image, however, we can safely say which members of the main cast will be back.
Ming-Na Wen, Clark Gregg, Chloe Bennett, Elizabeth Henstridge, Iain De Caestecker, Henry Simmons, Natalia Cordova-Buckley, and Jeff Ward will all be back. Most of those returns aren't altogether surprising, but they do pose interesting questions for the new season.
Of course, Coulson ended Season 5 ready for a vacation in Tahiti -- the real Tahiti -- with May before he passed away, so Clark Gregg will be primarily playing somebody brand new in Season 6, and Skrulls probably won't be connected.
Jeff Ward's inclusion apparently means that Deke didn't just blink out of existence following Fitz's death at the end of Season 5, which was what I originally believed. Deke's continued existence presumably means that Simmons' mission to get Fitz back will be successful, as the show has given no sign that she was already pregnant at the time of Fitz's death.
Sadly, the Fitz who presumably does come back will be a Fitz who missed out on some key events from Season 5, not the least of which were his epic rescue of his pals on the Lighthouse and the perfectly FitzSimmons way Fitz and Simmons got engaged. But hey, at least he'll be alive!
Interestingly, alien anthropologist Enoch will seemingly be back as well, despite what appeared to be his definitive end back in Season 5. Actor Joel Stoffer was spotted in a picture posted in honor of S.H.I.E.L.D. wrapping filming on Season 6. Stoffer is reportedly recurring in Season 6, along with Briana Venskus as the resilient Agent Piper, according to Revenge of the Fans. The same report states that Anthony Michael Hall will appear as a guest star in the sixth season.
Who Is Clark Gregg Playing?
It was difficult to imagine Agents of S.H.I.E.L.D. without Clark Gregg, so fans naturally had to wonder after the Season 5 finale if S.H.I.E.L.D. would pull a switcheroo and find a way for Coulson to survive the ailment that was supposed to kill him. Well, we now know that original recipe Coulson really did die, and he seemingly went peacefully enough that May didn't sound too bitter in the Season 6 trailer. Gregg is back as a new character, and this new character won't just be Coulson 2.0.
Speaking to CinemaBlend's Nick Venable at the winter TCA tour, Clark Gregg revealed that he'd be playing somebody who looks "an awful lot like Phil Coulson to these people," and it "may be a little disturbing, what's about to go down." This newcomer will be known as "Sarge," and his grand introduction proves that he's not one of the good guys, at least right off the bat. Take a look!
According to Clark Gregg, playing Coulson could be quite challenging. Playing "Sarge" after so many years on the small and big screen alike as Coulson likely presented its own set of unique challenges. Hey, at least his character dying didn't mean he's out of a job! On top of this new character and potential appearances elsewhere in the MCU timeline like in Captain Marvel, there are possibilities like S.H.I.E.L.D. flashbacks, holograms, dream sequences, hallucinations, and more.
What Is The Premiere About?
Expectations are likely going to be high for the premiere after nearly a year without any new episodes, so the question is what S.H.I.E.L.D. will do to kick off its next season. ABC still hasn't released much premiere footage, but a description of the episode paints an interesting picture of a new enemy emerging. Here's what's happening:
The action will pick up after a one-year time jump, which should allow S.H.I.E.L.D. to neatly sidestep any continuity issues that would come with Avengers: Endgame.
Guest starring in the premiere are Maximilian Osinski, Briana Venskus, Joel Stoffer, Barry Shabaka Henley, Lucas Bryant, Winston James Francis, Matt O'Leary, Brooke Williams, Glenn Keogh, and Levi Meaden. In a fun twist, "Missing Pieces" was directed by Clark Gregg, and penned by co-creators/co-showrunners Jed Whedon and Maurissa Tancharoen.
Where We Left Off: S.H.I.E.L.D.
The end of Season 5 saw several of the characters broken into factions with different goals. With Coulson dying and wanting to spend his remaining time in a beautiful, calm, serene place with May by his side, he needed somebody to step up as director of S.H.I.E.L.D., and that person is none other than Mack.
Mack is certainly qualified to serve as S.H.I.E.L.D. director, but actor Henry Simmons has revealed that there's one particular challenge he faces. His "reluctance to put the people he loves in the line of danger" will force him to make difficult decisions, including "what sacrifices will be made." The core group of S.H.I.E.L.D. agents have become a family that trusts and loves each other. Mack may find that's less appealing when you're the guy in charge.
Chloe Bennet, who already explained how Quake will deal with Coulson's absence in Season 6, shared what to expect from Mack as S.H.I.E.L.D. head honcho in a chat with TV Guide:
With Piper, Daisy, and probably Yo-Yo still working at S.H.I.E.L.D., Mack should have familiar faces around him. He also didn't go looking for the leadership position, so fans should definitely cut him some slack if he struggles in Season 6.
Where We Left Off: May And Coulson
The Season 5 finale was especially bittersweet for May and Coulson. After everybody finally came to terms with the reality that Coulson was dying and didn't want any unnatural measures to be taken to prolong his life, Coulson and May left their friends at S.H.I.E.L.D. behind.
Where did they go? Well, just about the most fitting place imaginable. The last image of the two of them together in Season 5 featured them side by side on a beautiful beach on the actual island of Tahiti, which is presumably far more enjoyable for Coulson with May at his side than anything he went through with T.A.H.I.T.I. Hopefully Tahiti truly was a magical place for him in his final days.
With Coulson gone, May will clearly be back. How different will she be now that she's lost another man she truly loves? Will she still be opened up to her friends? Or will the Cavalry be back?
Where We Left Off: FitzSimmons
By this point, we're all wondering if Fitz and Simmons really are a little bit cursed, right? Well, at least S.H.I.E.L.D. found a new way to cruelly rip them apart right when they were beginning a fresh chapter of their lives together. Instead of depriving Fitz of oxygen at the bottom of the ocean or whisking Simmons off to a far-off planet, S.H.I.E.L.D. just went ahead and killed off Fitz.
Fitz hadn't had an easy ride in Season 5 already, he crossed some major lines with what he did to Daisy while in an altered state, and he wasn't thrilled that Deke of all people was their grandchild, and poor Simmons had to try and hold everything together. The good news is that Fitz's grand heroic gesture of freezing himself and sleeping the decades away in the first pod of Season 5 means that a frozen-in-time Fitz is floating around space somewhere, just waiting to be recovered, revived, and hopefully re-married.
Actress Elizabeth Henstridge shared some of what to expect from Simmons as she tries to find her lost love:
If anybody can find Fitz floating around the vast nothingness of space, it's Simmons. The universe may seem determined to rip Fitz and Simmons apart whenever they get too close to a happily-ever-after, but it hasn't stopped them from always fighting to get back to each other. Hopefully they both live to the end of Season 7 and can end the series by retiring to a cottage in Scotland or taking over their own lab or just doing anything that doesn't end in heartbreak.
Less than a month is left to wait before Agents of S.H.I.E.L.D. is finally back on the small screen. If you need a refresher of all that happened before, you can find all five current seasons of S.H.I.E.L.D. streaming on Netflix now.
Your Daily Blend of Entertainment News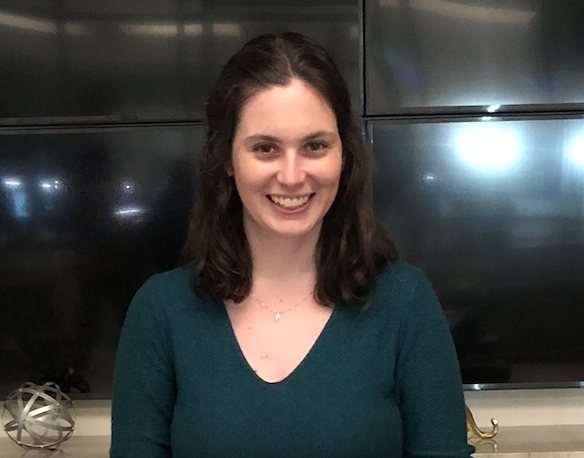 Laura turned a lifelong love of television into a valid reason to write and think about TV on a daily basis. She's not a doctor, lawyer, or detective, but watches a lot of them in primetime. Resident of One Chicago, the galaxy far, far away, and Northeast Ohio. Will not time travel and can cite multiple TV shows to explain why. She does, however, want to believe that she can sneak references to The X-Files into daily conversation (and author bios).