Jeopardy Wizard James Holzhauer Has Now Won More Than $1 Million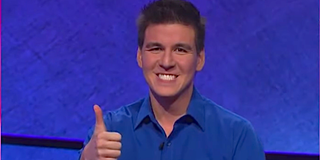 While Game of Thrones' eighth and final season may be the biggest fictional spectacle on television right now, TV's biggest nonfiction spectacle offers a far different kind of warrior's reign. I'm speaking, of course, of Jeopardy! and its current champion James Holzhauer, the mega-betting phenomenon that has kept fans talking for weeks now. Holzhauer has added more lucrative gold stars to his record as he has now surpassed $1 million in Jeopardy! winnings. Amazing!
Passing a Million
For Tuesday afternoon's telecast, James Holzhauer once again made Jeopardy! history in several big ways. First of all, he became the fastest Jeopardy! contestant to make it to $1 million in winnings, either by regular game standards or with tournaments thrown in there. Of course, he's only the third champion to ever even reach a million dollars on the long-running game show.
Ken Jennings was the only other contestant to reach $1 million during traditional games, since the all-time money winner Brad Rutter was first on the show before the rule change allowing contestants to play on after five days of winning. Rutter did become a millionaire champion in later years, though, after winning the Million Dollar Masters Tournament. Still, James Holzhauer hit the cool mil mark in just 14 games. I've had colds that lasted longer that that.
Setting a New 2nd Place Single-Game Record
James Holzhauer won Tuesday's game on a Final Jeopardy clue that called back to the Civil War, and the champ nailed it, winning a mighty sum of $118,816. Understandably, the game was a runaway at that point, and like he'd done in many games before, Holzhauer bet big for his Final Jeopardy wager, and it paid off.
That score was big enough to take the second place spot in the biggest single-game winnings of all time, though it wasn't enough to top Holzhauer's own epic win of over $131,000. Still the current Jeopardy! champ now holds the top SEVEN biggest win spots. The previous top dog, Roger Craig, had won $77,000 in 2010, which was extremely impressive at the time. However, Holzhauer's average winnings across 14 games is just under that total, at around $75,825. It's almost unbelievable.
Early in his run, James Holzhauer leapt past former champion David Madden to become the second highest-winning contestant in Jeopardy!'s history. The only way that placement is likely going to change is if Holzhauer tops Ken Jennings' $2.5 million record. If anyone could do it, Holzhauer appears to have the talent and the seemingly necessary gambler's mindset.
Reaching The 4th Highest Winning Streak
It's so easy to lock our attention spans onto James Holzhauer's dollar signs, especially now that he's broken into seven-digit winnings. However, we definitely shouldn't overlook celebrating the increasing number of episodes that he's winning, as he's slowly climbing that list of Hall of Famers as well.
With Tuesday's victory landing him at 14 victories, James Holzhauer bounced up to the #4 slot for the number of consecutive games won. He'd previously been tied with Matt Jackson, whose 13-game streak came back in 2015, knocking 12-game-winners Austin Rogers and Seth Wilson out of the Top 5 spots.
Viewers will have to wait another week before Holzhauer will be able to make a move to take over the #3 spot on that list. David Madden is currently in that position, having won 19 straight games in 2005, and above him is Julia Collins at 20 games. Anyone who's watched Holzhauer in action probably wouldn't hesitate much in predicting that he will be successful in passing up both of those former champs.
Making It to SportsCenter
James Holzhauer got to make a recent dream of his come true in the form of an appearance on ESPN's SportsCenter for an interview with Scott Van Pelt. It was a fun talk, during which it was revealed that Van Pelt's mother, who isn't a regular SportsCenter viewers, was making the special effort to tune in for that segment, as she's a big fan of Holzhauer's.
It's definitely not an everyday occurrence to see any game show contestants appearing on ESPN in general, at least outside of Sports Jeopardy airings. The contestants' lone time to speak casually on the main show happens during their post-commercial conversations with Alex Trebek, so it was delightfully strange to see Holzhauer get to say so much about his approach to the game and about his betting techniques. I was also quite interested in what he had to say about trying to perfect the use of the Jeopardy! buzzer.
Getting His Own Jeopardy! Tracker Page
It's becoming harder and harder to remember all of the ways James Holzhauer is changing the game's record books, so Jeopardy! has added a tracker to its website for fans to stay current with the champ's winning streak. The fact that the show waited so long to put that graphic together, despite already knowing how much Holzhauer ends the season with, makes me think that Holzhauer's string of wins isn't going to end anytime soon.
That tracker page offers up a good line of defense for assumptions about how long Holzhauer could keep his Jeopardy victories going. 13 of his 14 games were completely sewn up even before the Final Jeopardy round, speaking to his board-dominating nature. Plus, his 97% correct answer rate is pretty astounding, especially considering he's buzzing in on most of the questions.
That percentage drops by a small amount when measuring his success rate with Double Jeopardy clues, but I'm pretty sure getting 32 out of 35 DJ answers correct would lead to its own record. As well, he's been correct 93% of the time with all of his Final Jeopardy answers, getting only one incorrect in those first 14 games.
If Alex Trebek's health starts to decline again soon, or if he feels he's just not feeling good enough to return for next season, I hope that James Holzhauer's unpredictable streak of high-dollar wins would serve as a solid punctuation mark for the longtime host to bow out on. That said, I have far bigger hopes that Trebek will be as spry and wry as ever for Season 36.
Jeopardy! will continue airing the rest of its very special 35th season until the summer hiatus hits. Is it possible that James Holzhauer could last until the proper season finale, having to continue anew again in the fall? Maybe so. Be sure to check your local listings to see when and where Jeopardy! airs in your area.
Assistant Managing Editor
Nick is a Cajun Country native, and is often asked why he doesn't sound like that's the case. His love for his wife and daughters is almost equaled by his love of gasp-for-breath laughter and gasp-for-breath horror. A lifetime spent in the vicinity of a television screen led to his current dream job, as well as his knowledge of too many TV themes and ad jingles.
Your Daily Blend of Entertainment News
Thank you for signing up to CinemaBlend. You will receive a verification email shortly.
There was a problem. Please refresh the page and try again.