Amazon's The Boys Trailer Delivers Gruesome Speedster Moment That Could Never Happen On The Flash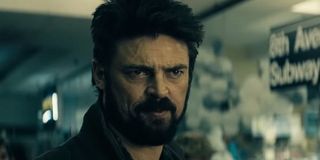 Summer used to be a down period for television programming, but cable and streaming services have changed the game in recent years. Netflix and Hulu are rolling out some of their heavy hitters such as Stranger Things and Veronica Mars, while Amazon Video will soon add another explosive new show to its lineup with the comic book adaptation The Boys. The latest look at the brutal anti-superhero series has arrived, and with it comes a speedster scene that would leave The Flash's Barry Allen completely shook.
That. Trailer. Was. Awe. Some. The Spice Girls have never sounded cooler, either. But let's talk out that wild early moment, and then we'll get to the rest of the trailer...in a flash.
That scene can really hit a lot of different ways, right? Imagine the scarring feeling of brutally losing someone in an instant, and how messed up it would be to know that a celebrated speedster killed that loved one. Of course, superheroes doing horrible things against character type is largely the premise of The Boys, so while that scene may feel gratuitous, it's actually driving the point home for why Karl Urban's Billy Butcher and The Boys need to bring these heroes to justice.
This particular moment in The Boys' new trailer really sets the tone for how horrifically gory this series can and will get. I think that CGI bloodbath is technically gorier than every violent moment that's happened in The Flash put together. We should've expected as much, considering The Boys is coming from executive producers Seth Rogen and Evan Goldberg, who were also part of the creative team behind AMC's wonderful and sometimes controversial Preacher. Still, though, this is all pretty intense for a TV trailer.
Those bits of blood and bone flying away from the oblivious guy's body is fantastic. As stated above, it's the kind of gruesome material The Flash and other popular superhero shows and movies (minus Deadpool) wouldn't touch with a 10-foot pole. That's a good thing for The Boys, which may turn out to be refreshing superhero series in a genre that already feels over-saturated as is.
Really, not even the Deadpool movies can compare to some of the insanity that appears in this trailer for The Boys. After all, most of Ryan Reynolds' anti-hero's over-the-top violence and gruesomeness is padded head-to-toe with comedy. This Boys scene may very well have some humor injected into it, but it's nowhere near as manifest as the message of how horrifying it would be to experience a clumsy speedster decimating a loved one.
I mean, it IS funny, but the joke isn't quite as on the nose. (The nose doesn't even exist anymore.)
If the adaptation stays in line with the comics, expect The Boys to head into territory even darker than this. The good news is there does appear to be plenty of comedy shoved in between those immensely serious moments, which will hopefully be enough to make this show feel more fun than depressing.
Amazon Wants To Make Movies With Major Studios
We won't know for sure until we've seen it, although there's plenty to indicate there's enough offbeat hilarity in The Boys to keep audiences laughing while watching the carnage. The Spice Girls music over the action in the back half of the trailer was a nice touch, and did anyone else catch Karl Urban's Billy using a baby with laser vision as a weapon?
Laser Baby > Baby Spice. There's something so satisfying about the way that laser just lops that other guy's head clean off. (Well, not so clean with all that blood.) Also, I gotta give a shout out to that baby and its surprising neck control, which is perhaps that's another one of its super powers.
Karl Urban's Billy Butcher is just one of the big characters that make up The Boys core squad, as the merc superhero-stopper team also boasts Madelyn Stillwell (Elisabeth Shue), Mother's Milk (Laz Alonso), "Wee" Hughie Campbell (Jack Quaid), Female (Karen Fukuhara), and Frenchie (Tomer Kapon). They'll seek to bring justice against The Seven which includes Anthony Starr's Homelander, Starlight (Erin Moriarty), Queen Maeve (Dominique McElligott), A-Train (Jesse Usher), The Deep (Chance Crawford), and Black Noir (Nathan Mitchell). And let's not forget Hughie's visual inspiration, Simon Pegg, will be playing Hughie's father.
The Boys is set to premiere on Amazon Prime Video (opens in new tab) on Friday, July 26, at 12:01 a.m. PT. Stick with CinemaBlend until then for more on what's coming to theaters and television in the meantime.
Your Daily Blend of Entertainment News
Mick likes good television, but also reality television. He grew up on Star Wars, DC, Marvel, and pro wrestling and loves to discuss and dissect most of it. He's been writing online for over a decade and never dreamed he'd be in the position he is today.
Your Daily Blend of Entertainment News
Thank you for signing up to CinemaBlend. You will receive a verification email shortly.
There was a problem. Please refresh the page and try again.