How Will The Office Leaving Netflix Affect Subscriber Numbers?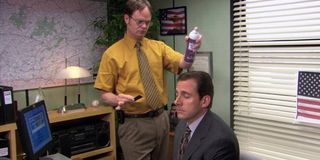 Dunder Mifflin is relocating. The Office, the NBC workplace sitcom which has widely become one of the popular sitcoms of the 21st century, as well as one of the easiest ways to break into casual conversation with friends and/or strangers, has found a comfortable home at Netflix, where viewers can put on the popular show anywhere they want, whenever they want, and revisit all their favorite moments just with the click of a few buttons. Alas, the good times are coming to an end.
More specifically, The Office is being taken off Netflix, starting in 2021, when it'll be transferred to NBC's own streaming service. As you would expect, The Office's multitude of fans are not taking this news well. Not at all. Here is a common response on Twitter to the announcement:
Similarly, here is how some other loyal viewers have responded to The Office's upcoming departure from the streaming giant.
Suffice to say, there are many The Office fans who use Netflix, and they're not the least bit too happy about this news. With that in mind, the question remains: Will The Office leaving Netflix in January 2021 impact the streaming service's humungous numbers? Might seem odd to ask at first, until you think about it a little while longer. Let's break it down and see if Netflix should be worried about their subscriptions dropping in the next couple of years.
NBC Is Taking The Office To Its Own Streaming Platform
As mentioned earlier, the reason why The Office is leaving Netflix in 2021 is because NBC will debut its own streaming service, which is currently unnamed, in early 2020. Like many other content creators out there, NBC sees the potential in unleashing its own streaming service, much like CBS All Access, and the network wants a piece of the pie. Understandably, NBC believes one big way to bring in subscribers is to put one of its most famous, culturally adored and relevant shows on the platform for viewers to watch/re-watch at their convenience — along with new shows and other favorites.
The streaming wars is in full effect, ladies and gentlemen. Companies are looking for anything that will bring people, and dollars, to their own pockets. Since it's a little while away still, the details surrounding the upcoming NBC streaming service are currently vague, and by no means final, at this point. Nevertheless, according to The Daily Dot, NBC will probably expect people to pay $12 a month to watch shows like The Office, Parks and Recreation, Saturday Night Live, and more, as well as new programming that'll debut on this channel. Is it worth it to subscribe to yet another streaming service?
That's ultimately up to you and your family, of course. However, it's clear that one thing people loved about The Office being on Netflix is that, in addition to having tons of original content available on a weekly (and sometimes daily) basis, you have access to old familiars like The Office, Friends and other aforementioned shows. In fact, it would be a stretch to say that rewatching The Office is one of the primary reasons people hold on to Netflix.
With Friends also leaving Netflix fairly soon, along with other popular content not made exclusively under Netflix's original production house, it might or might not incentivize viewers to get NBC's new streaming service, but it might promote them to cancel their Netflix subscriptions for good.
What Losing The Office Means For Netflix
While Netflix has been creating a ton of original content to appease current subscribers or appeal to potential new ones, the truth of the matter is that the allure of Netflix isn't solely limited to what the company creates, but also what other familiar content it holds on the streaming service. While licensing and legalities might be a headache to deal with, it does pay off for Netflix to provide easy access to shows like Friends and The Office. Netflix knows this, because it has paid big bucks in previous years to keep both of them there as long as possible.
As it has been reported at this point, Netflix paid TimeWarner upwards of $100 million — reportedly — to keep Friends on the streaming service. Alas, it'll only stay on Netflix until the end of this year. Additionally, according to USA Today, Netflix was allegedly willing to pay NBCUniversal upwards of $90 million for the show to stay at its current home, but NBC still topped the bid. NBCUniversal knows what it has, and it's not giving The Office to Netflix — or letting it keep it — without a fight. Clearly, the one-two punch of losing Friends and The Office will be a big blow for the streaming service.
While it hurts, Netflix can't risk spending too much money on one or two sources when the company is starting to hurt for cash itself. Still, there's no denying that when Friends goes back to WarnerMedia and The Office is back at NBCUniversal, Netflix will be dealing with two giant losses to its catalog. And the streaming service will need to fill it with something worthwhile, to say the least.
Now, the question remains, what's next? There's a good chance that Netflix will only see a small bump in the road once Friends and The Office pack up their bags and head back to their respective conglomerates. Considering how Netflix is willing to spend triple-million dollar digits, or nearly triple-million dollar digits for just one or two shows, it's apparent that Netflix knows that a storm is brewing; that storm being the online comments that already have been flowing from viewers who have learned these shows will no longer available when they log onto Netflix.
Likely, even Netflix can't be cocky enough to shrug this one off as "The One Where It's No Big Deal." The Office as well as Friends are a loss for the service. The changes are coming to Netflix in a way that could hurt in the long run, and certainly come at a sensitive time. With the rising costs that come with having a subscription to Netflix, along with the budding competition that is arriving from other new or upcoming streaming services from Disney, Apple, and many, many more, including other competitors like Hulu, Amazon, HBO, and YouTube, there are people more tempted than ever to find an excuse to cancel their Netflix accounts. For many folks, the big loss of The Office and Friends will be incentive to say, "You know what? Maybe I can live without Netflix now..."
Of course, that might be jumping to conclusions. There will always be people who will stick with Netflix, even if it's just for content like Stranger Things or whatever else might be in the works at the moment. This was shown over at HBO recently when the cabler ended Game of Thrones. A lot of people googled 'How to cancel HBO,' but when push came to shove, not a ton of people did anything about it.
Regardless, Netflix is blowing through billions of (often borrowed) dollars a year to produce original content; the company spent a reported $15 billion on original content for this calendar year alone, and it might soon be reaching a peak subscriber point in the United States, as noted by Variety. It might not be doom-and-gloom, per se. There are reports that people are coming back to Netflix to watch Stranger Things, for instance, and reports indicate Netflix's subscription rate might be growing worldwide, even if it's potentially stagnating domestically. But what will happen in the future?
At this point, Netflix is no longer able to afford lower subscriptions. The subscription streamer is spending billions of dollars to make original streaming content, and it will be even more in the hole if the high cost of spending is not eventually balanced out by subscription costs. Just this past May, Netflix had another price hike, and that's not expected to stop soon. So, the possibility of Netflix lowering its subscriptions seem very highly unlikely at this point, which might spell out trouble.
In any case, there is good reason to believe The Office is going to have an impact on what will happen with Netflix's future. The subscription streaming service clearly has the analytics, and it knows that a lot of people watch and rewatch The Office at a regular clip. While the company is shy about revealing its numbers to the public, unless it benefits them, like it does with, say, Bird Box, Murder Mystery or the newest season of Stranger Things, Netflix wouldn't be willing to put $90 million on the line if it was just some show that people sort of liked. People are obsessed with The Office; they quote it, and talk about it, every day.
When it comes time to say goodbye to The Office on Netflix, it will represent the next big phase for the company. Specifically, will its original content be enough to keep people happy? Because with the Marvel movies, along with these popular shows, packing up their stuff and going elsewhere, Netflix is gradually losing anything that doesn't already belong to them. And without these familiar standbys, Netflix's subscribers might be more hard-pressed to leave the service behind — especially if they think they're paying more for less options, even though that is not technically true, of course.
Ultimately, Netflix will probably make it out OK, though it is definitely going to have to focus on re-strategizing. And it sounds like the company is working on it. The streamer has a lot in the works, including an upcoming movie with The Rock, Ryan Reynolds, and Gal Gadot that will cost the company quite a pretty penny. It is clear there are a lot of people who are sticking with Netflix, even as some of the content is slipping away. Yet when Dunder Mifflin is back at NBC, and people can't revisit their favorite Scranton characters for the sixth, seventh time, that might be subject to change. We'll keep you posted.
Your Daily Blend of Entertainment News
Will is an entertainment writer based in Pittsburgh, PA. His writing can also be found in The Playlist, Cut Print Film, We Got This Covered, The Young Folks, Slate and other outlets. He also co-hosts the weekly film/TV podcast Cinemaholics with Jon Negroni and he likes to think he's a professional Garfield enthusiast.