4 Big Little Lies Season 2 Flaws That Stop Me From Fully Loving It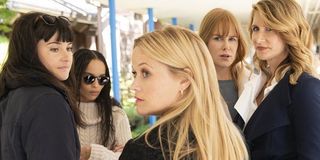 Warning! The following contains spoilers for Big Little Lies Season 2. Read at your own risk
Big Little Lies Season 2 is just about done, and there's been a lot to love. It's been a season of awards-worthy performances as Meryl Streep and Laura Dern definitely have made cases for future Emmy recognition with scenes that captured why this series is so addictive to begin with. Additionally, the drama is as tense as ever, and it's hard to predict just where the HBO drama is headed next.
With that said, there have been some parts of this season that have irked me personally, and others have expressed that the season hasn't been as strong as Season 1. Below are some of the broader reasons this season hasn't been quite as amazing as I've wanted it to be, and may be why others are feeling the same way as well.
The Season 2 Finale Is A Week Away, And It Feels Like We're Only Halfway There
Was it just me, or did the penultimate episode of Big Little Lies feel like the tease to a midseason finale? In a season where all the women are trying to hold their lives and their shared secret behind Perry's death together, the big tease was that Celeste will be cross-examining Mary Louise (which must be a dream for Nicole Kidman) in an ill-advised courtroom throwdown?
As cool as that sounds, it feels like Big Little Lies is headlining in a sub-plot resolution for its Season 2 finale, and saving any bigger drama that may come from re-opening Perry's case for a future season. A future season, by the way, which hasn't been guaranteed and seems difficult to make happen given the level of talent attached (though some stars are receptive to the idea).
Don't get me wrong, Meryl Streep absolutely deserves the spotlight for her work on Big Little Lies, and tying her into the Season 2 finale in a major way is a great call. At the same time, there are so many other things going on with other characters that it feels almost negligible to extend this courtroom drama any longer while other characters we care about watch from the sideline. If this might be the final season; we need resolution for all characters.
Madeline And Ed's Relationship Drama Is Played Out
I love the fact that Big Little Lies is showcasing Madeline and Ed's relationship drama and not acting like everything was suddenly fine following her infidelity, and will frequently praise every minute the typically geeky and humorous Adam Scott is given to showcase his skills as a serious actor. Things got off to a great start when Ed finally learned of Madeline's cheating, but as the season progressed, things quickly fizzled out.
After the reveal things quickly stagnated to where it was a constant back and forth in which Madeline was sad and asking for forgiveness, and Ed just said "I can't trust you." It's not necessarily inaccurate to a real-life spat between a couple, but some of the scenes feel repetitive to the point where maybe it would've been best to write in a scene for someone else instead of beating the dead horse once again.
It's far less dynamic than the relationship troubles between Renata and Gordon, which has had far more powerful scenes in comparison. Their relationship has really taken a nosedive in comparison, while Ed and Madeline's recently felt like it ultimately hit the reset button after Madeline got drunk and put on her wedding dress. C'mon Ed, that can't be the "magic wand" that makes everything alright.
What's With Bonnie's Whole Supernatural Story?
Bonnie's entire arc in Season 2 of Big Little Lies has been solid, and Zoë Kravitz has done a superb job of portraying the internal struggle within her character. Unfortunately, that performance has been somewhat marred by the introduction of Bonnie's mother and her vision that showed Bonnie "drowning." The vision has continued to pop up in flashes even after her mother's stroke, and seems to be leading up to something.
I think a lot of Bonnie's story for Season 2 of Big Little Lies would've been completely fine without the introduction of this supernatural element. It's jarring to have in a show that never strayed into that type of territory in its first season, and feels remarkably out of place in the overall story for Season 2. Did it really take a prophecy to tease Bonnie is struggling following the events of Season 1?
Sure, it gave an excuse to bring Bonnie's parents and her difficult childhood into the picture, but it feels the whole drowning prophecy could've collapsed with Bonnie's mother. Instead, it's continuing to be dragged out for some big reveal that, regardless of how telling it is, includes a mystical element that really had no place in Big Little Lies to begin with.
Jane's Bangs Are Legitimately Distracting
For the record, there is a pretty valid reason Jane Chapman's bangs are a hot mess. Big Little Lies wanted to signal a change in Jane's character following Perry's death, and THR reported Shailene Woodley suggested the haircut. They're supposed to look bad by design, as the point is for it to look as though Jane cut her hair herself.
I can appreciate that attention to detail and symbolism for what it means for the character, but man, those bangs are legitimately distracting. It's a sentiment shared by several in the Big Litlte Lies fanbase, many of whom likely wish one of her friends would've had the decency to tell her to fix that situation after a period of time.
That said, it's not like much can be done about the bangs besides growing them out, which takes time. In the grand scheme of things, this is a relatively minor gripe compared to the other issues with Big Little Lies Season 2, and is meant to be more tongue-in-cheek than anything. Still, there's that small bit of me that quietly wants to blame the bangs for all of my issues with Season 2.
Meryl Streep Shocked To Learn Big Little Lies Cut Ice Cream Scene, But Fans Will Still Get To See It
Big Little Lies still has a Season 2 finale get through, which is set to air on HBO Sunday, July 21. Stick with CinemaBlend for news on a potential Season 3, and to stay up to date with what else is happening in the world of television and movies.
Mick likes good television, but also reality television. He grew up on Star Wars, DC, Marvel, and pro wrestling and loves to discuss and dissect most of it. He's been writing online for over a decade and never dreamed he'd be in the position he is today.
Your Daily Blend of Entertainment News
Thank you for signing up to CinemaBlend. You will receive a verification email shortly.
There was a problem. Please refresh the page and try again.