How AEW Can Learn From Failures Of Past WWE Rivals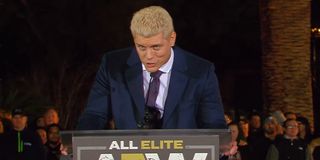 All Elite Wrestling, or AEW, is making big headlines in the world of wrestling and will make even more come October. Then, it will become the first major competitor that the WWE has seen in quite some time. Will it become a legitimate competitor and give Vince McMahon's organization a run for its money?
It feels like a tall order given just how dominant the WWE is in the world of wrestling, but anything can happen. With that said AEW has a better advantage than past competitors to WWE in that it can look to some of those organizations' major mistakes, and hopefully, not repeat them in its rise to being a top wrestling program on cable television.
Give Championships To Up-And-Comers And Not Just Legends
AEW hasn't even made its cable television debut yet, and it has already committed one of the biggest cardinal sins a new wrestling organization can make in the eyes of fans. At the brand's All Out Pay-Per-View, Chris Jericho was crowned as the company's first ever world champion. As many wrestling fans know Jericho is a legend across all pro wrestling, but perhaps most notably known as one of WWE's Legends.
Jericho is a big star so on one hand it makes sense to make him the first champ to help drive eyes to the program. At the same time, it may give wrestling fans pause that one of AEW's most famous and seasoned stars is starting out at the top of the totem pole. It would've been nice to see a younger star take the title, or at least someone who isn't so ingrained in WWE's history they can't walk back in the minute things go south in AEW.
Don't Try To Be WWE
Though the WWE formula isn't necessarily hard to replicate, it is costly. AEW definitely has the deep pocketed billionaire investor (Shahid Khan) it needs to afford to go toe to toe with wealthy and competitive Vince McMahon, but it's still not the best idea. McMahon made pro wrestling what it is today, and the legacy he's built with his company is the type of advantage money, even wheelbarrows of it, can't buy.
Besides the fact that AEW won't be able to compete with legacy, there's also the simple fact that a large chunk of its incoming audience is looking for something that is something different than what WWE offers. In today's day and age, it'll be impossible to completely avoid mimicking WWE considering its massive influence, but AEW really has a chance to bring back some things the brand has outlawed over the years.
Things such as re-introducing "banned" moves and dialogue beyond a PG setting would be a great start, and an easy way to show AEW's appeal. Not that it has to be all blood, swearing, and sex, but giving a product with a bit more edge for older wrestling fans would be more than welcome in the current climate. Don't just give fans another place to watch a product that feels like WWE, because there's going to be more than enough of that weekly as is.
Keep Things Simple
One big thing WCW and TNA both struggled with at various points in their runs were that both ended up making things more complicated in an effort to differentiate from WWE. WCW went crazy with increasingly nonsensical match stipulations, and TNA introduced a hexagonal ring. Neither of these examples were all that popular with fans, who would've been fine had these brands just maintained the status quo.
The status quo being solid wrestling with engaging story lines. That, and not gimmick matches or set pieces, are at the core of what keeps fans entertained. If AEW introduces something that revolutionizes wrestling and changes it for the better, that's great. It's not like AEW shouldn't take risks, but it should never be at a point where it's solely relying on a gimmick to entertain audiences.
It should always be about the talent and wrestling, which the brand fortunately has in spades at the moment. This roster is absolutely stacked with guys who were underutilized within the WWE, and could finally get their moment in the sun in AEW. Push those guys the way they deserve to be pushed, and the brand will get a lot of fast fans ready to stick around and see what they'll do next.
Continue To Draft Top Talent Outside Of WWE
One of AEW's biggest achievements so far is the number of talented wrestlers from around the world. Perhaps the most important of these are the The Young Bucks (Matt and Nick Jackson) and Kenny Omega. These three are increasingly rare unicorns in the world of professional wrestling, as they can say none of their fame is attributed to their association with the WWE.
Continuing to find top talent from places outside the WWE will be important for AEW, as there will surely be temptation and offers extended to other wrestlers to return when the show officially launches. Jon Moxley may not want anything to do with WWE now, but if a year or two from now his paychecks are looking thin and WWE is offering a fat signing bonus and a championship run for Moxley to return as Dean Ambrose, he'd be foolish not to consider.
It's a problem all existing wrestling organizations must compete with and, sooner or later, AEW will lose a wrestler to WWE. Finding talent that the brand has passed on may help diminish that, and ultimately keep the impact of poaching at a minimum.
Welcome Celebrities, But Keep Them At Arm's Length
Having actors, actresses, singers, reality stars, and athletes appear in a wrestling ring is fun, and can often make for exciting segments. A celebrity appearing in the Squared Circle can mean coverage on mainstream sites not specific to wrestling, and can generate YouTube clicks from a casual audience that would never hunker down and watch wrestling on television. In today's day and digital age that means something.
With that said, there's really a limit to how and when celebrities should be used to promote wrestling organizations. One prime example of the wrong way to utilize a celebrity in wrestling came in 2000, when Scream actor David Arquette was crowned WCW's World Heavyweight Champion. Not only did giving the scrawny inexperienced wrestler the most prestigious belt in the organization piss off many wrestlers within the organization, fans weren't too big on it happening as well.
It was and still is widely regarded as one of the worst moments of professional wrestling, and there's a handful of celebrity wrestling moments that aren't that far behind it. Most pro wrestling organizations wouldn't dare put a random amateur in the ring with no experience, so why do they even consider doing it with celebrities? It's a question we may never fully know the answer to, but a sin that AEW can steer well clear of if it so chooses.
Why Dave Bautista Actually Left The WWE
AEW is set to make its debut on TNT Wednesday, October 2. Stick with CinemaBlend for more on it, and for the latest news happening in the world of television and movies in general.
Your Daily Blend of Entertainment News
Mick likes good television, but also reality television. He grew up on Star Wars, DC, Marvel, and pro wrestling and loves to discuss and dissect most of it. He's been writing online for over a decade and never dreamed he'd be in the position he is today.
Your Daily Blend of Entertainment News
Thank you for signing up to CinemaBlend. You will receive a verification email shortly.
There was a problem. Please refresh the page and try again.