Arrow's Final Season Is Bringing Back Willa Holland's Thea Queen In A Big Way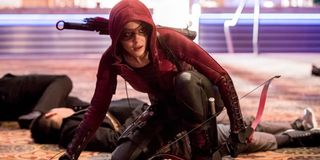 Arrow is rolling out the red carpet for its final season, welcoming back a variety of familiar faces, including Susanna Thompson's Moira Queen and John Barrowman's Malcolm Merlyn. The superhero series can now add Willa Holland to that roster of returning characters. Holland, who played Oliver's younger sister Thea Queen, exited the series in Season 6, but she will be back again in Season 8 -- and she'll be around for a lot more than just a guest appearance.
After a leave of absence, Thea will be making her way back to Star City after journeying to find and destroy the remaining Lazarus Pits. Though Willa Holland's been gone since Season 6, she briefly made an appearance in Season 7's "Emerald Archer," a documentary-style episode that provided insight into vigilantes, the Green Arrow, and his history with Star City. Thea showed up in an interview segment and the episode included an appearance from Grant Gustin's Barry Allen as well.
According to TVLine, Willa Holland's return in Season 8 will be in a recurring role rather than as a one-off guest star. Thea is one of a handful of Arrow characters to have been with the show since its pilot episode. Prior to her exit, Holland had been a series regular for four seasons. However, her episode number dropped to 14 instead of 23 during Season 5 and she spent the first half of Season 6 in a coma, a casualty of Prometheus blowing up the island of Lian Yu in the Season 5 finale.
After she left, Arrow attempted to fill the void of Oliver's disappearing family members by bringing in Emiko, his half-sister and Robert Queen's secret daughter, in Season 7. Of course, she ended up being the leader for the Ninth Circle and, suffice it to say, her relationship with Oliver never really recovered after that. Thea's return is highly anticipated and much needed, especially now that Oliver will be facing death and a new mission for The Monitor ahead of the Arrow-verse crossover, "Crisis on Infinite Earths". After all, Oliver needs his family by his side now more than ever.
Roy Harper had left with Thea in Season 6, presumably for good, only for actor Colton Haynes to return in Season 7 in a series regular role. However, Haynes' status on the show changed yet again and he took to Twitter recently to confirm that he had not been asked back as a series regular in Season 8. Talk about awkward.
In Arrow's seventh season, Roy had come back to help Team Arrow and it was later discovered that he'd died and been resurrected, suffering through the same bloodlust that Thea had experienced in Season 4. Per the flash forwards, 2040 Roy had been living on Lian Yu before joining Oliver's son William in Star City. However, he and Thea were no longer together, so perhaps Thea's return in Season 8 will help clear up the ambiguity surrounding their relationship status.
Arrow Season 8 premieres Tuesday, October 15 at 9 p.m. ET on The CW. For all your Fall TV needs, make sure to check out our guide to all the new and returning shows.
Your Daily Blend of Entertainment News
Your Daily Blend of Entertainment News
Thank you for signing up to CinemaBlend. You will receive a verification email shortly.
There was a problem. Please refresh the page and try again.