Arrow Is Doing Something Different With The New Team Arrow In Season 8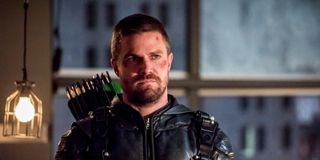 Headed into its eighth and final season, Arrow will continue its Season 7 tradition of flash-forwards instead of the classic flashbacks. With Oliver Queen called upon to work alongside The Monitor in the present, the future is still in the hands of New Team Arrow and Oliver's children, William and Mia. Now that it seems like the series will focus a lot more on 2040, "Team Arrow 2.0" will get a lot more time to deal with personal things.
The farewell tour for Arrow has already begun and consulting producer and former series showrunner, Marc Guggenheim, spoke with TVLine about the show's final season and what the future Team Arrow will be dealing with.
It's vague and doesn't offer much, but it could mean that the team, which includes Zoe, William, Mia, and Diggle's adopted son Connor, will have time to deal with their personal lives and reflect on what they've already been through. They probably won't spend entire episodes doing that, though. After all, Star City is still in disarray and there's still a lot left to do. However, it seems like they'll have a lot more space to explore other aspects of their lives. Not every second will be filled with action, I'm sure.
Arrow introduced the adult version of William, played by Ben Lewis, in the Season 7 premiere. He had been estranged from his dad and stepmom, Felicity, for several years before he received a signal that took him first to the island of Lian Yu and back to Star City. That's where he met his half-sister Mia, played by Shadowhunters actress Katherine McNamara. Mia's existence had remained a secret to everyone except for Oliver, Felicity, Diggle, and Nyssa. It's an impressive feat considering that, historically, no one in the Arrow-verse is all that great at keeping secrets for that long.
In the present timeline, Stephen Amell's Oliver will be carrying out The Monitor's mission. Although it's unclear exactly what that will be, his apprenticeship, for lack of a better word, will lead right into the crossover, "Crisis on Infinite Earths." Oliver thinks he'll be executing the mission alone, but David Ramsey, who plays Diggle, strongly hinted that he might be helping Oliver.
That'll be nice to see, especially since Diggle and Oliver have been close since the very first episode of Arrow, in spite of some rough patches along the way. The only one missing the action is Emily Bett Rickards' Felicity, who exited the series at the end of Season 7 to pursue other projects. Though her leaving seemed final, the producers have acknowledged how strange it is that she won't be around for Season 8. It was a relief, however, that the writers decided to give her a great ending instead of choosing to kill her off.
Arrow Season 8 premieres on a new day and time on Tuesday, October 15 at 9 p.m. ET on the CW. Be sure to check out our complete guide to all the new and returning Fall TV shows.
Your Daily Blend of Entertainment News
Your Daily Blend of Entertainment News
Thank you for signing up to CinemaBlend. You will receive a verification email shortly.
There was a problem. Please refresh the page and try again.