Arrow's Final Season Highlights 'Incredible' Dynamic Between Trio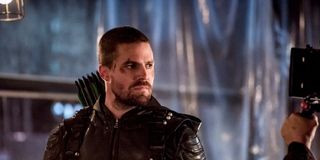 Season 8 of Arrow will be looking a bit different this year. After making a mysterious deal with The Monitor during last year's crossover, "Elseworlds," Oliver Queen's deal came due after being called upon in the Season 7 finale. Though exactly what Oliver will be doing for The Monitor is still a relative mystery, with the "Crisis on Infinite Earths" crossover approaching, Oliver will be on a separate journey from the rest of Team Arrow.
The Monitor has tasked Stephen Amell's Oliver with a mission ahead of "Crisis on Infinite Earths" and, although the Green Arrow believed he would be taking on these tasks on his own, he'll not only be joined by David Ramsey's Diggle, but the new team will also include Earth-2's Laurel Lance and the new Black Canary, played by Katie Cassidy Rodgers.
David Ramsey detailed the intriguing new dynamic between the characters and how it'll definitely be different than what the audience has grown accustomed to. From what it sounds like, a new version of Team Arrow is emerging. He noted:
Laurel joining Oliver's mission is an interesting turn of events, especially considering how ambivalent Oliver has been toward the former Black Siren. In Season 7, Earth-2's Laurel struck a surprising friendship with Felicity Smoak, harbored the secret of her pregnancy and assisted in her vengeance against the villain Ricardo Diaz. However, now that Emily Bett Rickards won't be returning to Arrow in its eighth and final season, Oliver will need all the help he can get. According to Stephen Amell, this new alliance might have Oliver reconsidering his previous assessment of Laurel. After all, they haven't exactly been civil toward one another in the past and Oliver often suspected her of being untrustworthy. He said in the same interview with EW,
If there's ever a time to let bygones be bygones, it should be in Arrow's final season. Since Oliver is fated to die in "Crisis," he and The Flash's Barry Allen (Grant Gustin) will have a heavy burden to carry. Their upcoming deaths will make the Arrow-verse crossover all the more emotional and will provide the event, which has been teased since the very first episode of The Flash, with enormous stakes.
Arrow Season 8 will premiere on Tuesday, October 15 at 9 p.m. ET on the CW. Want to know when all the other Arrow-verse shows are set to return? Check out our complete Fall TV list and stay up to date.
Your Daily Blend of Entertainment News
Thank you for signing up to CinemaBlend. You will receive a verification email shortly.
There was a problem. Please refresh the page and try again.