Big Bang Theory: Why Sheldon's Big Speech Didn't Thank Characters From Young Sheldon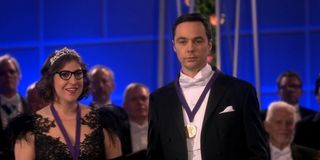 The Big Bang Theory ended its twelfth and final season with Sheldon Cooper winning the Nobel Peace Prize. In his speech, he thanked all the men in his life, but failed to specifically mention who those men were. Given how prominent Dr. Sturgis has become in Sheldon's life in The Big Bang Theory spinoff, Young Sheldon, fans were surprised that the scientist didn't thank him individually. Young Sheldon series showrunner and Big Bang Theory producer Steve Molaro explained the reason for the omission.
Dr. John Sturgis, played by Wallace Shawn, began his relationship with Iain Armitage's Sheldon as a pen pal. A professor of physics, the two characters eventually met after Sheldon audited one of Dr. Sturgis' courses. Now that he's dating Sheldon's beloved Meemaw, the professor has become entangled in Sheldon's school and personal life, essentially becoming one of the primary male influences in the child prodigy's life.
So why did Dr. Sturgis get left out of Sheldon's speech on The Big Bang Theory? Speaking to TVLine, Steve Molaro says that the oversight was incidental and that the speech was meant to focus on The Big Bang Theory, so that when Sheldon thanks the men who've influenced him, he's talking about Dr. Sturgis as well.
At the end of Season 2, Young Sheldon actually found a clever way to include multiple characters from The Big Bang Theory. Though the senior show has insisted that Sheldon and his friends didn't meet until much later into their adult lives, Young Sheldon still managed to keep to that story, but found a way around it.
The series, which follows Sheldon as a child genius navigating his way through high school, introduced the younger versions of Howard, Leonard, Raj, Amy, Penny, and Bernadette by way of a montage that glimpsed what they were all doing up at 5 a.m. Interestingly, it was the same time Sheldon wakes up to listen to the 1990 Nobel Peace Prize announcement. Apart, but somehow still together, Young Sheldon managed to tie right back into The Big Bang Theory's series finale without retconning its history. It was an impressive feat and a great way to end the Season 2 finale and connect to Big Bang in a meaningful way.
Young Sheldon was renewed for a third season and will be taking The Big Bang Theory's time slot at 8 p.m. ET when it returns to CBS on Thursday, September 26. For a complete list of all the new and returning shows (which are fast approaching), make sure to check out our handy Fall TV guide for premiere dates.
Your Daily Blend of Entertainment News