The True Crime Story Behind American Horror Story: 1984's 'Night Stalker'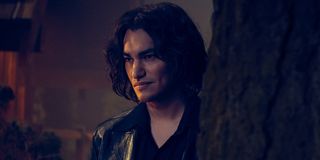 Netflix's Mindhunter isn't the only show this year to include a known serial killer. Enter American Horror Story: 1984, which premiered last week and brought back the Night Stalker from American Horror Story: Hotel, where he appeared as a ghost. However, the Ryan Murphy-created series isn't just bringing him back as a way to possibly connect Hotel with 1984. The Night Stalker is actually based on the true crime story of the serial killer known as Richard Ramirez.
American Horror Story, the FX anthology series now in its ninth season, has never shied away from creating a slew of fascinating fictional characters to appear in the show. From witches to the antichrist, AHS has certainly had its fair share of intrigue. The inclusion of Richard Ramirez as the Night Stalker isn't really the first time American Horror Story has used a real-life person as a character, but the Night Stalker, played by Zach Villa, is definitely one of the first real-life serial killers to show up in the series.
In the very first episode of AHS: 1984, the Night Stalker first appears as an attacker in the home of Emma Roberts' Brooke. She's able to ward him off, but is so freaked out that she agrees to be one of the counselors at Camp Redwood. Richard Ramirez (via Elle) began killing his victims in the spring of 1984 up until his arrest in August of 1985. His list of crimes included 14 murders and there are at least 24 women he raped and tortured. Like in the Season 9 premiere, Ramirez would break into people's homes, assault them, and steal their stuff. So, AHS accurately depicted the man who'd come to be known as the Night Stalker.
In real life, however, Richard Ramirez's story got a bit more interesting. Not only was he caught by police after assailing a couple in their home in Mission Viejo, California, but prior to his arrest, Ramirez's photo appeared on several news stations and in newspapers around the country. Why? Because police had been able to identify him from a footprint and fingerprint he left. After realizing people now knew what he looked like, Ramirez tried to carjack a woman but was caught and beaten up by a group of bystanders, before the police showed up on the scene.
Richard Ramirez was finally convicted in 1989, where he was sentenced to death. However, he was never executed and instead spent the next two decades in prison on death row. Ramirez died in 2013 after a battle with lymphoma.
Now, there's no telling what American Horror Story has in mind for the Night Stalker. He'd followed Brooke all the way to Camp Redwood by the end of the Season 9 premiere, so it seems he'll be a staple in the new season. Since the series takes place during the height of his killings, Richard Ramirez will be able to terrorize the characters on the show without much consequence (at least if the show sticks to some semblance of realism), making his presence in AHS all the more horrific.
American Horror Story: 1984 airs Wednesdays on FX. On September 24, American Horror Story: Apocalypse will be available to stream on Hulu. Fall TV finally kicks off this week, so be sure to check out our complete guide to what's new and returning this season and when each series will be premiering.
Your Daily Blend of Entertainment News