Did Mindhunter Tease A New Serial Killer For Season 3?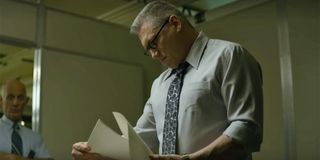 Mindhunter Season 2 was just made available for our Netflix binging pleasure, but the streaming services hasn't revealed whether or not Season 3 will be forthcoming yet. Regardless, the show spent a little time during Season 2 setting up where the show could go if and when it does move forward at Netflix. And it's all thanks to a little Easter egg.
During Season 2 there are several instances where the basement gang is talking out various possibilities with a board set up to present info. This happens when Holden gets invested in the Atlanta killings and disappearances, but also when Dr. Wendy Carr presents options for which serial killers the team should interview next. During that scene, we get a glimpse at a big board featuring various real-life serial killers.
Among them is John Wayne Gacy, a famous serial killer and clown painter known for assaulting and murdering young men in Chicago's Cook County area. Mindhunter has been a big fan of bringing well-known killers into the series and exploring them, so it would make total sense that Season 3 might go in the direction of John Wayne Gacy.
It's also worth pointing out that Gacy factors into Mindhunter: Inside The FBI's Elite Serial Crime Unit, the book by John Douglas and Mark Olshaker the Netflix series is based on, which gives credence to this potential development as well.
Of course, it's worth mentioning the people appearing on the board along with Hance during Episode 1 of Mindhunter Season 2 are all real-life killers. Douglas Gretzler was responsible for 17 deaths in Arizona and California and was one of Arizona's most notable death row inmates before being executed in 1998.
Edward Charles Allaway was responsible for the massacre at California State Fullerton in 1976. Allaway was a custodian at the school's library and killed 7 people during the school shooting. Robert Zarinsky was the first person in New Jersey to be convicted of murder with no body being found; a jury found him guilty of killing Rosemary Calandriello in 1969.
Kenneth Bianchi is one of those notable serial killers with a nickname—he's known as The Hillside Strangler after he and his cousin Angelo Buono would kill women in Los Angeles and dump their bodies in the hills. Of these, Bianchi may be big enough to warrant being the "notorious serial killer of the season" at some point on Mindhunter as well.
Some of these violent killers, like William "Junior" Pierce and William Henry Hance, have already appeared in Mindhunter during Season 2 episodes, providing more insight into the minds of killers. Of all of them, John Wayne Gacy is certainly the most notable.
If Mindhunter continues into a third season – and while I hope it does, it is worth pointing out Netflix has started cancelling some shows after Season 2 – I have no doubt the show could find ways to bring in a lot of the killers found in the board during the episode. One thing Mindhunter really likes to do is bring in one big name for an interview to sort of tie in the entire series. In Season 1, that was Edmund Kemper.
In Season 2, Kemper made a return, but the big push was for the team to interview Charles Manson. Interestingly, Justified's Damon Herriman played Charles Manson both in Mindhunter and in the recent Quentin Tarantino movie Once Upon A Time In Hollywood.
Related: Why Mindhunter Could Never Have Worked As A Network TV Show
Finding an actor to play John Wayne Gacy in Season 3 just seems like the logical next step, if we get a third season that is.
We'll be sure to keep you posted regarding the latest Mindhunter news. In the meantime, you can see the stuff already announced for Netflix with our full schedule.
Your Daily Blend of Entertainment News
Reality TV fan with a pinch of Disney fairy dust thrown in. Theme park junkie. If you've created a rom-com I've probably watched it.