6 Exciting TV Shows Coming To Hulu September 2019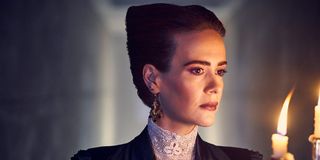 September is just around the corner, which means many things for streaming bingers. For example, we're as close as we've gotten all year to Halloween, and Hulu is priming its subscribers for dark celebrations, with a few spooky offerings joining the service's content library in both television and film.
Frights aren't all that Hulu has to offer, however, as there are some great original series to keep viewers hooked while everyone is still thinking about The Handmaid's Tale's Season 3 finale. So, what's on tap for the month of September? Let's dive in and run down some of the more exciting options for Hulu TV in September!
Wu-Tang: An American Saga (Series Premiere) - 9/4
In a world where musicians' biopics have been blowing up in the movie world, it's about time audiences will get what looks to be a high-quality series focusing on one of the biggest rap groups of all time, in both popularity and member-size, the Wu-Tang Clan. The Hulu series, co-created by RZA, will recount the details surrounding the group's formation, some of which have been recalled before in various books and other media, most recently for Showtime's docu-series Wu-Tang Clan: Of Mics and Men.
For the record, Wu-Tang: An American Saga won't be strictly as factual as past accounts. Producers have warned about the more dramatized scenes, and they refer to the project as "historical fiction." With that said, co-creator Alex Tse claims (via USA Today (opens in new tab)) that the series is "spiritually truthful and accurate" so perhaps it's the closest story to the truth that members of the Wu-Tang Clan felt comfortable telling. After all, no one wants to tell a story on TV and catch a case decades later right? Gotta protect ya neck and ya rep.
The Purge (Season 1) - 9/4
After a handful of hugely successful feature films, it was only natural that James Demonaco's The Purge franchise would find its way to television eventually. The switch to episodic TV gave the series the opportunity to approach everyone's Purge Night horrors in new ways, namely by giving the audience more time to connect with characters, partly via flashbacks that would inform the characters' circumstances and decision-making. Of course, all the violence and tension remains a core element.
The result, according to CinemaBlend TV editor Nick Venable, is a Purge project that even manages to outshine the films in certain ways. USA's The Purge is coming back for Season 2, so for anyone who was busy watching other things when Season 1 premiered last year, now would definitely be the time to catch up. Just don't watch it all at once if you're predisposed to paranoia concerning your neighbors' secret hopes for a Purge reality to get back at you for one petty squabble or another.
Into The Dark: Pure (Season Finale) - 9/6
Each episode of Hulu's original horror anthology Into the Dark has revolved around the holiday associated with the month it aired in. The Season 1 finale of Into The Dark is no different, though "Pure" does focus on a fairly obscure holiday that many people would need to research: "Daughter's Day." Yeah, it turns out there's a Son's day as well. And to think of all the unreciprocated presents we bought for our parents all these years!
Cross-generational gift rage is not the actual plot of Into The Dark: Pure, which focuses on a group of girls at a Purity Camp who perform a ritual and begin seeing a supernatural entity. Dads are involved in some way, and one can bet this season finale is going to be just as creepy as all the ones that have come before it. Fans of this anthology should enjoy this episode for all its worth, because there are no guarantees for a Season 2 just yet.
The Powerpuff Girls (Season 3B)- 9/16
Sugar, spice, and everything nice. These were the ingredients chosen to create one of Cartoon Network's most iconic cartoons. Then The Powerpuff Girls got rebooted back in 2016, and a whole new generation of children have learned why Blossom, Bubbles, and Buttercup have dedicated their lives to fighting crime and the forces of evil, and why millions of people care.
For those that may have missed out on the reboot the first go-around, or for the cord-cutters who have been waiting for more episodes, Season 3B is finally on Hulu. The only huge change between the original series and the reboot is the inclusion of the girls' older sister Bliss, who was introduced back in 2018 in a television event. Other than that, casual fans may notice this is pretty much the same series that rocked out on Cartoon Network back in the day!
American Horror Story: Apocalypse (Season 8) - 9/24
American Horror Story is gearing up for its 1984-set Season 9, and while that premise may have nothing to do with last year's AHS: Apocalypse, that doesn't mean there aren't plenty of crossover moments with past seasons. The Armageddon-tastic season featured a long-awaited return to Murder House, as well as some bewitchingly familiar faces that hadn't been seen in the franchise in quite some time.
The end result didn't necessarily make for the highest acclaimed season the series has had, but it was certainly on par with the middling seasons, and it brought actor Cody Fern into the franchise's limelight for a stellar run as the antichrist himself. If nothing else, American Horror Story: Apocalypse may help franchise fans get back into the swing of things in trying to decode the mysteries currently circling AHS: 1984, so maybe a re-watch of Season 8 will reveal a clue?
American Dad (Season 13) - 9/30
It's likely that many fans began following American Dad less frequently when it was dropped by Fox and moved to TBS, but all those people have been missing out. Seth MacFarlane's animated series has been as good on TBS as it's ever been, and Season 13 is great evidence of that consistency. For the record, this is not the most recent season of the series – Season 16 will wrap on September 9 – but it's still an important and very bingeable season nonetheless.
One particularly notable thing about Season 13 is that it features the 200th episode of American Dad. It's crazy to think that adult-animation series are now hitting 200 episodes when it remains such a rare distinction for the majority of TV shows. With that said, American Dad still has a lot of creative road to travel before approaching the level of episodes The Simpsons has, although if maintains its high quality (and The Simpsons somehow gets cancelled) the politically charged comedy may just hit that number some day.
What The Handmaid's Tale Showrunner Thinks About Fans Being Angry With Season 3
Hulu (opens in new tab) isn't the only place to be binging this September, so be sure to stick with CinemaBlend for more on the upcoming television season, things coming to streaming, and a look at what's happening in the world of movies.