Gabriel Luna Shares Disappointed Reaction To Ghost Rider TV Show Not Happening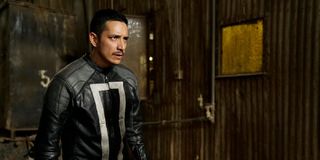 Any chance for a Ghost Rider TV series is officially off the table for the most part. Back in May, a standalone Ghost Rider series starring Gabriel Luna's Robbie Reyes was announced as a Hulu Original, but unfortunately for fans, Hulu's execs changed their minds and decided to no longer pursue the Marvel TV project. Luna, as one might imagine, was as bummed as anyone else about it.
In an Instagram post, Gabriel Luna shared a heartfelt statement and thanked fans.
Gabriel Luna had such an immense impact on fans when he appeared in Season 4 of Agents of S.H.I.E.L.D.as Robbie Reyes' Ghost Rider. The actor was only on the show for part of one season, and his screen time was admittedly minimal, but he gave his all to the role. The last time he appeared on the ABC show, Robbie was helping the other characters get out of the Hydra-induced Framework during the Season 4 finale.
It wasn't long after his initial appearance on S.H.I.E.L.D. that fans started calling for him to lead his own solo series, so when it was announced that Ghost Rider was finally moving forward, it felt like a win on all fronts, with more of Marvel's darker shows also entering the conversation. Sadly, those pesky creative differences emerged and stopped the potential series in its tracks. It turns out, Gabriel Luna is just as surprised about the news, especially since it wasn't that long ago that he'd provided a positive update about the series' production status.
Sadly, the actor is mostly right about Hollywood in general. It may be a well-oiled machine, but there are so many shows that never see the light of day. In the end, Gabriel Luna was grateful for the opportunity to play Robbie for fans, even if it wasn't for as long as he'd hoped.
You can read Gabriel Luna's full post below.
Interestingly, Ghost Rider was picked up by Hulu instead of ABC, which is also the home of Marvel's Agents of S.H.I.E.L.D. However, upon initial pick-up, it was revealed that Ghost Rider wouldn't be connected to S.H.I.E.L.D. at all. Perhaps that made it easier to cancel.
Gabriel Luna is booked and busy, though. Even though Ghost Rider burned out in the end, Luna will next be starring in the action-packed Terminator: Dark Fate and will now focus all his energies on promoting his new movie.
And who knows? Maybe this is the chance for Gabriel Luna's Ghost Rider to appear in the Marvel Cinematic Universe or, better yet, get his own Disney+ series. In the meantime, you can rewatch Robbie Reyes in Season 4 of Agents of S.H.I.E.L.D.
Your Daily Blend of Entertainment News
Thank you for signing up to CinemaBlend. You will receive a verification email shortly.
There was a problem. Please refresh the page and try again.