Why Marvel's Agents Of S.H.I.E.L.D. Ending After Season 7 Is A Good Thing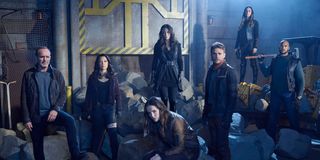 It seems like just yesterday that the Marvel Cinematic Universe, fresh off the release of The Avengers, announced that it was expanding into the television realm with a S.H.I.E.L.D. series, later officially titled Marvel's Agents of S.H.I.E.L.D. The series was particularly notable at the time for bringing Clark Gregg's Phil Coulson back to life, but following a rough start, Agents of S.H.I.E.L.D. went on to carve out its own path and deliver compelling stories enjoyable to both hardcore MCU fans and those who don't follow the movies closely.
Now, months after Avengers: Endgame and Spider-Man: Far From Home wrapped up the MCU's Infinity Saga and paved the way for Phase 4 and beyond, another era will soon be concluding, as it was announced in July that Agents of S.H.I.E.L.D. is ending with Season 7. When all is said and done, the ABC show will have aired 136 episodes across seven years.
Seven seasons is hardly a bad run for a show, especially one like Agents of S.H.I.E.L.D. that struggled with ratings over its lifetime. And frankly, now is a good time to wrap things up for Phil Coulson (well, sort of), Melinda May, Daisy Johnson and the rest of the gang on the small screen for a number of reasons. But first, let's get into why Agents of S.H.I.E.L.D. is ending in the first place.
Warning: SPOILERS for Agents of S.H.I.E.L.D. as a whole are ahead!
Why Marvel's Agents Of S.H.I.E.L.D. Is Ending After Season 7
As alluded to earlier, while Agents of S.H.I.E.L.D.'s critical reputation has improved significantly over the years, the show has always struggled with viewership. As I'll get into more in-depth later, for a while it looked like Season 5 would be the final outing for these characters, but on May 14, 2018, just four days before the Season 5 finale aired, Agents of S.H.I.E.L.D. was renewed a 13-episode Season 6 that aired earlier this summer.
Oddly enough though, news of Season 7 didn't arrive shortly before or as Season 6 was airing. It actually came way back in November 2018, with ABC reportedly deciding to renew Agents of S.H.I.E.L.D. early because of cast contracts and so Seasons 6 and 7 could film back-to-back. Then during this past San Diego Comic-Con, it was revealed that Season 7 would be the final season, contrary to the head of Marvel TV, Jeph Loeb, previously saying that it wouldn't.
As for why Agents of S.H.I.E.L.D. is wrapping up with Season 7, Jeph Loeb told Deadline that he and the show's team wanted to end things on their own terms. Rather than leave fans with a cliffhanger ending and unresolved plot points, they want to deliver a satisfying conclusion to fans that tie up any leftover threads.
Which brings us to the first entry…
It's Better To Get Out While You're Still On Top
Too often there are TV shows that outstay their welcome. They hang around for years and years, but the quality has diminished quite a bit in those later seasons, and when the show finally concludes, even if the series finale is decent, longtime fans are just reminded about how much better things were in the early seasons.
Agents of S.H.I.E.L.D. doesn't have this problem. Obviously fans of this series will have different opinions on which season is the best, but the overall consensus is that while the first half of Season 1 was adequate at best and dull at worst, once the events of Captain America: The Winter Soldier happened and S.H.I.E.L.D. was forced to rebuild itself, that's when the show started to shine.
From there, it would adapt various elements of the Marvel universe in unique ways, from introducing the Inhumans and Ghost Rider to elaborating on HYDRA's origins to turning Glenn Talbot into the MCU's version of Graviton. Like with any show, not everything was a hit out of the park, but the show's track record definitely had a lot more notches in the win category. It's better to end on a high note rather than stick around and risk tainting that reputation.
The Show Already Has Experience Planning A Series Finale
As mentioned earlier, this isn't the first time that Agents of S.H.I.E.L.D. has had to plan an ending. Due to low ratings, the cast and writers believed the show would be cancelled and wrote Season 5 as the last season, going so far as to title the finale "The End." And it did mark the end in some respects, namely with Leo Fitz dying (a different version of him would later be retrieved from stasis) and Phil Coulson making peace with dying in just weeks.
And then ABC decided to renew Agents of S.H.I.E.L.D. for Season 6, though it was brought back as a summer show rather than the traditional fall-to-spring offering. The writers regrouped and came up with a way to keep the Agents of S.H.I.E.L.D. mythology going despite having wrapped up so many loose ends at the end of Season 6. Then, about halfway through formulating Season 6, the writers learned that Season 7 had been ordered, surprising them yet again that the show wasn't done just yet.
So in addition to having already put together one series finale, allowing them to take elements of what worked with "The End" and enhance upon it, the Agents of S.H.I.E.L.D. writers also had extra time to plan out Season 7's storyline (which will involve S.H.I.E.L.D.'s history being explored), as opposed to being rushed. These two factors means there's a good chance that they'll stick the landing.
The Marvel TV Landscape Is Changing
The Marvel TV landscape looks a lot different now then when Agents of S.H.I.E.L.D. first aired. Before then, it had been decades since a live action television series based on a Marvel property aired on network TV, and now, thanks to the popularization of superhero/comic book adaptations, we're at a point where there have been/are numerous MCU-set TV shows that aired across ABC, Netflix, Hulu and Freeform, with more on the way. This includes Ghost Rider, who debuted on S.H.I.E.L.D., getting his own spinoff.
And then there's Disney+, which has announced seven live action MCU shows so far that are coming straight from Marvel Studios rather Marvel Television. Because those are two separate divisions that hardly ever coordinate, the MCU shows on ABC, Netflix, Hulu and Freeform have either been only loosely connected to the movies, or have simply been ignored on the big screen. Not so with Disney+, and in the case of WandaVision and possibly Loki, they'll even set up future movies.
Agents of S.H.I.E.L.D. was a novelty when it came out, but now that Marvel TV has branched out in so many different directions (including various animated endeavors) and we have one service where MCU synergy truly exists, S.H.I.E.L.D. doesn't quite stand out as much as it used to. That's not to say the show isn't still enjoyable, but the playing field is so much bigger now than it was in 2013 that it makes sense for it to bow out while there's still that shine as opposed to it shrinking more into the background.
It Allows For The Characters To Potentially Be Brought Into The Wider MCU
This entry feels like a long shot, but it's still worth addressing. As noted in the previous entry, Marvel Studios and Marvel Television barely collaborate with one another, so while Agents of S.H.I.E.L.D. gave us back Phil Coulson and would constantly reference and frequently tie into the movies (particularly in its first four seasons), it was a one-sided relationship. The Avengers never learned Coulson was still alive, the show's events were never even alluded to and none of the S.H.I.E.L.D. characters ever cameoed in a movie (not counting a younger Coulson appearing in Captain Marvel).
Now that Agents of S.H.I.E.L.D. is concluding, perhaps this opens the door for some of its star players to be brought into an MCU movie or Disney+ series. Admittedly, if the former were to happen, it probably wouldn't be anything more than a cameo or minor appearance at best, akin to when James D'Arcy quickly appeared as Edwin Jarvis in Avengers: Endgame. If it's the latter, that presumably increases the chances of one of the main characters to continue having a big role to play, like Melinda May, who Ming Na-Wen believes will return after S.H.I.E.L.D. is done.
Assuming Marvel Studios is able to utilize characters no longer being used in a Marvel Televisions production (though it'll be a while before we see any live action version of the Netflix characters again), as opposed to Marvel Television for some reason not being willing to share them, then the main obstacle with bringing back someone from Agents of S.H.I.E.L.D. is if they're a good fit for a story. Plus, the MCU movies never acknowledged that S.H.I.E.L.D. was reestablished after Captain America: The Winter Soldier, so anyone from the show would need to provide some exposition on how S.H.I.E.L.D. is still around after those events. Even if for some reason S.H.I.E.L.D. is permanently dissolved by the end of the ABC series, it'd still be important to acknowledge how the spy organization continued to operate for several more years.
Agents of S.H.I.E.L.D. Season 7 will air sometime in summer 2020 on ABC, so keep checking back with CinemaBlend for more updates on what we can expect from these final episodes. In the meantime, keep track of what's airing this fall with our handy TV premiere schedule.
Connoisseur of Marvel, DC, Star Wars, John Wick, MonsterVerse and Doctor Who lore. He's aware he looks like Harry Potter and Clark Kent.
Your Daily Blend of Entertainment News
Thank you for signing up to CinemaBlend. You will receive a verification email shortly.
There was a problem. Please refresh the page and try again.