Batwoman Reveals First Look At Iconic Batman Villain Tommy 'Hush' Elliot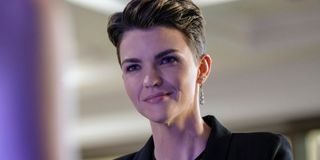 The series premiere of Batwoman is right around the corner and it looks like Ruby Rose's Kate Kate will have to contend with not one, but at least three big comic book villains. There was peviously speculation that the famed Batman villain, Tommy "Hush" Elliot, would be integral to Batwoman, though news surrounding the character had remained fairly hush-hush. But, it's finally been confirmed that Revenge's Gabriel Mann was cast to play the iconic villain, and the images for Episode 3 offer up an exciting first glimpse.
It seems Alice in Wonderland might be a theme for Season 1 of Batwoman, which is rather fitting, especially considering that the season's primary villain is Alice (Rachel Skarsten). Whereas Episode 2 is called "Rabbit Hole," Episode 3 carries on with that tradition and goes "Down Down Down" whatever rabbit hole Kate Kane will seemingly fall into. It's in this episode where Gabriel Mann's Tommy "Hush" Elliot will make his debut, and if the pictures are anything to go by, he's here to stir up some trouble. Check him out below!
The comic villain's backstory looks to follow his comic book origin closely, at least on the surface, before any game-changing twists come in. Prior to taking on his demented persona, Dr. Thomas Eliot was Bruce Wayne's childhood friend. Granted, a friend who held a grudge against Bruce for a multitude of reasons. The character first appeared in the iconic graphic novel Batman: Hush and quickly became a favorite within the fandom.
On Batwoman, Tommy is a very wealthy realtor who also shares a past with Bruce. However, Bruce has taken a lengthy leave of absence (ten years!), while Kate's taken up the mantle of Gotham's Caped Crusader in his place. Given that Bruce is MIA, Hush will instead be targeting Kate, and possibly jeopardizing her secret identity. As a rule, it's best to never underestimate a guy who holds a huge grudge and has allowed that bitterness to manifest itself in deadly ways.
In the picture below, the tension between Tommy and Kate is easy to spot, even though Tommy's smiling at her. But remember, the guy's supposed to be charming, but Kate is not having it. I have no idea whether Kate's reluctantly handing over the suitcase, or if Tommy's forcibly trying to take it from her. Either way, Kate looks about ready to harm him with just the sharp glare of her eyes.
Will Tommy try to play the innocent card or will Kate see right through him? We'll find out soon enough. Given that Batwoman remains in Gotham City, it's likely that Hush won't be the last Batman villain to appear on the show.
Additionally, "Down Down Down" provides the first real glimpse of Ruby Rose, who recently underwent emergency neck surgery, in the Batwoman costume complete with her iconic red wig. Prior to this episode image, the fiery Batwoman hair had only been seen in posters for the show.
Batwoman Season 1 will premiere on Sunday, October 6 at 8 p.m. ET on The CW. For more information about when the rest of the Arrow-verse shows will premiere, be sure to check out our fall TV listing for premiere dates and times.
Your Daily Blend of Entertainment News