Batwoman's Ruby Rose Shares Details Behind 'Terrifying' Neck Injury That Almost Left Her Paralyzed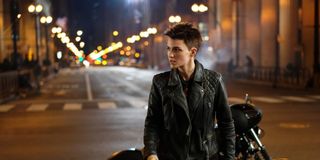 Action stunts are no joke and Batwoman's Ruby Rose learned that firsthand. Ahead of the freshman season of Batwoman, cast appearances at San Diego Comic-Con and PaleyFest had been cancelled, presumably due to filming schedules. However, it was odd because the latest Arrow-verse series is new to The CW and that usually means heavily promoting the show at every opportunity. However, Rose recently revealed that she'd undergone major neck surgery after doing several stunts and it brought everything into perspective.
Last week, Ruby Rose, who's best known for her role on Netflix's Orange is the New Black, posted a video from her surgery, explaining that she needed to undergo emergency surgery because she'd "herniated two discs doing stunts, and they were close to severing my spinal cord." That's pretty scary and explains why she was MIA for awhile.
Appearing on The Tonight Show Starring Jimmy Fallon, Ruby Rose, who was cast to play Kate Kane / Batwoman ahead of last year's Arrow-verse crossover, "Elseworlds," provided further details regarding the traumatizing experience and the state of her neck.
Not only was she almost paralyzed, but the actress also said that she experienced an allergic reaction to her Batwoman cowl and she broke out in hives for five days. Additionally, Ruby Rose admitted how she'd hoped her insurance would cover the cost of the surgery, especially considering how important it was that she have it. However, she says that she ended up paying out-of-pocket and that she was grateful she could afford to do that, while also making a dig at insurance companies.
You can watch Ruby Rose's full interview on The Tonight Show Starring Jimmy Fallon below.
Following Ruby Rose's appearance as Batwoman in "Elseworlds," The CW announced that a solo Batwoman series had been picked up for the 2019-2020 season. The series is executive produced by former The Vampire Diaries writer and showrunner Caroline Dries and WB / CW staple and mega-producer, Greg Berlanti.
The series follows Kate Kane, who takes up the mantle of Gotham's resident vigilante in the absence of her cousin, Bruce Wayne, who's been gone for ten years. But don't expect Kate's history to parallel her cousin's. Kate is a former soldier and, after being dishonorably discharged from the military, made her way back to Gotham to pick up the pieces of her life and the broken city Batman left behind.
Batwoman makes its grand debut on Sunday, October 6 at 8 p.m. ET on The CW. To see when the other Arrow-verse shows are set to return, check out our fall TV guide for dates and times.
Your Daily Blend of Entertainment News