The Office Creator Shares 'Biggest Concern' With Reviving The NBC Comedy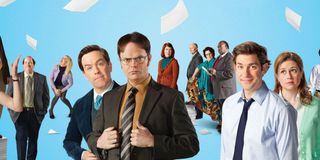 Revivals and reboots are all the rage in the modern TV landscape. There's nary a network that hasn't ridden the waves of nostalgia and brought back (or continued) an old show for new audiences. Most recently, it was announced that Walker, Texas Ranger is even getting its own reboot and the constant deluge of these sorts of remakes have left some viewers a little fatigued. Still, for anyone hoping for a revival of The Office, showrunner Greg Daniels doesn't foresee one happening for the NBC series and for a good reason.
After Steve Carell left The Office in Season 7, fans wondered if the show could carry on. Suffice it to say that the series finale brought Carell back and Greg Daniels (who developed the American adaptation of the show) to wrap the beloved sitcom in a satisfying way. Naturally, Daniels didn't want to flirt with the idea of a reboot if it meant ruining the ending of The Office.
Here's what he said to EW regarding his reservations with bringing back The Office:
It's true, the ending to The Office was pretty perfect and no reboot or revival could live up to that. It's often that fans want to see their favorite characters again, but resurrecting a cancelled show doesn't always live up to what fans envisioned anyway. So, Greg Daniels' hesitation makes a world of sense.
Last year, the cast of The Office reunited at the former showrunner's home. It sparked fan speculation about whether or not this meant that a revival was on the way. However, the answer is still currently "no" and Greg Daniels admitted that he doesn't think there's anything to revisit.
It sounds like the possibility is still there, but don't expect The Office revival to happen anytime soon. If it were up to NBC, though, the network would probably revive or reboot the whole show without questions. After all, they did it with Will & Grace, which will end with its third season, and they recently announced that a Saved by the Bell revival is also on the way with Mario Lopez and Elizabeth Berkley set to return.
The Office may be gone, but there's still time to rewatch the whole show while it's still on Netflix. The comedy series is leaving the streaming service in 2021 to make its debut on NBC's new streaming service, Peacock.
In the meantime, there's plenty of new comedies to watch this season, so be sure to check out our handy guide to fall TV's premiere dates and times.
Your Daily Blend of Entertainment News
Thank you for signing up to CinemaBlend. You will receive a verification email shortly.
There was a problem. Please refresh the page and try again.