Steve Carell Wants A 'The Office' And 'It's Sunny In Philadelphia' Crossover: Here's How We'd Do It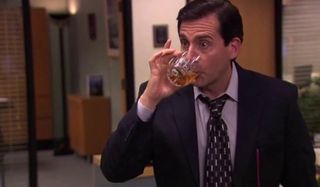 A couple of weeks ago, Rob McElhenney and Steve Carell – a.k.a. Mac from It's Always Sunny In Philadelphia and Michael Scott from The Office, recently found themselves in a bit of a good-natured Twitter war-of-sorts. McElhenney posted a video of himself and other Always Sunny squad members, including a half-naked Danny DeVito and a fully clothed Charlie Day, filming on the old set of NBC's The Office.
Rob McElhenney didn't give any details as to why they were filming there, but took a jab at Steve Carell, joking about The Office not filming anymore because it was "canceled or whatever." Check out the post below:
The Instagram post, which McElhenney also shared on Twitter, immediately grabbed the attention of quite a few of stars of The Office, including Jenna Fischer and B.J. Novak. But it was the man himself, Steve "Michael Gary Scott" Carell, that brought the most attention to the amusing video.
Replying on Twitter, Steve Carell was faux-begging McElhenney for the "blood feud" to end, as seen below.
That tweet, as you can image, almost broke the internet, with thousands of people making their voices heard as to how an It's Always Sunny In Philadelphia crossover with The Office might work. Naturally, we have a few ideas of our own. After all, Scranton is a quick two-hour drive from Philadelphia, so you know, this could work, right?
For starters, our crossover universe is set in mid-Season 4 of The Office, so no one has to be worried about Michael living in Colorado, or about Dwight running the Scranton branch of Dunder Mifflin. Pam and Jim had just revealed their relationship to everyone, and Ed Helms' Andy is in full pursuit of Angela after she dumped Dwight for killing her cat Sprinkles.
"The Gang Runs Out Of Paper"
The crossover episode would open with an exterior of Paddy's Pub, with the voices of the five characters arguing over who is responsible for ordering the office supplies. It's the natural argument after Kaitlin Olson's Dee wasted a bunch of paper while trying to print the rules for a new drinking contest between Charlie, Dennis, and Frank, which naturally involves 15 gallons of tequila and "all the hot sauce they have."
From behind them, two people walk into the bar and get the usual service of being completely ignored by all employees. The two people are Michael Scott and Rainn Wilson's Dwight Schrute, wandering in lost while trying to locate a nearby paper convention.
After the opening titles, it's back to arguing at Paddy's over the printer's lack of paper, which continues until Michael overhears what is going on and makes his talents as the regional manager of mid-sized office supply company known. So of course he introduces himself with an awkward joke about Frank's height.
Before Frank has a chance to insult him, Glenn Howerton's Dennis explains their system for the drinking contest, which Dwight is less than impressed with, to put it lightly. (Here, Dennis could possibly work in some in-jokes about The Office's home at NBC, which is where Howerton's comedy A.P. Bio was cancelled in recent months.) Dwight then begins to tell the gang from Paddy's how the contest should work.
Michael gets excited for the contest and makes a declamation similar to Alec Baldwin's speech in Glengarry Glen Ross, declaring that the winner of the contest will win a job as the Assistant Regional Manager at Dunder Mifflin's Scranton location, while the loser…will be fired. Dwight, ever desperate for that elusive position, enters himself into the contest. The rules are written on the back of a Knight Rider poster that Michael has in his car for some reason, and the game is on.
Charlie, Dennis, Dee, and Dwight all take their places to compete in an epic drinking contest that would make Wade Boggs shiver with fear. The rules are revealed: Michael will play one song, and each contestant will take one shot every 30 seconds until the music stops. The contestants, especially Dennis and Dee, are not worried, as they figure the average rock so is no more than four or five minutes and 10 shots is something they can do in their sleep. Dwight meanwhile is seen in the background, performing Tai Chi in preparation.
Charlie then reveals that the shots will be "Prairie Fires," which half tequila and half hot sauce, which makes Dwight wince. Even worse? Michael then reveals the song is the full 17-minute version of Iron Butterfly's "In-A-Gadd-Da-Vida," which makes all the contestants wince. Dwight immediately argues that it's not fair, but the rest, Dee, Dennis, and Charlie slam down their glasses and ask for Michael to pour the first shot.
Flash-forward to the end of the song... Dee is laying awkwardly on one or more barstools, while Dennis is on the floor. Dwight and Charlie are left standing, but only barely. Just as the song is about to end, they each take their final shot. Dwight immediately falls into a clump on the floor, and Charlie is declared champion. Before he even knows what is going on, he's in Michael's car, headed back to Scranton.
The next morning, Michael arrives at the Dunder Mifflin office with a very hungover Charlie with him. He calls for everyone's attention and introduces Charlie (whose last name he doesn't know) as the new Assistant to the Regional Manager. Charlie takes his seat next to John Krasinksi's Jim and immediately falls asleep at his desk. Jim looks over to Pam, played of course by Jenna Fischer, who shrugs and answers a ringing telephone.
The rest of the office, led by Angela Kinsey's character Angela, demands to know what happened to Dwight, but Michael dismisses them, explaining that Dwight has been "traded" to a bar in Philly. Angela and Brian Baumgartner's Kevin uncharacteristically team up to find Dwight, as Angela is still in love with him and Kevin fears Charlie will take his place as the office whipping boy, a role that he has taken years to cultivate. The two of them leave.
Afterward, Jim and Pam spend the rest of the day trying to prank Charlie, who, after he finally wakes up, tries to spends the rest of the day drinking in the office with Meredith. This could serve as the premise for an entire spinoff series.
Finally, as the workday is ending, Angela and Kevin are shown to have teamed with Frank, and they return to the office with a very hungover Dwight to try to plead with Michael to reverse the trade. He doesn't, of course, saying that a good manager never goes back on a deal.
As the two sides are at an impasse, Frank leaves the room to make a phone call. Moments later, Michael answers his own phone, with CEO David Wallace dropping the reveal that Frank just purchased Dunder Mifflin, and that Charlie must be returned to Paddy's in return for Dwight.
A dejected Michael tells everyone the news and quietly leaves the office as Dwight collapses on his desk. The final scene is of Jim and Pam, both with sly smiles, shaking up a can of shaving cream while standing over a passed-out Dwight. Now, how do we all make this happen?
It's Always Sunny in Philadelphia Season 14 is set to hit the fall schedule on FXX on Wednesday, September 25, at 10 p.m. ET.
Your Daily Blend of Entertainment News
Hugh Scott doesn't believe aliens are hidden at Area 51 or that Elvis is alive, but he does believe birds are real and Meghan Markle isn't treated fairly by the tabloids. He's been writing about music, movies, and celebrities for most of his adult life after realizing stocking shelves in a paper warehouse in college wasn't all it was cracked up to be.