Amazon's Lord Of The Rings Series Cast Game Of Thrones Vet As Villain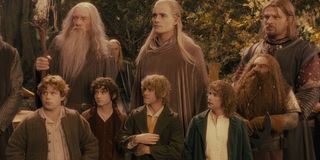 It looks like Benjen Stark, younger brother to Ned Stark and First Ranger of the Night's Watch, is moving from his home in Westeros over to Middle Earth. Game of Thrones actor Joseph Mawle is joining the cast of Amazon's Lord of the Rings TV series, and he'll be playing a villain in the highly-anticipated epic. The series, which will be set prior to the events of J.R.R. Tolkien's The Fellowship of the Ring, has already started pre-production in New Zealand.
Joseph Mawle is a British actor who's best known for his role in Game of Thrones, remaining a memorable figure even though he only appeared in six episodes over the course of eight seasons. On the HBO drama, Mawle's Benjen Stark was a good guy and uncle to the Stark children, but it seems he'll be hanging up his nice guy hat for a villainous turn in Amazon's Lord of the Rings.
According to Deadline, Joseph Mawle will test out his more evil side as a villain named Oren on Lord of the Rings. He'll be antagonizing Will Poulter's Beldor and Markella Kavenagh's Tyra. Aside from this little tidbit, information about the character is sparse, but Amazon reportedly searched across the United States, Australia and the United Kingdom for the perfect actor to play Oren. Mawle ultimately won the role, though Amazon has yet to provide comment on his casting.
All in all, Amazon has been keeping relatively quiet about its production process for Lord of the Rings, and even plot information is hard to come by. However, the fantasy series is the first of its kind in that Amazon has green-lit a 20-episode Season 1 order for the show. That's highly unusual, considering traditional Amazon shows last no longer than eight or ten episodes. Even Netflix doesn't get past 13, so Lord of the Rings is certainly one of a kind in this respect.
Lord of the Rings, which has been scouting out a variety of locations throughout the current Middle Earth stand-in New Zealand, is also proving to be Amazon's most expensive show, with a budget of $1 billion. Of course, with 20 episodes and an entire world to create, the budget is bound to be much higher than any of the streaming service's other series. However, it implies that Amazon has a lot of confidence in the series, which has Jurassic World's J.A. Bayona executive producing the show and directing the first two episodes.
Though he's arguably best known for Game of Thrones, Joseph Mawle has been all over TV in recent years. He recurred on Ripper Street, starred in Troy: Fall of a City, and also co-starred with Richard Gere in the 2019 dramatic thriller MotherFatherSon. The actor is currently filming Terrence Malick's historical drama The Last Planet.
While casting is still underway for other roles – the series is looking for "hairy people" – Lord of the Rings: The Two Towers actress Robyn Malcolm, who played Morwen, suggested that Amazon's Lord of the Rings should cast a woman to play Gandalf the Grey. Since the series will be set in the Second Age, Gandalf could still be a part of the show, but there hasn't been any news regarding the role.
Amazon's Lord of the Rings has no premiere date yet, but Season 1 is scheduled to begin airing in 2021. In the meantime, be sure to check out our complete guide to every new and returning show set to premiere through November.
Your Daily Blend of Entertainment News