The Soup Is Coming Back To TV, But Not With Joel McHale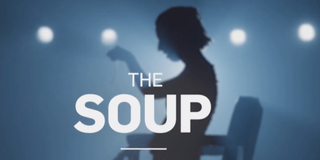 E! had a good thing going for more than 20 years with The Soup (originally titled Talk Soup), which featured a host tackling some of the biggest, most memorable, and most unusual pop culture and entertainment events of a given week. The show came to an end in 2015, with Joel McHale seemingly as the last host The Soup would ever have. Now, that's not the case, as The Soup is returning to E! with a new host on board.
The Soup will return in the not-too-distant future with comedian and actress Jade Catta-Preta on board as host, and the new series will be "reimagined." Having appeared in previous TV projects like Future Man, Manhattan Love Story, and Californication, The Soup should show off a different side of her and perhaps provide a much bigger break into showbiz. After all, who had really heard of Joel McHale before he took over The Soup hosting duties back in 2004?
Joel McHale isn't the only host who went on to bigger and brighter things after The Soup. Back when the show was still called Talk Soup, Greg Kinnear was the first host, and he was followed by Josh Henson, Hal Sparks, and Aisha Tyler before the switch to The Soup and McHale.
Obviously it's too early to start thinking of what's next for Jade Catta-Preta after The Soup considering the new Soup hasn't even premiered yet, but E!'s success with Joel McHale may be proof that the folks at the network know what it takes to find a great host for the Soup style.
So, when will the new Soup with Jade Catta-Preta premiere? Sooner than you might have thought!
The Soup will return to the airwaves with Jade Catta-Preta as host in early 2020. While that's not quite a precise date, there's not a whole lot of 2019 left, so prospective viewers don't have too much longer to wait. Described as "evolved and supercharged," E! will use Catta-Preta's irreverent sense of humor and point-of-view to comment on TV shows, crazy reality TV moments, viral videos, and much more.
The big question now is whether there's a modern audience for The Soup, even revamped. E! didn't cancel the original run of the series all that long ago, and Joel McHale's attempt at a very Soup-y Netflix show flopped. That said, he shared his thoughts on why the format didn't really work for the streaming giant, so viewers shouldn't take the failure of The Joel McHale Show with Joel McHale as a sign that there's no audience for a show with a format similar to The Soup on a network rather than streaming service.
Considering Joel McHale's thoughts on what doomed The Soup back when he still hosted it, E! may want to make some changes to what Jade Catta-Preta can lampoon in the revival. Catta-Preta already showed off some of the humor she'll bring to The Soup in a short (and Flashdance-esque) video hyping the new project:
Only time will tell how Jade Catta-Preta will compare to Joel McHale and her other predecessors as host of The Soup, as well as how fans will react to her. Will her debut as host usher in a new era of fans, or will it bring back old fans hungry for more Soup and ready to see a fresh take on the familiar format? Or is the new Soup doomed to fail?
Find out when The Soup with Jade Catta-Preta premieres on E! in 2020, and there are still plenty of options to fill the rest of 2019.
Resident of One Chicago, Bachelor Nation, and Cleveland. Has opinions about crossovers, Star Wars, and superheroes. Will not time travel.
Your Daily Blend of Entertainment News
Thank you for signing up to CinemaBlend. You will receive a verification email shortly.
There was a problem. Please refresh the page and try again.