First Look At Black Lightning And Pariah Joining The Arrow-verse For Crisis Crossover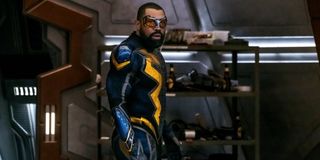 After a long wait, the Arrow-verse's "Crisis on Infinite Earths" crossover is right around the corner. After a few brief trailers teasing the upcoming five-episode spectacle, The CW has released new photos from Part 3 of the crossover and it offers a first look at Cress Williams' Black Lightning and Tom Cavanagh's turn as Pariah.
The first images from "Crisis on Infinite Earths" really amp up the excitement for what's sure to be the biggest DC television event ever. With both Stephen Amell's Oliver Queen and Grant Gustin's Barry Allen set to face their deaths in the crossover, they'll have to seek the support of their respective teams and some new faces to be able to stop the destruction of the multiverse. It's a lot of pressure. Let's break down some of the new images from "Crisis" Part 3.
Black Lightning Meets Earth-90's Flash
It's no secret that Black Lightning has been the only CW superhero show not directly connected to the Arrow-verse. However, "Crisis on Infinite Earths" is about to change that. Black Lightning is finally getting the chance to mingle with the multiverse's finest. That includes Earth-90's Flash (John Wesley Shipp). During the "Elseworlds" crossover last year, The Flash of another earth briefly appeared before being zapped away by The Monitor. Here's hoping he gets to stick around for longer this year. Maybe he and Jefferson Pierce can bond about their lightning powers.
Vibe Is Back In Action!
That's right, Cisco Ramon (Carlos Valdes) is back in his Vibe suit and ready to join the fight against The Anti-Monitor, who looks a lot like Game of Thrones' Night King. Now, it's unclear when and how Vibe will get his powers back. After all, Cisco is currently sans powers after choosing to take the metahuman cure back in the Season 5 finale of The Flash. Besides being worried that Cisco could die in "Crisis," it's nice to see him back as Vibe.
Tom Cavanagh Ditches Harrison Wells for Pariah
It's a running joke at this point that Tom Cavanagh portrays a different version of Harrison Wells every season on The Flash. However, "Crisis on Infinite Earths" sees the actor take on the important role of Pariah. In the comic book adaptation, Pariah is a former scientist who's doomed to appear on a multitude of earths right before they're destroyed. Naturally, Pariah's presence won't be a hit with the superheroes once they learn he works with The Monitor (LaMonica Garrett) and it seems Black Lightning has a lot to say about that.
Lex Luthor Is Back From The Dead
It was a shock to all when Lena Luthor (Katie McGrath) pulled the trigger on her brother in the Season 4 finale of Supergirl. It wasn't long after that, though, that The Monitor showed up to resurrect Lex Luthor (Jon Cryer). Though it's unclear what the cosmic being has in store for Lex and what nefarious plans he might have up his sleeve, it's clear that Batwoman (Ruby Rose) is not thrilled to have him around.
Kingdom Come Superman Joins The Flash And Elongated Man
Brandon Routh's pulling double duty in "Crisis on Infinite Earths," playing both Ray/The Atom and Kingdom Come Superman, who could shake up the Arrow-verse during the crossover. He looks like he's onboard to help The Flash, Elongated Man, and Black Lightning save the multiverse. It's also possible he has something else in store. Could he die in The Flash's place? It's possible, especially since it was announced that Routh is officially leaving the Arrow-verse. On a side note, peep Supernatural vet Osric Chau in the background as Ryan Choi!
"Crisis on Infinite Earths" kicks off with Supergirl on December 8 at 8 p.m. ET on The CW. It'll be followed by Batwoman on December 9 and The Flash on December 10. The five-episode crossover will conclude on January 14, 2020 with Arrow and Legends of Tomorrow.
Your Daily Blend of Entertainment News
Thank you for signing up to CinemaBlend. You will receive a verification email shortly.
There was a problem. Please refresh the page and try again.