Why NCIS: New Orleans' Big Death Changed How I Watch Television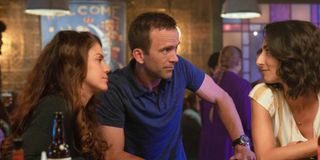 (Image credit: CBS)
Season 6 of NCIS: New Orleans delivered a shocker with the death of original cast member Christopher LaSalle, who was such an integral part of the show that I would have predicted pretty much anybody other than Pride being killed off before him. He died in an episode that wasn't a season premiere or finale, and not even a midseason premiere or finale. It was just a seemingly random early November episode. His life wasn't left in question after a cliffhanger that had viewers on the edges of their seats waiting for the resolution. LaSalle just... died, and I haven't watched primetime the same since.
Considering that my job quite literally involves watching a lot of television, this is no small deal. I've been covering TV for CinemaBlend for more than four years now, and several years before that elsewhere, so I thought I knew how primetime was supposed to work. I thought there were rules before actor Lucas Black's final episode of NCIS: New Orleans finished airing at 11 p.m. ET on November 5 with LaSalle really, truly, 100% super dead. And then Lucas Black said goodbye, to make things feel all the more final!
Yes, there were rules back before LaSalle died. Major characters had plot armor that guaranteed their survival, if not safety, in episodes that were not premieres or finales, and even those were unlikely to kill them off unless they were series finales. The leads made miraculous escapes while secondary or guest characters were the ones to bite the dust. Major deaths and departures, when they would actually happen, were usually spoiled ahead of time thanks to social media or paparazzi pics or accidental spoilers from people working on the shows.
There was no way one of the longtime leads of a hit broadcast network TV show would just be killed off in a single episode without even a cliffhanger, no spoilers that he was leaving, and no wiggle room that maybe the character would pull through, right? According to TV rules, LaSalle shouldn't have died like he did in Season 6, and even though I've never been a religious NCIS: NOLA viewer, LaSalle's death has me worried about life-or-death situations on other shows. Now I have to worry about everybody else!
If LaSalle can die on NCIS: New Orleans without any spoilers giving it away ahead of time, then who's to say that Halstead is going to be okay on Chicago P.D.? Or that Severide will escape the unescapable on Chicago Fire? Or that at least one of the characters currently in jeopardy on Grey's Anatomy won't bite the dust?
And what about the "Crisis on Infinite Earths" crossover over on The CW? The hero that started the whole Arrow-verse is supposed to kinda sorta die, and Arrow is ending, so all bets are off for Arrow. That said, the other four series in the Arrow-verse aren't going anywhere, and Arrow might get a spinoff. The Arrow-verse isn't going anywhere. Of course the key heroes of The Flash (despite what The Monitor has been saying throughout the first half of Season 6), Supergirl, Legends of Tomorrow, Batwoman, and even Black Lightning are going to live. It's a given.
That is, it was a given before NCIS: New Orleans unceremoniously killed off LaSalle and really didn't even make that big of a deal about it in the first episode following his demise. Objectively, I know that not all of the big 2019-2020 cliffhangers are going to end in major deaths, and my job would become infinitely more stressful if I had to spend every night of primetime wondering if a major character will die in any old episode. My head says the characters will live; my heart remembers that LaSalle is dead.
As somebody whose biggest complaint about Game of Thrones' Battle of Winterfell wasn't that it was too dark, but rather that no major characters died despite all of the build and all of the odds, then I probably should be excited to have some suspense back in the TV-watching experience. I've had the same issue with The Walking Dead, which hasn't even gotten rid of Daryl's ridiculously impractical hair. I still haven't gotten over the fake-out deaths for Glenn from a few years ago.
I should be happy that the character who had to die for suspense to return to my TV experience wasn't a personal favorite for years and years. But for now I'm just doubting that the rules for primetime still apply, and that's a dangerous feeling in fall finale/winter premiere season for somebody who covers television.
Still, on the whole, I have to give NCIS: New Orleans credit for how it handled Lucas Black's departure from the show. It takes kind of a lot to genuinely shock me when it comes to broadcast television nowadays, and even streaming shows have lost some of their suspense now that binge-watching is an option and cliffhangers aren't such a huge part of the viewing experience.
Does the prospect of TV shows breaking the rules like NCIS: NOLA did with LaSalle potentially make my job more complicated? Definitely. Does it also mix things up and add a sense of danger to plot twists that normally wouldn't feel all that twisty? 100%.
I'm guessing NCIS: New Orleans shockingly killing off LaSalle will be the exception rather than the rule for how TV shows deliver deaths to major characters, and primetime isn't going to be devoid of major characters in 2020 because all the fall finale cliffhangers really do end in big departures. But I'll have to wait and see, and that's mostly a good feeling. That said, if NCIS: New Orleans kills off Pride any time soon, I may malfunction.
For now, I'll settle for worrying about Hetty on NCIS: Los Angeles and Ducky on NCIS, just in case the other two shows in the franchise decide to start thinning the ensembles. New episodes of NCIS: New Orleans (opens in new tab) air without Christopher LaSalle on Tuesdays at 10 p.m. ET on CBS... for now. The NCIS spinoff is switching nights in the new year.
If you're in the market for some new shows with fresh stakes in the new year, check out our 2020 winter and spring TV schedule with all the premiere dates for network, cable, and streaming shows you need following all the fall finales. Be sure to stay tuned to CinemaBlend for the latest in TV and movie news.
Your Daily Blend of Entertainment News
Laura turned a lifelong love of television into a valid reason to write and think about TV on a daily basis. She's not a doctor, lawyer, or detective, but watches a lot of them in primetime. Resident of One Chicago, the galaxy far, far away, and Northeast Ohio. Will not time travel, but will sneak references to The X-Files into daily conversation.