Chicago P.D.'s Jesse Lee Soffer Talks Whether The Fall Finale Is 'The End For Jay'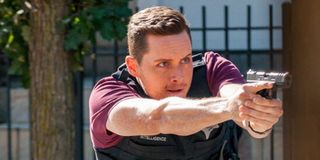 (Image credit: NBC)
Spoilers ahead from the official episode description of the Chicago P.D. Season 7 fall finale.
Chicago P.D. never falls short when it comes to delivering cliffhangers to keep fans guessing during breaks, and the Season 7 fall finale will undoubtedly leave viewers with a lot to think, hope, and/or rage about while waiting for P.D. to return in 2020 due to what's going to happen to Jay Halstead. The Halstead-centric episode, called "Absolution," will see Jay in very real jeopardy after his secret relationship with a woman (which isn't what we thought) goes sideways, and the result is going to be intense.
Jesse Lee Soffer, who has played Halstead on Chicago P.D. from its very beginnings on Chicago Fire, spoke with CinemaBlend about the fall finale. While he didn't give away the game of what precisely is going to happen that turns Halstead into a bloody mess, he did confirm that a life-or-death cliffhanger is in store, and it's one that may be the end of his character. When I asked what stands out about the "Absolution" cliffhanger compared to past P.D. twists, he said this:
"Absolution" brings back the case of Marcus West, a.k.a. the innocent man who was murdered in prison after Halstead moved him to county jail to try and get a confession out of him. The blame doesn't fall on Halstead -- or at least, not solely on Halstead -- after the new police superintendent pressured Intelligence to rely on unreliable facial recognition technology, and Voight told Halstead to let it go. Would Halstead really be Halstead if he let things go, though? And could P.D. really kill him off?
Chicago P.D.'s Bloody Halstead Twist Will Be 'A Wake-Up Call' For Upton And More
According to Jesse Lee Soffer, the mess Halstead finds himself in when things get ugly in "Absolution" will be "of his own making," but at least the circumstances are more noble than the mess with Camila back in Season 5. The good news for good old Halstead is that, judging by the trailer and some of Soffer's previous comments about the episode, Intelligence will be hot on his trail, trying to find and rescue him.
Jesse Lee Soffer of course didn't reveal what leads up to the potentially deadly cliffhanger for Halstead or what comes after (if anything) for his character, but he did share his thoughts about whether Jay will ever learn to let things go:
Whatever happens to Halstead in "Absolution" may leave him pretty seriously roughed up (assuming he survives), but would it be enough to change the rule-bending habits that come from working in Intelligence while having a big heart? Although getting close to the family of the innocent man who died because Jay threw him into county jail may not be Halstead's smartest move in seven seasons, it is definitely in-character. Would fans really want him to become somebody who lets things go?
Jesse Lee Soffer went on to raise the point that Halstead's decisions leading up to and in "Absolution" aren't black and white, and the whole situation is complicated:
Well, if Halstead does die in the fall finale as the biggest P.D. death since Olinsky, somebody in Intelligence will have to step up as the moral compass! Without Antonio and then without Halstead, Voight might not have anybody he would listen to as his "voice of reason." Upton could probably step up, as she's not dealing with a bun in the oven like Burgess, she's not as firmly Team Voight as Ruzek, and she and Halstead are pretty similar in their convictions. Hopefully, though, Halstead will be back with his big heart when Chicago P.D. returns with new episodes in 2020.
The fall finale of Chicago P.D. with this mysterious cliffhanger that may or may not mean the end of Halstead airs Wednesday, November 20 at 10 p.m. ET on NBC, following the fall finale of Chicago Fire (with Dawson back in town turning up the heat on Casey) at 9 p.m. ET and the fall finale of Chicago Med (which may mean big changes for the other Halstead brother) at 8 p.m. ET.
Resident of One Chicago, Bachelor Nation, and Cleveland. Has opinions about crossovers, Star Wars, and superheroes. Will not time travel.
Your Daily Blend of Entertainment News
Thank you for signing up to CinemaBlend. You will receive a verification email shortly.
There was a problem. Please refresh the page and try again.