Are Watchmen's Ratings Good Enough To Earn Season 2 On HBO?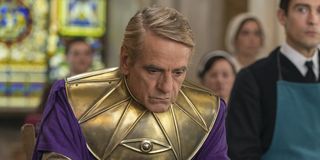 (Image credit: hbo press)
Because HBO's Watchmen hasn't had nearly the amount of social media chaos and soapbox debates that coincided with Game of Thrones' final season, general TV viewers might not think that the freshman superhero series from Damon Lindelof has been doing very well in the ratings. But while it isn't exactly breaking records for HBO with its live airings, Watchmen has become an undeniable hit for the premium cabler, thanks to strong word of mouth, conversation-starting twists and big delayed-viewing totals.
Below, let's break down Watchmen's chances of getting a second season, assuming Damon Lindelof & Co. would be as eager as HBO to make it happen.
How Watchmen's Sunday Night Ratings Are Doing
Watchmen has been airing for seven weeks now, bringing viewers closer and closer to delivering some wild and wacky reveals to the many mysteries introduced so far. For the most part, the emotional drama's initial audiences are nothing to call home about.
For instance, the biggest Live + Same Day premiere total was the premiere's 799,000-strong viewership with a 0.3 demo rating, which is a decent showing for a brand new premium cable series, but not necessarily for one whose source material has been a beloved cornerstone of the comic industry for over 30 years. The next two episodes expectedly took a stumble in the numbers before temporarily lifting back up.
Interestingly, the least watched episode was the sixth installment, which dropped to a 0.2 demo rating and brought in just over 620,000 pairs of eyeballs. It's interesting because the flashback-driven episode itself was arguably the most lauded of any so far this season.
The stats did bounce back up from there, with Episode 7's mega-twist being seen by around 779,000 people, which was the highest total since the premiere. It's hard to prove, but it would seem that all the celebrating done over Episode 6 helped drive more people back to live airings.
How Watchmen's Delayed Viewing Ratings Are Doing
Like few shows on TV right now – which is saying something, since there are roughly 8 billion TV shows out there at the moment – Watchmen is managing to defy expectations while still hitting all the right notes. That kind of critical success has likely played a big role in boosting Watchmen's viewer numbers for non-live installments, such as DVR airings, HBO repeats, streaming on HBO Go and HBO NOW, etc.
Across the board, Watchmen is crushing it with audiences who aren't making Sunday-night viewings a priority, and HBO hopefully isn't taking any of it for granted. According to Variety, the cable giant is boasting that the October 20 premiere episode has now been viewed by over 9 million people, so its initial Sunday night audience was just 10% of its current total.
Not every episode has managed to hit the same DVR peaks, of course, but Watchmen has maintained very steady delayed viewing numbers across its first season. Most eps have managed to double their initial totals when Live + 7 stats are added up, and it's regularly in the Top 20 in terms of belated audience growth. That might not have been much of a help for its causes 15-20 years ago, but the modern age of television regularly embraces DVR numbers as a sign of strength, with numbers for live airings dropping steadily year after year.
In particular, Episode 7 jumped up from its 779,000-strong linear TV viewership to over 1.2 million viewers just when adding in HBO's digital streaming platforms. So while there might have been a few episodes early on where it seemed like Watchmen might not have been winning over potential viewers, the build-up was just getting started.
Will Watchmen Get Renewed For Season 2 At HBO?
With HBO, guaranteed renewals are very rarely an option, unless the subject matter revolves around Game of Thrones. (But even that franchise's most prominent follow-up project got shut down by the network, so nothing is a given.) To confidently claim that Watchmen will definitely get Season 2 is to tempt the gods, so it's currently still hard to tell which way the network will fall on that decision.
On the one hand, Watchmen's numbers already make it a premium cable winner for 2019, and its Season 1 stats are on par with other big multi-season shows in recent years, such as Westworld and Big Little Lies. And as it was mentioned previously, this is easily one of the most well-reviewed HBO series of all time, putting it right in line with Westworld and BLL and other acclaimed hits like Sharp Objects and Succession. Beyond Sharp Objects, which was based on the lone novel from Gillian Jacobs, each of those shows were granted second seasons.
On that front, it would appear as if Watchmen is a lock for a renewal, especially if HBO continues to build up its more genre-oriented programming going into the future. Which it certainly looks like it will be, with upcoming projects such as Jordan Peele's horror hybrid Lovecraft Country, Joss Whedon's sci-fi drama The Nevers, and Steven Moffat's adaptation of The Time Traveler's Wife. (The latter is less heavy genre than a romance with sci-fi elements, but still.)
Of course, let's not discount the many times that HBO has slipped up and totally botched its calls with its renewal process. Two of the biggest glaring instances include Deadwood, which was ended after three seasons, and Carnivale, which also came to an early end after two seasons. (The former got a highly publicized TV movie close-out in 2019, but it took a whole 13 years for it to fully come together.)
More recently, though, HBO seen around a dozen comedies and dramas end just in the past two years. Some, like Veep and Silicon Valley, were more or less planned to bow out with a final season, but shows like Crashing and The Deuce weren't so lucky when it came to taking advantage of their conclusions.
We also need to account for the face that Damon Lindelof and his creative team purposefully crafted Watchmen's first season so that it could suitably serve as a standalone narrative if HBO decided not to move forward with Season 2. It's hard to tell if that kind of forethought would weigh into HBO execs' decisions about the future, but it could be a factor.
Still, if I'd have to wager money on it, I'd put it all on Watchmen getting a big Season 2 announcement in the near future, though possibly not until after the Season 1 finale airs on December 15. If Damon Lindelof can close things out as solidly as he did with HBO's The Leftovers, that could easily make the network feel comfortable enough to make Season 2 official, with or without any big blue dongs.
Watchmen airs Sunday nights on HBO at 9:00 p.m. ET. Be sure to keep watching to let HBO know that we'll still be here for another season.
This poll is no longer available.
Your Daily Blend of Entertainment News
Assistant Managing Editor
Nick is a Cajun Country native, and is often asked why he doesn't sound like that's the case. His love for his wife and daughters is almost equaled by his love of gasp-for-breath laughter and gasp-for-breath horror. A lifetime spent in the vicinity of a television screen led to his current dream job, as well as his knowledge of too many TV themes and ad jingles.
Your Daily Blend of Entertainment News
Thank you for signing up to CinemaBlend. You will receive a verification email shortly.
There was a problem. Please refresh the page and try again.