South Park Fans Watched The Show For An Insane Number Of Hours In 2019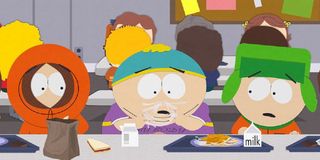 It's hard to believe South Park is in its 23rd season, but viewers can't seem to get enough of it. The adult animation is a staple on Comedy Central and has been for many years, but 2019 has marked an eye-popping milestone, with South Park fans watching the show for an insane number of hours in 2019.
South Park ended its 23rd season at the top of the cable comedy ratings for the key 18-49 age demographic, but its prestige doesn't dry up there. Somehow, South Park fans watched a whopping 30 billion minutes of the series in 2019, which includes both reruns and new episodes. Fans watched even more of the show this year than in 2018, increasing the number of minutes watched by 36%.
If you're thinking 30 billion minutes is a long time, that's because it is. Broken down, watching that much of South Park is the equivalent to spending about 57,000 years in front of the TV. That doesn't leave any time for sleeping, eating, or muscle-atrophying.
Astoundingly, the 30-billion minutes figure doesn't even include those who watch South Park via streaming. We're only talking about non-cord-cutting linear TV customers here. Can you imagine what kind of boost those numbers would get if streaming were accounted for?
South Park, which recently targeted The Mandalorian's Baby Yoda in an episode, continues to enjoy all the popularity perks of being a heavily-watched show. According to ViacomCBS (via The Hollywood Reporter), Season 23 as a whole garnered around 113 million views across digital and social media platforms. That's 53% higher than the viewership that Season 22 received.
The number is also a reminder that cable networks like Comedy Central shouldn't need to rely only on live viewership ratings coming from Nielsen. However, even its Nielsen ratings are still going strong for a show in its 23rd season. South Park Season 23 was bringing in an average of 1.4 million viewers an episode in Live+3 data, which is in line with Comedy Central's range and is quite decent for any animated cable series.
Fans' enjoyment of 30 billion minutes of South Park was is comparable to Netflix customers watching over 32.6 billion minutes of Friends in 2018, as well as over 52 billion minutes of The Office in 2018. It's an incredible feat to have reached these numbers, and speaks to the long-lasting impact South Park has had on viewers.
Knowing the number of hours fans have spent watching South Park just in 2019, it's no wonder that the animated series got a hefty streaming deal with HBO Max. The streamer offered between $450 million and $500 million to exclusively land Cartman, Stan, Kyle and Kenny on HBO Max, with that amount to be split between South Park creators Trey Parker and Matt Stone and ViacomCBS.
South Park's availability on streaming makes it much easier to watch all 23 seasons of the show in one place. Its move to HBO Max will likely entice its loyal fans to move from Hulu, where South Park is currently streaming, to subscribe to the series' new home.
South Park will be available on HBO Max in June 2020. For more on what to watch in the new year, be sure to check out our midseason schedule.
Your Daily Blend of Entertainment News
Thank you for signing up to CinemaBlend. You will receive a verification email shortly.
There was a problem. Please refresh the page and try again.